0
04/12/08
Posted by Coalman , 12 April 2008 · 123 views
I am getting pretty good with Skunks 'R' Us.
04/07/08
Got skunk #2 today. Another big one. Much more black backed. Pulled the trap and set it at my house. I got one of those pesky buggers out back. Doesn't help the neighbors on both sides of us lawns look like they got harrowed by skunks looking for grubs.
04/09/08
You never know what your going to catch these days.
It is face only a mother could love.
04/10/08
Caught a skunk last night at the homestead. If it weren't for the holes in the lawn I could live in harmony. I practice T&T.
Trap and Transfer.
Any services a trapper can offer a land owner is a ticket back stage. Case in point.
I went to the "Farm" Saturday. After scouting the property we stopped into the milking parlor. During our visit the owner asked if I could trap some muskrats out of his retention pond. I was back Saturday afternoon. Trapping muskrats out of the dairy barns drainage is like working for Rotor Rooter. I pulled the sets Tuesday and returned the fence posts I "borrowed" to stabilize my cage traps.
I stopped into the farmhouse to report my success. It was as good a time to ask as any. One of the guys in our deer hunting "clan" has been bringing his daughter now for a few years. She is a trooper. Will hunt all day. She was on stand when I took my antlerless permit last fall.
On Youth Weekend for deer in 2007 the conversation turned to turkey hunting. She has tried for a couple years with her dad to take a turkey on Youth Day with limited success. Her eyes showed the addiction. I promised her I would ask permission for her to hunt the honey hole at the "Farm" in 2008.
And that is what I did. With a handshake the deal was done. I am now looking forward to the NH Youth Season 04/26 and 04/27. I can't wait to hear the "Tide Gate Tote Road" stories from father and daughter.
I took this picture Saturday. Did I mention the blind was on the wood line to the left 30 yards from these turkeys?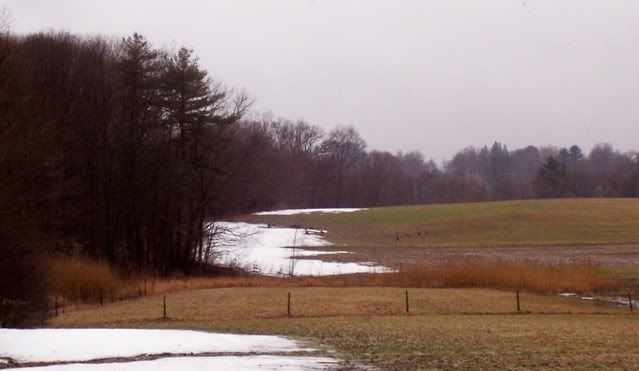 04/12/08
Got lucky this morning. It wasn't raining when I got up so decided to take a walk out behind the house. I wasn't disappointed. The turkey started gobbling at 0545. For 15 minutes they roared off the roost. A distant but gaining thunderstorm put an end to the morning. I had to scurry back.
The turkeys this morning weren't a 1/4 mile from where the wintered. The best bet for action right now would be in the vicinity of where you know a flock spent the winter. The turkeys also gobbled good on the ground after fly down. I was able to keep track of them. The turkey you hear tomorrow may not be in the same tree come May but they won't be too far off.
From the audio this morning they are still grouped up. I only saw longbeards this winter out back. This morning I could hear a couple jakes had joined the group.
Rain, rain go away.