0
04/20/08
Posted by Coalman , 23 April 2008 · 152 views
I have read a lot of of turkey hunting experiences on other web sites this spring. Something that stands out is, he's gobbling good from the tree, he flies down and gobbles a little more and then goes silent. Or he flies down answers your call but goes the other way.
Something I have not read a lot about is Strut Zones. I feel I have become a better turkey hunter by trying to hunt these Zones especially early in the season. A short story and a life lesson.............
2001 Wells, ME the Saturday before the Monday opener. I listened to at least 15 gobbling turkeys from all points of the compass. After fly-down only one continued to gobble. He gobbled so well I was able to follow him. He went from roosted beside a horse farm pasture into the woods. He followed a woods road to a power-line. A couple poles down was a small knob. He beelined for that knob. And there he stood in full display and did not gobble any more. A bell went off in my head.
Strut Zone !
I decided this was where I would start my hunt on Monday. I didn't care where he was roosted. Opening day I was on that knob. He was again roosted next to the pasture. I called from that knob a 1/4 mile from his roost and he came on a string.
I wish I could end this story and tell you I shot him but that is a story for another day.
From that day on my turkey hunting philosophy changed. And here we are in 2008. I was on the mountain above the Log Pile Field last Sunday morning at daybreak.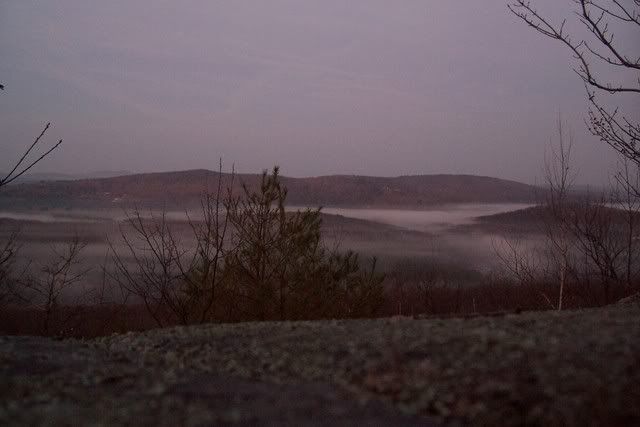 The same as last year I have a boss problem. We heard at least four gobblers from our mountain perch. But only one was gobbling from Boss Hollow. After he flew down he did not head to the field. Instead he headed deeper into the woods. Our plan was to make a big circle down the mountain, hit an old woods road and follow that road into the hollow. On our way down the mountain wherever there was a mature white oak the ground beneath the bowl was scratched heavily. He kept gobbling good. When we got into the area we knew he was the woods floor was raked under all the white oak.
So here is the reason for my post. What would you do? Set up in the Log Pile Field opening day with decoys or get down to those white oak before daylight and call him there? I am torn. The Log Pile Field has treated us well. But that gobbler went right to that oak flat a mile in the woods. In order to get to the oak flat you must go over the mountain or down the trail through Boss Hollow. We discussed how early you would need to be as not to spook him.
I do not believe naming a gobbler has anything to do with mojo. In my mind it is just like targeting a big buck who has shown himself on your trail cam. The name brings personality and character. You also remember them longer.
I want that gobbler. He has perked my interest. I have named him the "White Oak Flat Gobbler of Fire Mountain"
He isn't the only gobbler there, just the loudest. We found this fresh sign along the Log Pile Field on our way out.
I would love to hear all your opinions on "Strut Zones"
When we found the first scratchings they were from after the snow left, or within the last two weeks. The closer to Boss Hollow we got the scratching were by the acre and fresher. The birds are definitely traveling there daily to eat.
If you remember from my scouting at the Log Pile Field last fall the white oak hit very well right behind the field. The leaves were in wind rows. Not this spring. I bet the birds cleaned out those acorns. Then a month after the fall season heavy snow came and it lasted till about two weeks ago. I think we found the turkeys new dinner table.
It is to my dismay that this was the first trip to the Log Pile Field and Fire Mountain since I shot my fall bird in 2007. I have heard him only this one time. My next trip will not be until 05/03 . The last day of Season A. I will go as caller and not hunter. I will be setting up at the field edge for my friends hunt. (Mustang, you listening?)I will report if he is there and what he does.
My first choice this Sunday was not the Log Pile Field. The elk type meadows in the next picture was our original destination. But in order to get there you must travel down this road about a half mile.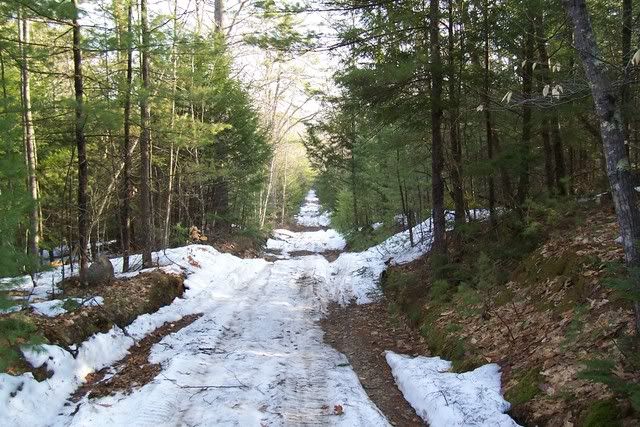 Then it is a 45 minute hike up to the summit of the "Loaf" where I took this picture the second day of the Maine 2007 season.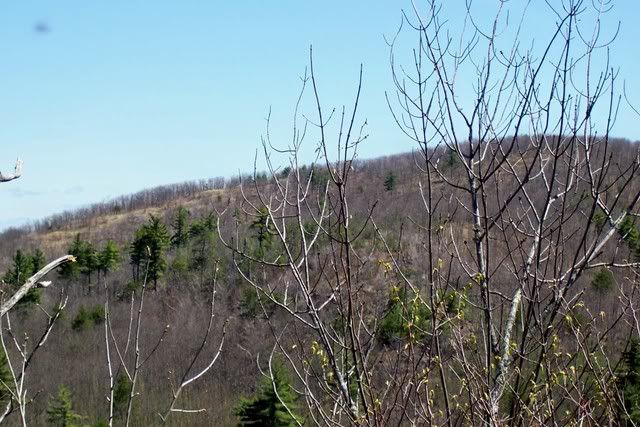 The first day of the Maine 2007 turkey season found a Turkeystalker and I just above the meadows. We heard very little roost gobbling. We each retired to a side to listen. Our signal if we heard a gobble was rapid crow calling. 10 minutes after splitting up TS gave the signal. I did not call in the gobbler. I called in the hen with kee-kees. She came withing 10 yards of me. Out of the left corner of my eye I saw a gobbler heading to the decoy. TS was watching the hen in front of me. He said something made him look straight and this old boy was cuddling with the decoy.
I was proud to share the moment at 1,100 feet.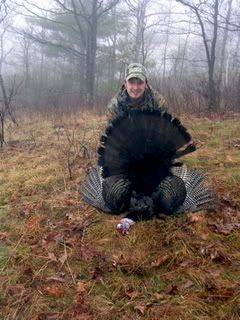 I took a walk in Exeter tonight through some memory woods. I started my turkey hunting addiction here. The old trails are three foot wide mountain bike paths. There is no trail management. Good thing it is a dry. They are scarring the land.
There is one corner of this piece I got a hot sighting on last week. I went to the old pit. Two big gobblers had been through and dusted there.
Old haunts never died.........unless they build a development there.