0
Nh's 2008 Youth Turkey Hunting Weekend
Posted by Coalman , 29 April 2008 · 150 views
I knew this was going to be a ladies hunt.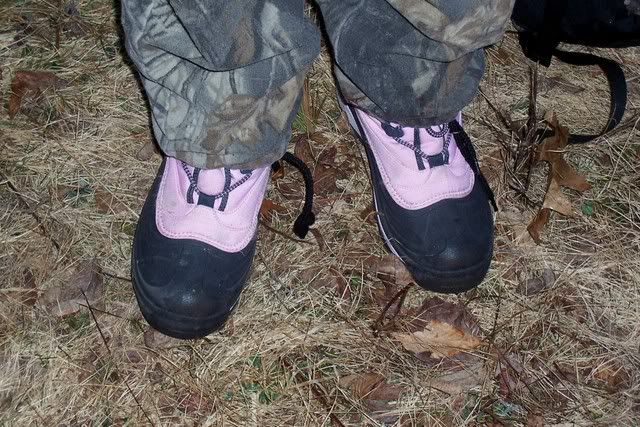 I was very proud of Ashley Saturday morning. The set up was ready made. Ashley and Ziggy were under the pine directly behind Henrietta. Zachary was under the pine to the left. I was sitting against the stone wall next to the first hardwood tree right of Ashley.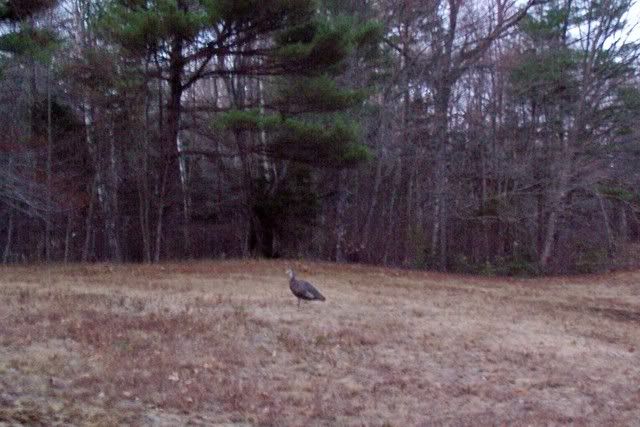 We had 3 gobblers behind us and down the hollow. But we also had one on this mountain to our right.
We figured he glided off the mountain and into the lower field. With the help of a few crows he told us he was there. It only took soft yelps and clucks. He never broke strut the last thirty yards to the decoy.
We all got to witness a scene there are very few words for. I could hear my heart beating in my ears. Ashley didn't let us down. Her shot was true.
I put this picture in last for a reason. Zach earned my respect today. He took his bow with him Saturday. He knew how tough it would be. By doing that he made the choice to let his sister shoot first.
She didn't let him down.
Sunday was Zach's turn. We hunted hard. The birds had hens. We heard three at our first stop. They gobbled good till it started raining.
At stop # 2 we were answered by a lusty gobble on the first yelp. But he was across a 100 foot wide gully, 30 feet high with a brook in the middle.
He got bored of us quick and wandered off gobbling. We did the end around and got in front of him on a small power-line. We got him in close but I could sense he had played the game before. He never showed and shut up.
At 10 AM we were ready at spot #3. While Zach and I set up on a gobbler we heard, Ashley and their dad Brandon, took a walk to the top of the hill and called the other side. The both came back to alert us he found a flock of gobblers. Zach and I snuck up to them as close as the crow call permitted us. Game on.
We set up just left out of the picture guarding this trail junction.
I cut a lot while calling these turkey. They were cutting me off. Then I went only to clucks when they gobbled. Then I shut up. In ten minutes 5 jakes were standing in the road in front of Zach. But he didn't shoot. I got very worried when they all started putting, turned 180 degrees and started back where they came from. I told Zach to shoot. He obeyed.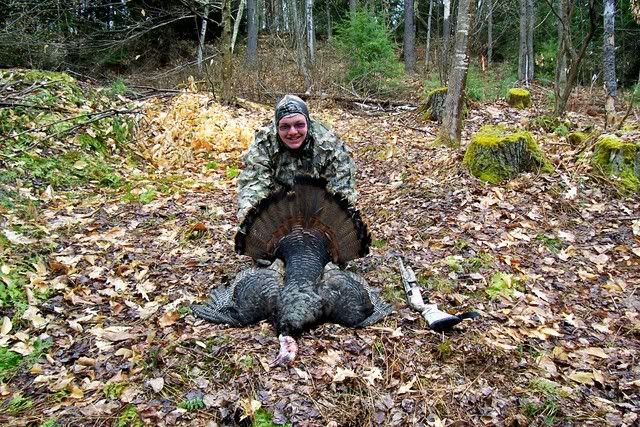 What I didn't see and Zach will live for a year was the big tom that was behind the jakes. That is why he didn't shoot. He said he wanted the big one. We explained to him with a herd of putting jakes running back down the road towards him he wasn't bound to stick around to get shot.
A turkey hunter was born today. All he could talk about was getting the big tom next year. Zach, I hope you invite me. I would be proud to be there.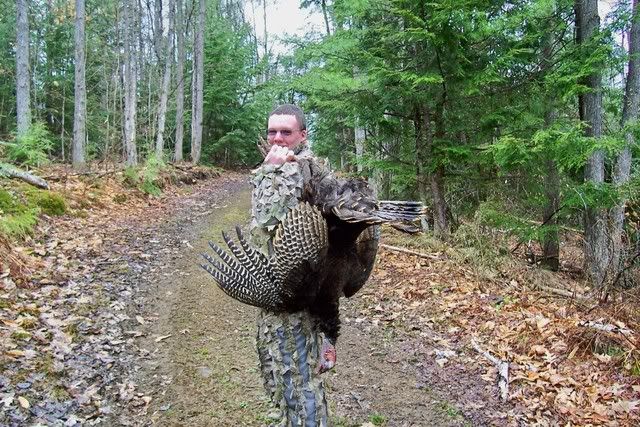 NH's 2008 Youth Season was a huge success. We hunted four spots and heard 16 gobbling turkeys. An average of 4 per spot. 2 came home.
I wonder if they quit gobbling Sunday morning when we saw a mature black bear run through the field below us. We will never know.