1
Full Moon Tides
Posted by Coalman , 20 July 2012 · 350 views
07-07-12
Frozen seas impede crab fisherman. My ice is eel grass and seaweed.
The full moon tides flooded the estuaries. There are grass islands moving with the tide engulfing our lobster buoys. Here today, gone tomorrow. Logs and trees are among the debris. No lobster line is immune.
This happens yearly with each monthly full moon tides. Before the new moon tides the Bay will flush itself we will rescue our gear. Low tide is the best time to look. There are a trio of traps missing from my line.
Got a visit from the game warden. We saw a 14' tin boat headed our way. The color of his uniform was a dead give away.
The warden was courteous and polite. Standard procedure was to check for legal lobsters, make sure the traps were up to code and for the first time since I've set traps my license was checked. Our lobsters and gear were given a clean bill of health and we parted ways. The boat was docked and clean by 11AM. Fresh bugs are on the menu.
We commented many times while checking the lines how nice a day it was on the Bay. Joe said it smelled like alewives. We move a lot of small bait while motoring over the shallow flats. We spotted striped bass occasionally harassing the prey.
Got a call in the early afternoon by my morning trapping partner. Asked if I wanted to fish. It was a hard choice, TV and air conditioning or casting to fish that make your arms hurt.
I am glad we have an empty nest. My better half is in full understanding of the call to be on the water.
We fish for striped bass in our inland ocean like you fish for brook trout in a river or stream. We use a hook and a live eel. I like to think of the eel as a big night crawler. The Bay is full of rips and rapids. Points that sweep tidal flows from shallow to deeper water are favored.
Live eels were the choice bait today. We boated seven in a mid day sun. The bite turned off at top of the tide. Just like pursuing wild fowl if you want to continue to hunt you have to find new places. We saved exploring for another day.
We boated seven fish of which three were of keeper status. One came home for supper.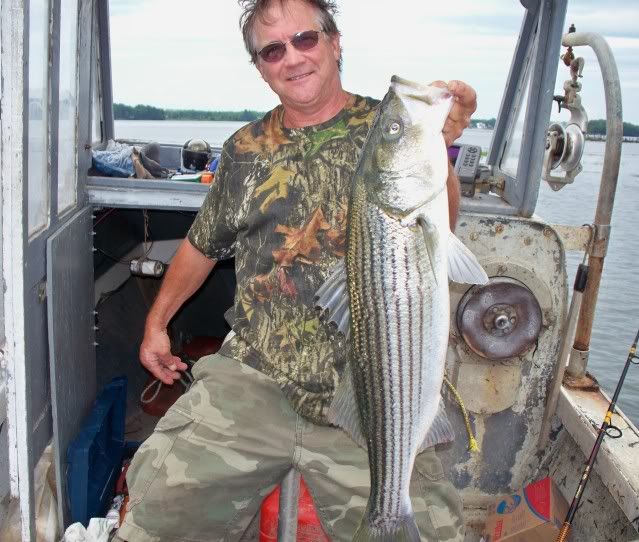 This keeper was shot at with an empty barrel and released.
Low tide is at noon tomorrow. My youngest son and i are going to try and duplicate the bite in the same time zone.
I think the yellow dog is going for a boat ride.