0
Web Sites And Fishing Partners
Posted by Coalman , 14 June 2008 · 147 views
I would like to share this with you. From my time here I know this is a family. A family thats shares our hobbies and addictions.
My local family is Whitetail Zone. I met all the participants of this post on-line. We live close and go on web hunts and web fishing trips together. Today was to Joppa Flats in the Merrimack River Newburyport, MA. We went after striped bass.
Thanks!
Captain Danny and I met Captain XP600, NHDH and bdragon on the flats about 0730. While we were exchanging greetings fish started boiling around the boats.
bdragon was ready with the top water bait. It didn't take long.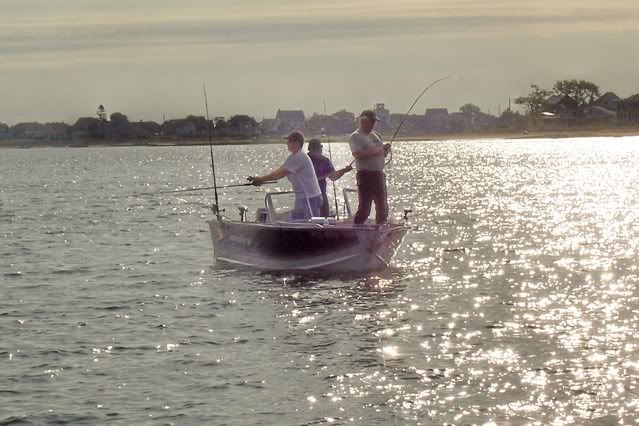 Nice striper
You can see while bdragon is releasing his fish NHDH and Captain XP are still casting to fish.
The stripers were pushing herring up into the air. Two more casts.........
Two more stripers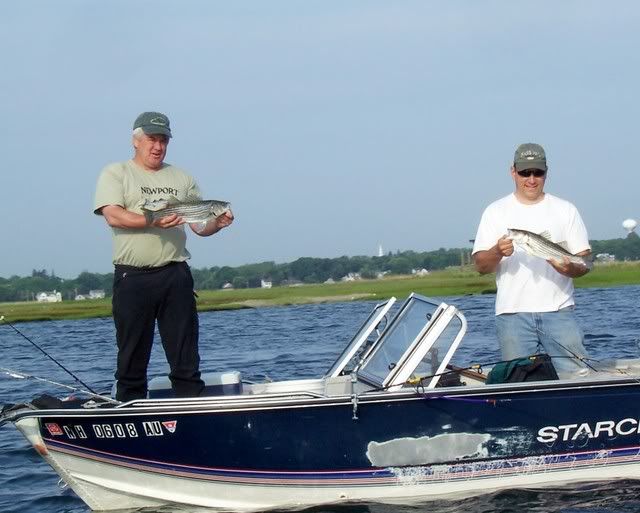 Captain XP took his sports out to the mouth of the river. They had some bait to drown. Captain Dan and his sport.
stayed in the river and trolled tube and worm (T&W).
The wind was blowing hard against shore. With the help of an incoming tide we thought the stripers might try pushing the bait into the steep banks.
Captain Dan put me into my PB T&W striper. 35".
With the route we just did bread crumbed on the GPS were looked at each other and said "lets do it again".
The next pass I caught a 28". "Lets do it again" The next pass I hooked into an even bigger one. The drag was humming. And just like that it let go.
We picked up Captain Dan's son, Nathan at the boat ramp to fish with us.
We said "lets do it again". This time it was Captain Dan's pole that bent in the rod holder. Fish on. And a big one. The Captain held the rod and Nathan reeled for all he could. What a big fish he had on. Every two turns of the reel the fish took back four. We saw it. It ducked the net twice. And then just like that the line went slack. It didn't matter. Nathan was our hero.
The weather was perfect and the camaraderie outstanding. We even caught some fish. All the fish were released to fight again at the next WZ Joppa Flats Outing.
Thank you Captain Danny and Captain XP600 for having us.
Coalman