1
Grouse, God And Billy Goat Pond
Posted by Coalman , 27 December 2015 · 218 views
12-26-15
Having moved quite a few birds last week above NH's Big Lake I had a week to study topo maps and Google Earth for a much anticipated return trip. The forester who originally told me about this piece suggested more than a few times that we visit the wilderness pond. I asked him what direction it was from the parking area. 
He answered "head south and point your nose uphill".  Man he wasn't kidding. 
We parked the Ford's at 1,175 feet at 0730 and began our trek up on the old logging and skidder trails left from the pre 2008 chopping. It was Google Earth that supplied the historical data map. A map of our planned destination was safely tucked in my back pocket. 
We moved one partridge on our climb up the northern hillside. When we reached the top I was looking forward to peeking over to the south side to see the sun and hopefully finding birds who had the same thoughts. My altimeter said we were approaching 1,900 feet when we made it up to the crest of the ridge. 
The cover changed from hardwood whips to spruce, fir and juniper at the top.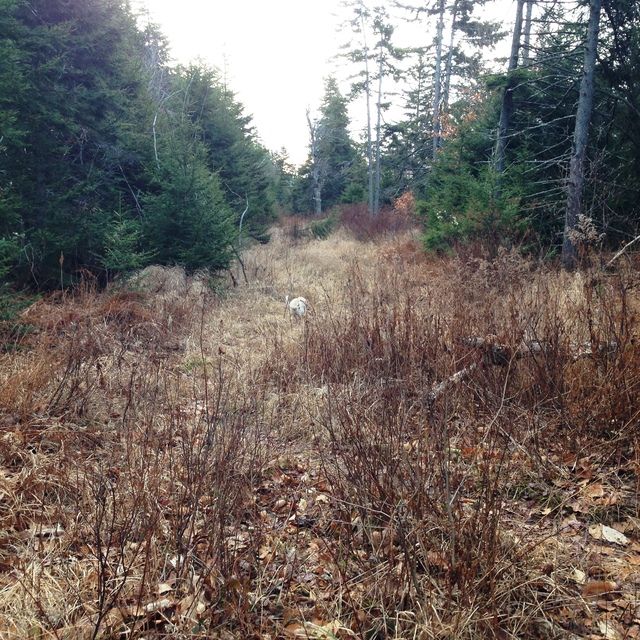 From our vantage point we still could not see the pond. So up, over and down we went. And wouldn't you know it, as we were greeted by the sunny southern slope three partridge were not happy with our advance and flushed wild down the hill in the direction of the pond. It made losing altitude a little better to grasp as we would eventually have to climb back out of this hidden hollow. 
We were in God's Country and a place I convinced myself no other grouse hunters had tread this fall. It might have been the seven grouse we moved that allowed me those thoughts. The only two that flushed within range went up directly in line with a spruce tree and I never saw them. 
What a beautiful place. We named it Billy Goat Pond from my previous description on how rugged and steep it was to get there.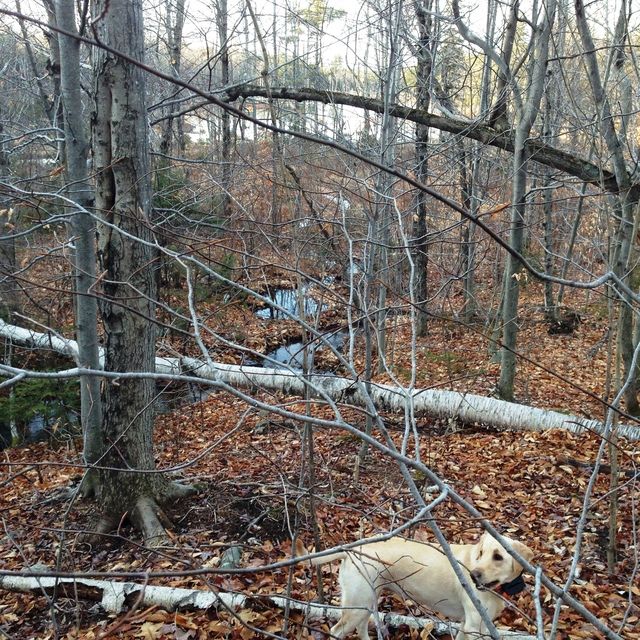 The blue below is the view we had of NH's Lake Winnipesaukee before we started our decent back to the trucks.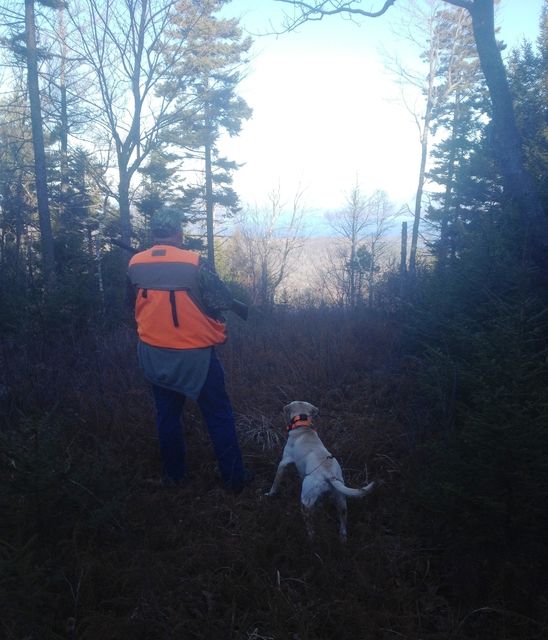 In all we moved eighteen ruffed grouse in our travels today. Most flushed wild beyond seeing or shotgun range. But there was no denying the sound of those wings on each of our close encounters. 
A big thank you to my friend Jay for coming along. This land of granite is full of ankle breaking opportunities. There is a huge sense of well being when you don't explore alone in such wild places. 
Jay took the only game today. This was the second snowshoe hare Belle jumped today. 
An article in the fall 2015 issue of the Ruffed Grouse Societies magazine by Andrew Wayment, "The Heartbeat of the Woods" touched me. The author's wife who had never heard the drumming of a male grouse in the springtime referred to it as a "Heartbeat".  
And we all know that without a heartbeat nothing is alive. 
The article quoted Aldo Leopold, for in his words.......
"Everybody knows....that the autumn landscape in the north woods is the land, plus a red maple, plus a ruffed grouse.
In terms of conventional physics the grouse represents only a millionth of either the mass or the energy of an acre.
Yet subtract the grouse and the whole thing is dead..." 
For me deer are a game animal that feed my flesh. Spring gobblers remind me that life is renewable. Yet the whirl of wings of Ol' Ruff signals a healthy forest and brings peace to my soul. 
That ends Belle and Birds 2015. We thank you for following along!