1
Habitat Improvement 2016
Posted by Coalman , 14 January 2016 · 315 views
01-09-16
During the deer season last fall and then traveling the property checking trail cameras till Christmas we located five apple trees that produced bushels of fruit but we have never pruned before. It was evident when I entered the woods and took a hard left along the field edge that all I was going to have to do is follow the deer trail to the tree. I had to take the roundabout route though because the trail went through a stand of multi flora rose. It amazes me how the deer navigate through these tangles. Tree # 1 done. 
The second tree I had in mind was the one twenty yards right of the ladder stand both Shawn and I shot our deer from this fall. This trail also went through a multi flora rose thicket. The deer had it cut like a tunnel. Shawn told me during the season he saw deer come and go from that hole. The evening I shot my deer I saw the reason why as walking into the stand I saw the sun shining off apples which made up the crown of the tree. 
After we filled our tags Shawn and I set a camera on the trail. In the next thirty days were not disappointed. Now we had physical evidence of what was visiting. The softening snow of the last few days really told the track story. 
The deer trail led right to the bounty. Look at the bed at the base of the tree.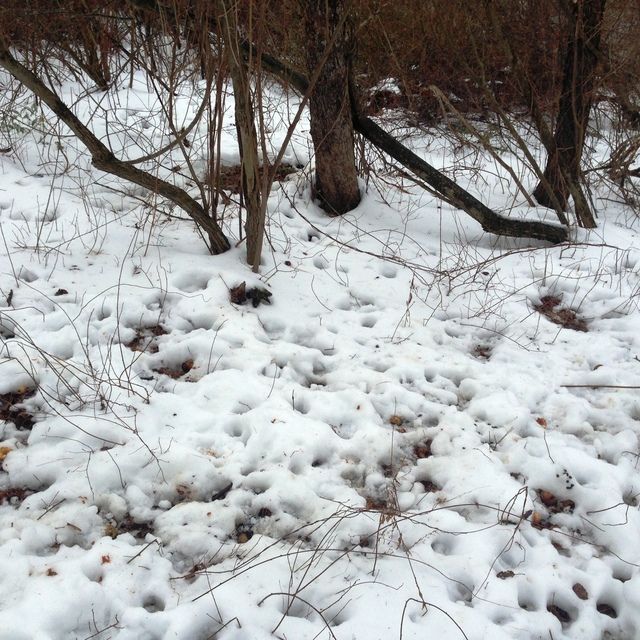 Probably passed out there after eating these hard cider apples. 
I had to really watch out and it was only luck I didn't get hit as I used the pruning saw to remove dead branches. 
Even the squirrels were taking advantage.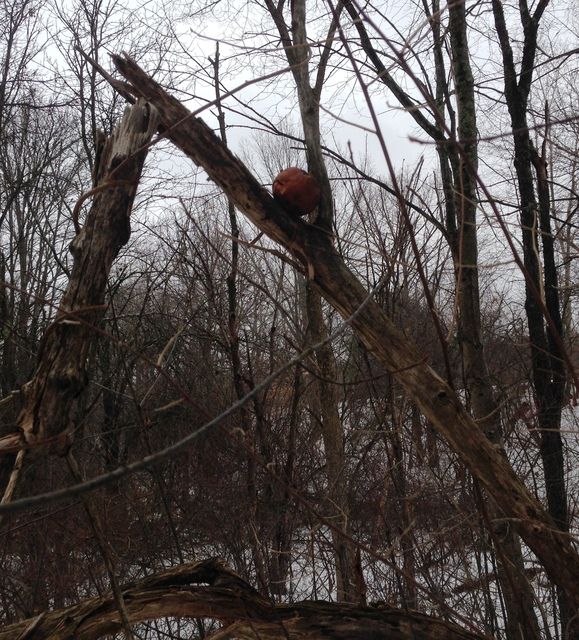 The deer trail led me to another tree still full of fruit which we hadn't seen this fall so Tree #2 and a bonus tree, done. 
I brought the equipment back to the truck and took my first real walk on the property this fall. I was looking for what trails they favored coming and going. I even went into the sanctuary. It was full of beds so that is working. 
Decided we need two more stands on the field edge to combat an east wind. Our stands now are set up for west, northwest wind. 
If you didn't see many deer during the last week of the season don't feel bad, neither did the three cameras. What was missing when I pulled the sentries the day before Christmas was bucks. They were there in November. 
I did get many videos of these next gen.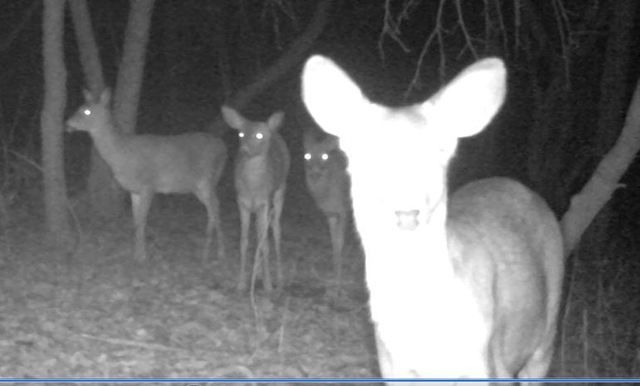 One thing absent during the November pictures were turkeys. They are also taking advantage of the apples. Lots of feeding videos on film. 
Good to know they are back.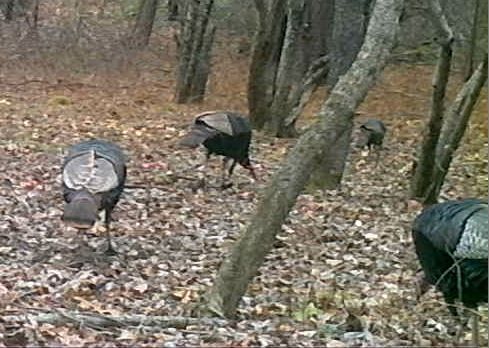 These make five long beards. 
Three more trees to prune.I'll be back.