1
River Bottom Gobbler
Posted by Coalman , 30 May 2016 · 297 views
05-28-16
Even when they are roosted...
They are far from roasted. 
Shawn and I set up at a buddies farm at 0430. The landowner has been seeing a couple toms and five jakes. He is very good about letting the next generation hunt on his place. 
At 0700 after watching a hen dusting, being thoroughly scolded by a blowing deer, having two does come up and check out the decoys and hearing no gobbles, we left for more talkative birds. 
On our first stop we almost stepped on a tom in his strutting area. Just before we crested the hill he let out a ground shacking gobble on his own. 
Shawn set up on the crest and I walked back down the road to call. He gobbled, gobbled and gobbled. Even back to my gobbles but he would not budge. He walked off gobbling and we never heard him again. 
We heard one more courtesy gobble before the heat drove us out of the woods. 
05-29-16
Family duties kept me from the turkey woods until 0630. First stop was right where we left off yesterday. Trolling along the banks of the Lamprey River I had two answer the call but they wouldn't budge and eventually went silent. Checking out an old gravel pit in the direction yesterdays tom vanished I got a call from the landowner. Turkeys were in his field. I was welcome to come. 
A week ago I lost, well misplaced, my crow call on the other side of the river.  One week ago as the morning progressed I heard four on the other side of the river. My plan was to drive around, retrieve the crow call and if any time were left in the morning spend it hidden behind a stone wall at my buddies farm. 
I was walking through a pit and almost to where my son Shawn shot his jake last year when I got a text. It was Shawn asking how I was doing. I called him and told him I was almost to where he shot his bird last year and I was on a seek and find mission to get my crow call back. 
When I entered the woods road where Shawn made it happen last year I called. And one gobbled a long way off. Shawn's bird came from that direction last year. Could lightning strike twice? 
I knew what to do. Same as last year. Put the decoy in the road and set up where Shawn shot from last year.
As I was settling in he continued to gobble. And each time he was closer. The set up was good, he was coming so I just let it happen. I never called again. 
He was coming down this road. 
When he came around the corner on the road he gobbled. This what he could see. Only thing missing was Henrietta who was spinning circles on her stake. 
All was silent. The temptation to call was great. But this set up worked last year so I waited.
He appeared like a ghost in full display. Head as bright as a 100 watt light bulb. Full fan, check. Long beard, check. He took a couple more steps into the open and turned to face me head on. I remember....white head, red dot...BOOM. 
This was the last thing he saw. He had love on his mind.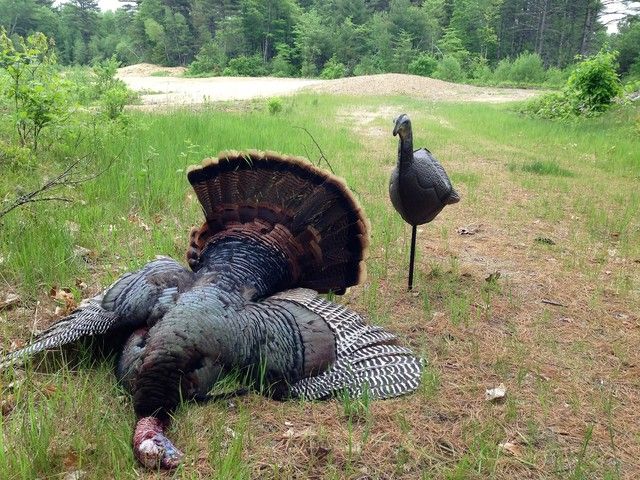 20.5 lbs. Two beards 8.5" and 6". Both spurs 5/8. 
I still need to go back for my crow call. 
Snapping Turtle laying eggs.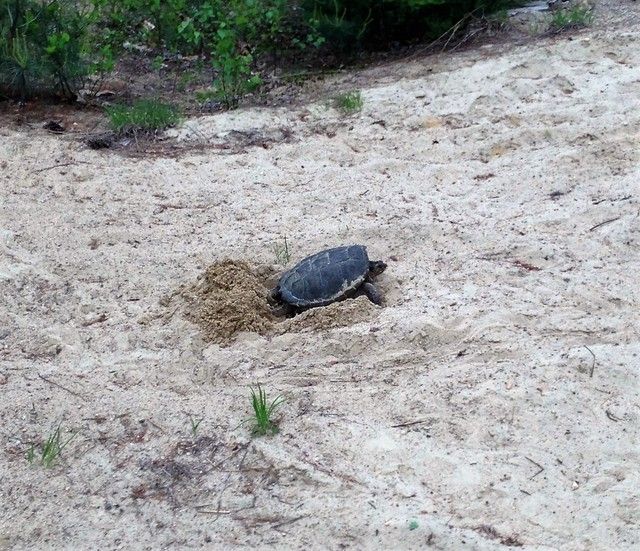 She was finished before I got back.