1
More Bugs And Bass
Posted by Coalman , 26 August 2016 · 976 views
08-01-16
It was really slim pickings out there Saturday. We had four keepers in the first two traps. Then we hit the wall. The next thirteen traps three keepers of which one was a nice female and she got the release of life, minus a small notch in her rear right flipper. 
Weird thing is out of six keepers, five were hard shell or new ocean arrivals. I'll see the rest when they come out of the mud from shed in September 
Had enough for one boil and finished the oysters I got from the farmer last week.
Life is good! 
08-07-16
Karen went with me again today. We went on the incoming. Tide was humming. Only found 12 traps of which one is firmly anchored to the bottom by a sea monster and the tide was running so hard I couldn't find three buoys. 
Oh well, guess I'll have to take a low tide trip out this week. I'm always up for a boat ride. 
Heading out.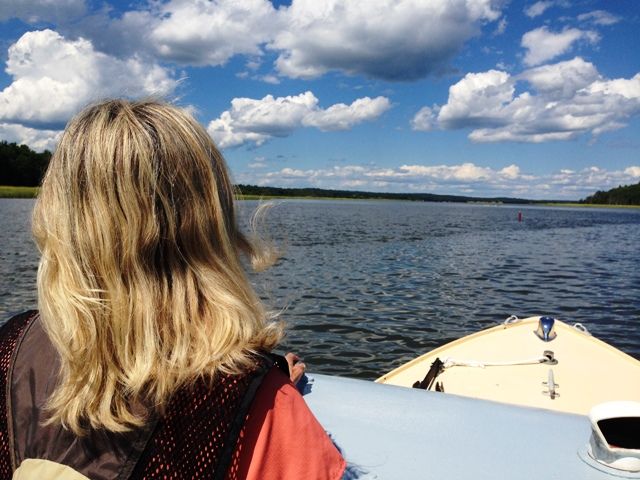 2 of 4 lobsters for dinner for 08-08-16 
08-13-16
Found two of the traps today at low tide we couldn't locate last week on that strong incoming tide. Both contained crabs.These were the third and forth I checked. 
No lobsters yet. 
The sea monster still had a hold of my trap at Bickford Island. No current at low tide allowed me to send 10,000 volts of monster medicine down the line and the creature unwillingly let go of my trap. Problem was it ate all the bugs in the trap. 
Nine traps checked and no sign of lobsters. 
The last five traps are where the Oyster River meets Upper and Lower Little Bay's. The tide shifted incoming so I motored a short ways up the river to check the trap furthest in. Another trap with just crabs. Traps number eleven and twelve were a repeat of the previous ten. Nothing, nada, unless you count a large but under size flounder that got the release of life. 
Things were not looking good. It has been quite a few years since I've bought a skunk home. It may have been my imagination but the air was starting to smell pretty musky. 
It came down to two of the deepest traps I had set at the river mouth and by goodness they didn't let me down. Trap number thirteen had one keeper and trap number fourteen had two. The didn't look like lobsters...... 
More like dinner.
Went back looking for trap fifteen with no luck. Ray has some traps in that area and I will ask him to keep his eyes open for my buoy. 
Have settled on the weekend of September tenth to pull the traps back to dry dock. The freezer says I'll have enough alewife bait for the Labor Day weekend check. 
I must admit I am already "ready" for a change. Is it partridge season yet?