1
Even More Bugs And Bass
Posted by Coalman , 26 August 2016 · 907 views
08-15-16 PM
Motored right out to Fox Point. Slung slime in all of my drifts. No love. Motored back to Adam's Point. Cast to the closest curl of the rip to shore with my eel. Wasn't really expecting anything because it is an outgoing rip and it had just started incoming. 
Then a keeper, 28.5" latched on to the circle hook.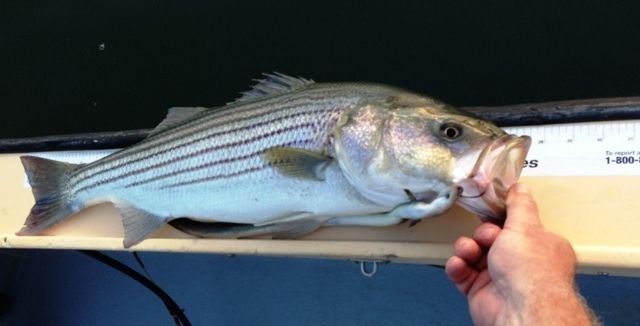 It got the release of life and the catch made my day. 
I let out a hoop and a holler when I hooked the fish. I bet it echoed all the way back to the trestle. 
The moon over the Great Bay National Wildlife Refuge 
I had Great Bay to myself last night. 
What beautiful scenery at the boat when I returned. The osprey fledged chicks at the beginning of August. Karen and I saw 2 chicks for sure a couple weeks ago, maybe three. I have seen a total of six osprey around the nest this year. 
08-18-16
Back after the stripers this evening. Karen came out for the ride and took pictures. 
We were heading to Fox Point but this storm over the Oyster River heading that way kept us in the confines of Adam's Point. You are looking at Adam's Point. Fox Point is up on the right about another mile further. That point of land extends out into Little Bay.
Storm over Fox Point 08-18-16.jpg 
We have been catching the bass along this shoreline of Great Bay National Wildlife Refuge. Note the eel grass and seaweed floating along the edge. It made it difficult to keep a clean line. 
Just about dark the storm drifted south and the wind picked up. We got outta therah.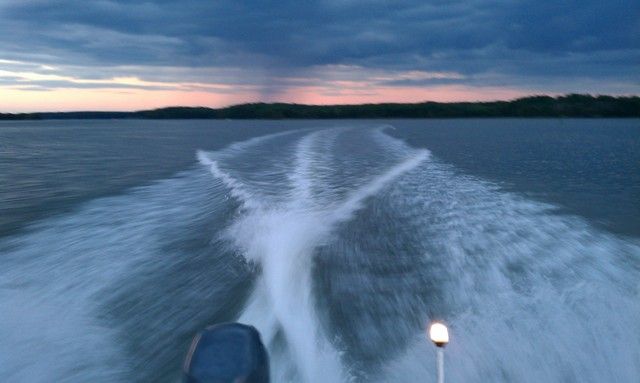 The sky was on fire on the way back. Thank you to all our brave men and women who serve. This NH National Guard plane was practicing touch and go. 
Only one striper came over the gunnel tonight. Just as I was laying it down on the tape measure it flipped, I lost my grip and it flopped back into the water.
