I want to introduce all of you to Preston and Alex Long, they are the father/son team of hunters I had booked for their Javilina hunt, Now this is not the first time they have chased the little desert Piggies (of course a Javilina is not a real pig). the first time they tried to do it them selves not Piggis to be found, The second time(last year) they hired a outfitter/guide and still no piggies to be found, This was the 3rd year in a row and now it was my turn.
Friday broke cold, its was spitting snow, rain sleet, and the wind was blowing 25 to 30 mph, it was going to be tough finding the Javis, but I had been watching 3 to 4 groups and new what they were going to do.
We got to the first spot set up and started glassing, after about an hour I found the pigs, but not where I expeted to find them no they were crossing the same road we came in on, We were on them quickly, after following them, around the hill I lost them, I got preston and alex set up and hit the Javilina call, and all heck broke loose, the pigs came out of the thick bottom about 150 yards from us, they kept coming till they were less than 50 yards, Alex proceeded to dump his pig at 40 yards, Preston well lets just say, he tried to get his, He missed 3 shots, as the pigs dissaperd over the hill, I said lets get alexs pig taken care of let these settle down get a bit to eat and try another bunch, if we cant find them we can come back in here on sat morning,
after a quick lunch we were on the way to the second spot, we arrived I set up to start glassing, the sky had cleard but the wind picked up with gust to 50 mph, I had been glassing for about 2 hours when I was going to pick and move to another spot as I was putting up the tripod I saw a little black dot, where in the heck did that come from, when I put the binos on it I found a lone boar, the stalk was on, when we got to 150 yards I was stepping around a bush to close more distance, when I spotted 2 more coming out of a litte draw 57 yards away, they came out and started to feed not even knowing we were there, Preston got set and we waited till one turned broadside, as it turned I said bust it, BOOM and she dropped where she stood.
alex and preston had just fullfilled a dream of getting there first Javalina, I was proud that I was able to help them,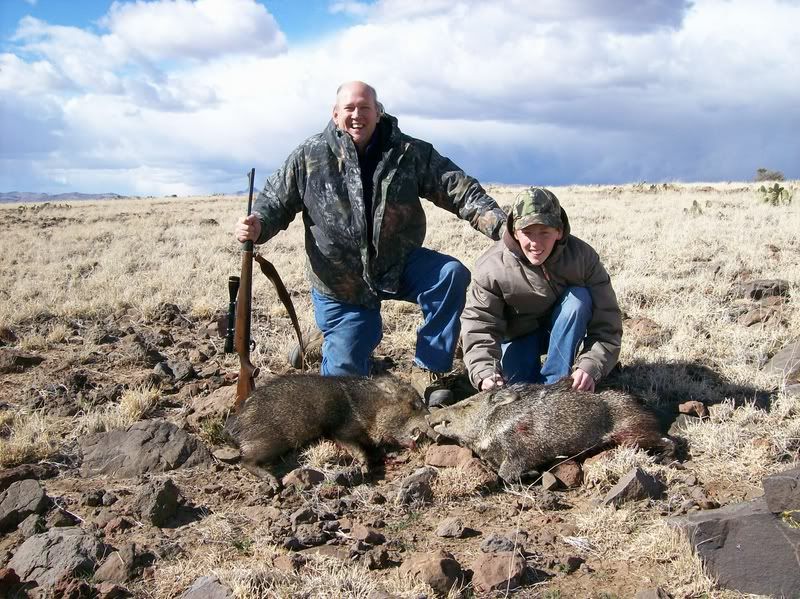 R L