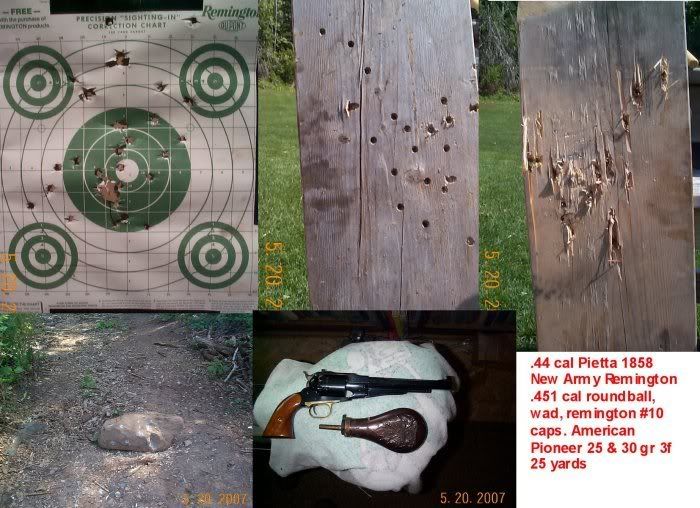 I decided to try some of the American Pioneer Powder 3f grade in my cap and ball revolver. I am sure glad I did. I had an absolute blast shooting today. Little to no fowling, excellent ignition, good power, I ended up shooting seventy two rounds without swabbing the barrel, or the cylinders. We threw a lot of lead down range you might say. I shot at 25 yards. I shot free hand, combat style point & aim, and some rested shots. The revolver performed perfect. I also had a chance to try out my new cylinder loading gizmo's. It worked real good. Made loading the cylinders a joy instead of a chore. The worst part was smearing the lube over the cylinders.
I was shooting 25 & 30 grain loads of APP 3f. I did use a wad. I was shooting .451 roundball. And using #10 Remington caps. I wanted to test the accuracy of the American Pioneer powder and the power of it. I do get better accuracy with Goex 3f, but for the difference in the mess, I can sure live with the accuracy.
Power wise, I shot at the 2" thick treated plank. As you can see most all of the ball was able to pass through the plank. Also the rock that the plank was leaning against was still able to splatter the ball. This kind of made me rethink of the power and ability to take larger game with it. If it penetrates a 2" pine board, it would probably get some good penetration on thin skinned animals like a deer.
With the American Pioneer Powder the revolver shot higher then with the Goex. The paper target shows the hits at the top of the paper. I had to actually hold the green circle on the top of the front sight to slide them ball in there. Not to bad a group for 25 yards. And it sure was fun.
Also clean up with the APP was excellent. I took the wood grips off the revolver frame, and got some dish soap water made up and scrubbed all the parts. They cleaned right up. After that I patches the barrel and cylinders but they were really very clean. It did not take as long to clean like with Goex. It makes me want to get some more APP just for the revolver. I shot darn near the rest of the pound of powder off.
If you have a cap and ball revolver, I would recommend giving the APP a try. It sure makes shooting and cleaning a lot more fun... Heck of a way to spend the afternoon.