Well first of I will say, my archery hunter, had 4 chances two weeks ago and had 4 misses or missed opertunitys,
But my rifle Hunter for this week end well read on and find out
opeining day(Fri, Yesterday) started out great, the bulls were going nuts, we made our first move in on a bugleing bull, I set up with bill to my right and started to do some cow calls, the bull must have had nothing but lovin on his mind, after working him for about 10 mins, I could see his horns coming thru the brush, I told bill to get his gun up but not to shoot until I told him to. the bull crested the rise and came on a tight rope, at 30 yards I mewed and he stopped in his tracks and let go with a earth shaking bulgle right in our faces, It was a small rag 6x6 I looked at bill his eyes were as big as a dinner plate his hands were shaking, as the bull walked away he ask can I shoot him now, Nope to small. bull number 1 passed on,
30 mins later I had bull number 2 on the hook and was realing him in, as the came into view 101 yards away, I saw his 4th on the right side was broke off and his 6th on the left side was also broke, No bill you cant shoot him either he is a good bull but has a couple of broken tines, bull number 2 passed on.
about an hour later I had bulls going nuts, in front of us to our right to our left and behind us, what a rush, I let go with a small bugle hit the cow calls and now the fun began, a bull came running in and stopped at 12 yards, I made bill pass on him and about that time another bull came running up, and well lets just say to have 2 nice 5x5 going to war at 20 yards got a little nerve racking even for me, bulls 3 and 4 passed on, its now 8 am opening day.
at about 830 the bulls just shut down no sounds nothing they were in there beds with their lady friends and were going to budge, so we headed back to camp to catch a bite to eat, well back at camp, bills wife came over to my tent, and said bill was going nuts with all the bulls I made his pass on and really wanted to just get it done, he was not horn hunting just looking for a bull to do a nice euro mount on, he also said that the 6x6 with the broken tines was coool and he realy liked him,
I took the hint, I knew where that bull was going to bed down for day, so at 3pm we headed out, I got out the truck checked the wind dang it bill we are have to go about 1 mile out and circle back to get the wind in our favor, as we came in to the area about 500 yards from where I fig the elk were bedded down I gave a low growl with a chuckle followd by some hot cow calls, ran as fast as I could for about 60 yards and let go with the meanes nastyest bugle I could muster, ran back to where bill was and let go with another mean bugle and some more cow calls, (at this point bill must have though I lost my mind) well it worked the bedding area came alive, not 1 or 2 bulls but 6 differnt bulls let lose the frenzy was on, I worked bill into about 100 yards and started the cow dance, I told bill to get his gun up a cow was walking from our left to our right and a bull was hot on her tail, as bill got his gun up the cow turned and walked by at 20 yards and the bull came with her, I gave a little cow call out and they both stopped in there tracks, the bull was broad side at 20 yards, turned his head in direction, I wisperd to bill take him, as bill pulled the trigger the bull let out a monster of a bugle, blowing snot at us, right at the end of the bugle bill let his rifle talked, Look below for the out come,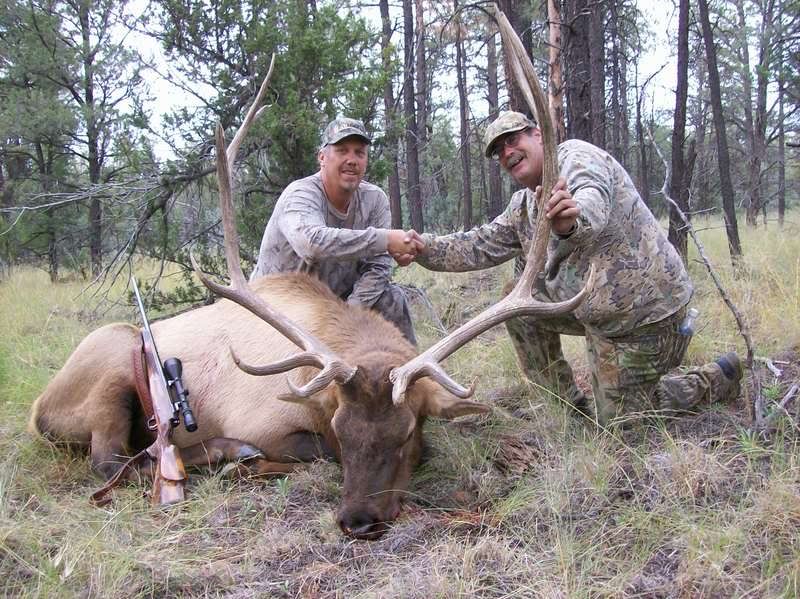 another one bites the dust
R L