It was a pretty cool hunt. I had to go to town early so I didn't hit the woods till noon. The ridge I'm hunting is flat tore up with rubs. Didnt see much but birds and squirrels till about 5:30. Then I had a turkey hen come up out of the hollow and walk the ridge towards me. She actually walked to within 6 ft of me and began to just mill around, putting and purring up a storm. I began tho think she had a crush on me.
After about 15 minutes of this, here came 4 more hens. They stopped to mill around about 20 yards away. When they finally moved off, the first hen joined them. Be darned if 2 minutes later she came back and milled around for another 10 minutes. Was pretty cool to watch and I was thinking to myself, that even if I didn't see any deer, the turkeys made my day. About an hour later I heard squirrels barking down in the hollow. Pretty soon I heard the turkeys down there making all kinds of noise, putting, purring and yacking to each other like old ladies. All of a sudden I heard a deer cough close by in the direction of the turkeys. Then I heard another deer cough too. I think they were coughing at the fuss made by the turkeys and squirrels. Sooooo, I coughed back! ( Jason and I have learned that if you hear a deer cough then you need to quickly cough back. They think it's another deer and will come looking for you.) It worked like a charm. They stepped up over the ridge and turned towards me. The bigger of the two turned offering me a quartering shot, which I took, at 45 yards. My arrow took out her heart and the bottom of both lungs. She ran all of 10 yards and dropped. Sure made up for that fiasco of a managed hunt and I only had to go accross the road from my house. Life is good.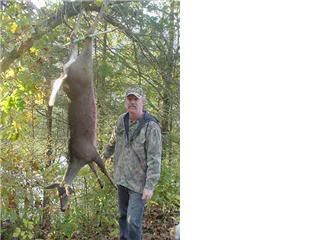 Edited by Spirithawk, 31 October 2007 - 11:17 AM.