Yesterday at 4:30am I forced myself out of bed to wait for a friend of Jason's. I'll be honest, it was getting hard to do, after many days of doing so, between Bow Season and now Rifle Season. Jason couldn't hunt with us so it was going to be just me and his buddy. When Troy got here we headed across the road from my house where there's 135 acres we hunt. Jason's buddy headed to his stand and me to mine. Got to my stand, a buddy ladder stand on the edge of a woodline and overlooking a large hillside with scattered small Cedars and a few large Oaks and Hickory trees, and as soon as I settled in I was glad that I was there. It was the perfect morning, cool but not cold, and a storm front was headed our way. I could here thunder in the distance. I was hoping the deer would be moving ahead of the front. It had just got light enough to see good and I spotted a deer come fast stepping out of some buck-brush way up the hill. I brought my Encore up and got it in the scope and seen horns. Didn't have time to get a good look cause the buck was going somewhere with a purpose. I put the crosshairs on his shoulder and pulled the trigger. He took two stumbling steps and dropped. Wasn't sure at first cause it happened so quick, I shot off-hand without a rest, and I couldn't see him from the stand. I climbed down and walked the 175 yards over to where I last saw him and there he lay. Not a big rack but a nice 8 pt. and better tasting than tag soup.
If you look at the second pic you can see how grey he was from the shouders up. I think may be he was an old buck that was going down hill rack wise. Never saw so much grey except on myself and really old deer.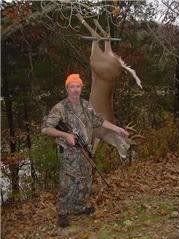 Edited by Spirithawk, 13 November 2007 - 11:04 PM.