Prior to deer season, Went out one day with friends Jeff and Kevin along with father and son Chase and Wiley. Kevin has a degenerative brain condition and does the best he can. A little wobbly here and there but loves getting out there. Had a great day afield and Kevin tag teamed on a few roosters so made the day. Wiley really surprised me on two roos I shot as the one was shot over open water and went down in a cattail swamp on the other side of it. He hadn't seen it drop so walked to the edge of the water, called him over, and pointed across the water saying "Rooster". He swam across and I could see the cattails moving back and forth as he splashed around in there. Then popped out with the bird in mouth and swam back. Then found another one in some thick swamp and cain grass which I never thought he would.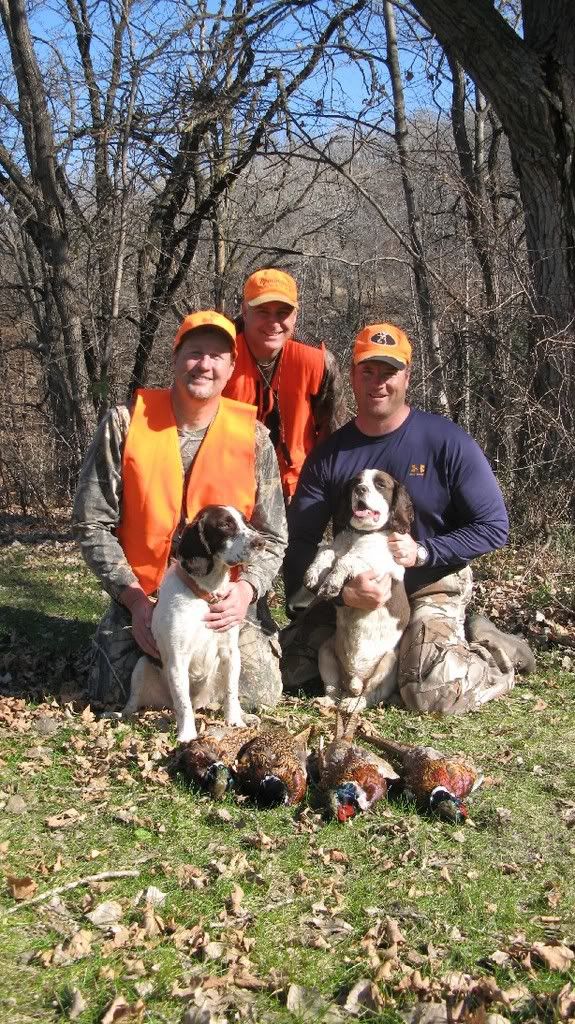 Deer season...Saw several bucks but was hunting "Earn a buck" situation so I knocked down two does. Still have buck/doe tag for muzzleloader...
This Tuesday, Jeff, I, and Wiley got out for a day of chasing chickens again. High winds made for chicken rockets and snap shooting was the ticket. Wow, the birds!! I thought we were in South Dakota in one of those TV shows on the first public area we hit. Cattail swamps interspersed with grass areas. They were blowing out everywhere. Should've had our limit but it was fun just the same. Wiley worked his butt off after tearing a chunk out of one of his pads. I knocked down the last bird of the day as I walked down into a little cattail hole that wasn't more than about 20 x 20 yards and was surrounded by a waist tall grassy area. Wiley flushed the bird and I snapped up and hit him but he wasn't folding. Rooster disappeared over the other side of the hole I was crossing so I took off up the other side after him. He hit the scent trail where the rooster hit the ground and off he went. I'd called him back before on a bird a few weeks ago in that situation and we lost that one so I let him go. He took off sprinting across the grassy section and I trotted along. The bird was running and started to arch to the left. About 150 yards out Wiley swung back around towards me and behind him the bird suddenly flopping in the air and went right back into the grass. I ran to the spot and the bird was gone. Off he went again with me in hot pursuit. I began to wonder if Wiley was still on the bird when suddenly the bird flopped in the air once again and then up it came again with Wiley in sync. Both the bird and Wiley went back down into the grass and then up comes a dog with a bird in his mouth!! That was so funny and I wished I had a video of that one. We trotted the remainder of the circle back to Jeff and he was just shakin his head. We'd covered about 300 yards chasing that rooster and if he'd gone any farther we'd have been driving him to Jeff!!!
It was sure fun to watch him as I was trying to keep up. If we'd shoot a little better that dog wouldn't have to work so hard that day!! Another great day in the field though and one I'll remember for a long time...