There is a relationship created between a man and dog when they share the same house. I would like to share with you two of the best hunting dogs I have ever owned.
" David's Snowshoe Marauder" aka Dixie, breed beagle, 1975 to 1988.
I got Dixie when I was 15. A pure bred beagle pup from Nashua, NH. I grew up in a neighborhood. There was a hare cover about a mile away.
I can not count the times I grabbed the 870 and the dog and walked proudly through the neighborhood and across the main drag, Portsmouth Ave in Exeter and hunted behind the Exeter Sportsman Club. We hunted hare on snow. You would not believe my amazement the first time Dixie ran a rabbit on bare ground. I always thought we needed snow.
Those first few rabbit seasons, man and beagle, formed a path in my life I still follow to this current day.
One on one we chased the white bunny. I shot so many snowshoe hare over that dog I switched to my 22 bolt action rifle to make it more of challenge. She seemed to know if she ran steady I would be there for her.
When I became a trapper I lost a couple critters because they pulled my stake. I went home, got Dixie, brought her to the scene and added a raccoon and fox, both she tracked down, to the fur shed.
I took the dog pheasant hunting and she has two red fox to her credit.
Dixie spent her 12.5 years as a house dog, pet and my best friend. She slept under the covers in my bed every night. She was the best natural hunter I have ever owned.
"Carlton Brook Brandy", breed English Springer Spaniel. 1984 to 1999
Excuse me a moment as I write about this dog. To this day it still feels like losing a child. Her picture is right here at my desk. Brandy was special. A born bird hunter with a great nose. It took a lot of training.
Trapping pigeons under bridges. Planting them in spring traps in the fields with taped up flight feathers. Seeding the field with spun pigeons and working her through. We spent a lot of time training during her first year.
Brandy was trained to whistle and hand signals. The hand signals kept our relationship alive when at 9 years old she went deaf. That ended our hunting career.
Brandy also hunted for me. One key trait I loved was she would bark at flush. If you heard that dog whining and then bark you better be looking for wings.
Three things stand out about Brandy,
1. If she was working and paying no attention to my commands I better be ready. She would work that bird till she flushed it. A couple roosters live because I didn't pay attention to her signals.
2. We shot at a partridge one day. Clean miss. But Brandy would not come out of that cover and move on. I got frustrated and angry at her.
Until she brought the wounded partridge to hand. I never questioned her again.
3. On a hunt on day I heard Brandy whine and bark at flush. The cover was too thick for a shot. How surprised do you think I was when she showed up with a live partridge in her mouth missing all it's tail feathers.
She caught a partridge and I ate it.
Brandy was the closest to me as I have ever been in the man, dog world. I dream of hunting with her again.
House pets make the best hunting dogs. I have proof.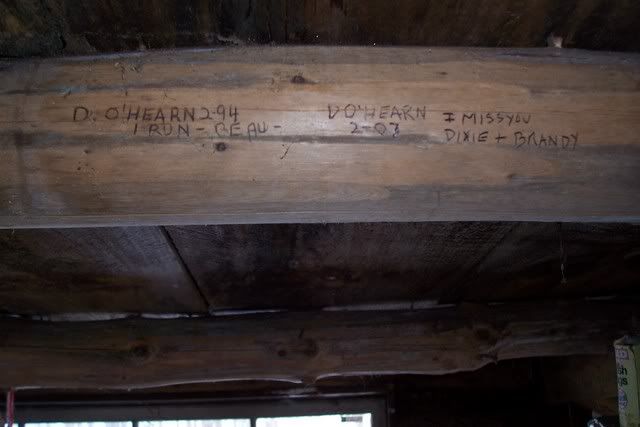 Brandy and Dixie. In Their Chair".
Edited by Coalman, 04 February 2008 - 07:19 PM.