Grab a life vest and come for the ride.
This post goes way back. A buddy and I did a lot of striper fishing in the Merrimack River in the early 1990's. The first time I fished an "all nighter" I got stopped by the police on my way home. They asked me if I was me and I said yes. Seems my dad was concerned and had called. It is good to be missed.
We did really well in our early days. Schoolies were everywhere. But we soon tired of pulling in 5-10 pound bass with 20 lb test. We started to target big fish. Many nights were spent learning how. We perfected our gill nets and live wells and started live lining pogies and herring. The keepers soon followed.
I had always heard September was the best month for cow stripers. My buddy is a bow hunter, I am not. He went bow hunting. I went striper hunting. My wife had used the boat at a camp we leased on a lake the week before. I had taken all the utensils of a striper fisherman out of the boat.. It wasn't till I had the fish on I realized I had no net or gaff.
I owe a debt of gratitude to two other striper fishermen out there that night. As they trolled by me I hollered over and asked for help. They came along side and one of the fisherman got into my boat with the gaff. (Legal then.) The fish went around a mooring ball. They expertly guided me off it. As I was reeling in the fish I remember telling the other captain this must be at least a 30 pounder. He said "Son I think it is bigger than that"
Up until the year 2007 I always had the lead on my buddy with my 49.5" 41 pound striped bass. Live eel incoming tide. Location; on the flats.
Forward fast to the summer of 2007. These fish all came from the fishing hole.
Coalman
35 lbs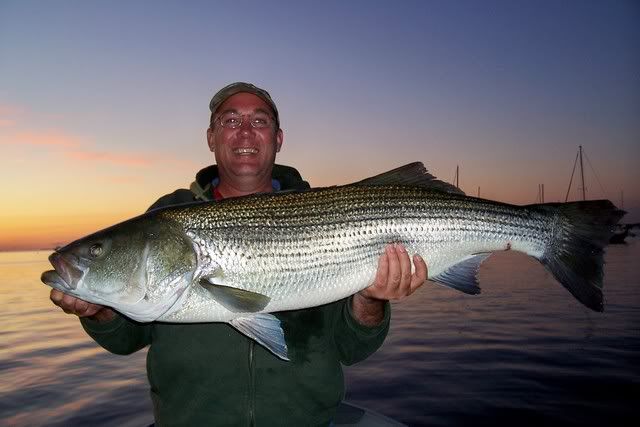 32 lbs
My last cow of the summer. Look at the vent. Nasty wound. We figure a seal. 27 lbs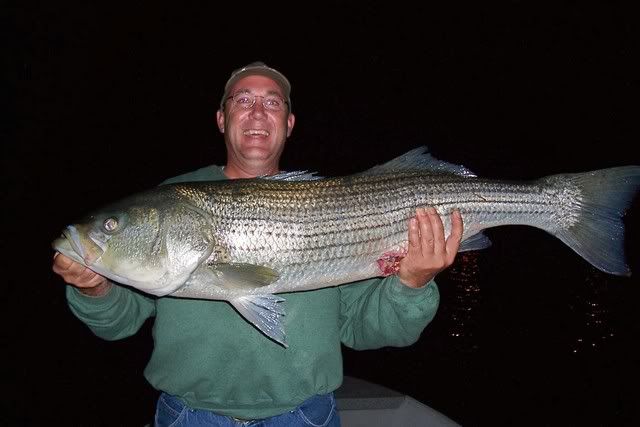 Edited by Coalman, 06 March 2008 - 06:53 PM.