Headed for SW Wisconsin last week and the birds were not responding to calls much. I figured it was due to late spring as early seasons were really good and then they seemed to fall into that "Stuck to the hens" period.
On third day, I had one gobble about 10am which was highly unusual as they'd been gobbling at first light the previous two days and then nothing. He gobbled a second time and I figured he was a bird I'd been after on that 3rd morning and he eluded me for the 3rd straight day. By his gobbles I figured he was heading back to his ridge so I literally ran across a pasture and up the opposite hillside. Snuck on up a road to the top of a small ridge. At the top, I called again and he responding not 80 yards up on a hillside above me. I slide around a big oak and sat down. I sat quietly and he didn't gobble anymore. Then I heard him start in with the spit drumming vibrating back and forth across the hillside. I couldn't see him yet. Another 15 minutes or so and here he comes down the hill fanning out and then coming out of fan to look around. He ruffled his feather and shook his head as he came forward. I had the gun raised and ready. Then it all went wrong. I thought I'd lose sight of him before because of the angle and decided to take him. The Benelli rocked me back and when I regained my sight picture he was gone. All I can say is "Tim had turkey fever". I look all over and no bird. I didn't even see him fly off or run off as I believe was the case. I checked the distance and it was only 40 yards so not sure what happened. I took a few moments to shake off the disappointment and heard another gobble. Up the steep bluff I went but no bird in Wisconsin.
I had back to back hunts so next I was off to SE Minnesota to stay with some friends who had land that I hunt. I was really looking forward to seeing them and getting out on another hunt. First day was a bust...windy and rainy. 2nd day brief gobbles at 5:30am and then nothing. Couldn't spark a gobble all day. 3rd day I switched to landowner's old property which he just sold for $500K so this was my last hunt on it.
I got up to the top of the bluff early that morning around 5:15am and made my way to the back of a long field. At the end I called once and a gobbler sounded off just over the hill. I slipped in under a fence at the wood's edge and setup under a big oak. I was right at edge of field and had a good view of woods as well. He gobbled and gobbled for quite awhile and suddenly I caught movement ahead in the woods. Here came a bird and upon closer review it turned out to be a hen. I froze and let her slide by at about 15 feet. After that the gobbler quit sounding off and I figured he was either on his way or off to find another hen. About 20 minutes later I caught movement to my right and saw the red head. He had somehow slid by me in the woods and under the fence and was now in the field at about 8 to 10 yards. He was already getting nervous as I was silhoutted on side of tree. I slid my finger under to click safety off and he started putting. At that point I figured I might as well try the shot as he was leaving the scene in a hurry. I pulled around and he started running like his tail was on fire. I fired and off he flew. Man, my heart just sunk into the leaves as I sat and collected my thoughts. I got up and walked down the field and actually said a prayer. My thoughts turned to the words "Perseverance" and then I got a 2nd wind.
I went down back down the bluff and figured I'd check the lower pastures and fields to see if there was anything going. I slipped to the wood's edge for a vantage point to scope it out and there below and to my left were about 10 birds on a plowed field next to Dave's trailer house. I used a low spot in the hillside pasture to get down to the trailer house and then one lone hen up above busted me. She was nervous and must have alerted the group. By the time I slid around to look they were making their way back out of field. I walked around the other side and there above me two gobblers were walking into the pasture above. I dropped down behind a bush and spent the next 4.5 hours there watching the gobblers fan out while the hens fed. I couldn't move back, right, or left. Finally the hens flew past to my right back down to the plowed field and the jakes and gobblers ran that way. I crawled over to get in position but they beat me to it. They wouldn't come to calls whatsover so when they fed back up onto a hillside I decided to try a spot/stalk. I was hunting on private land and it was a fairly open meadow cluttered with trees so I went from tree to tree creeping up there. I got to where I figured they were and slowed down. One more tree and turkeys scattered everywhere. I pulled up and a gobbler ran from my right to left and I beaded on his head and fired. Down he went. Not exactly how I wanted it to happen but when the birds won't come in I adapted. He didn't feel that big carrying him but when I weighed him he was at 25.5 lbs. Nice bird and smaller spurs. Here is a pic of him and I'll measure for a score and post pix on contest forum. Also took a few other photos of deer and a yote...
Jeff found this little one while looking for morels...
This little buck came trotted up to me after I ran at him. He was really curious...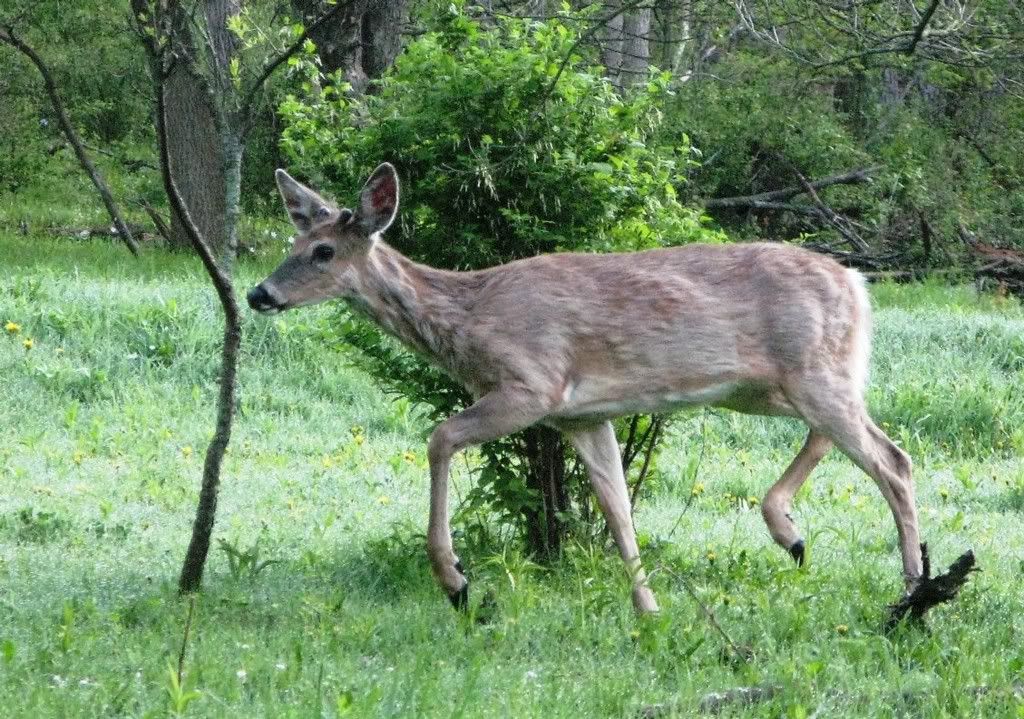 This coyote walked by me and I got the camera out to get this photo of him...