Never in my dreams did I think I would be hunting in Africa, but I did and what an incredible experience it was. Hunters Hill Safari, the country, and the people were just absolutely amazing. The lodge is not five star it is at least a seven star in my books. The amount and variety of animals we saw were just fantastic. Okay, Okay, I know you want the stories and the pictures. Okay story first.
I harvested a Blue Wildebeest with bow, a Duiker with bow, a Blessbuck with bow and then I busted my string, yeah dumb ole me I did not have an extra string. I took a White Blessbuck, a Gemsbok, a Springbok, and warthog with rifle. I was pleased with my efforts to say the least.
Our PH was very good and knowledgeable but the head PH, Bruce, put me in the toughest situation I have ever faced. We were looking for Bushbuck and Duikers in a heavily vegetated ravine, he was walking in front of me when he signalled me to stop, and told me to knock an arrow, then signalled me to step beside him and pointed to a Duiker behind a bush, I could barely make it out, he pointed out that it was a female but any Duiker with a bow is a trophy. I told him I don't have a shot through the bush, all he could say was "take the shot, take the shot", so I did and made it through the bush and hit the vitals of the Duiker, the toughest and best bow shot I have ever made in my life, even the PH couldn't believe it, it was that perfect. Therefore, the story is the smallest animal I took is my biggest trophy.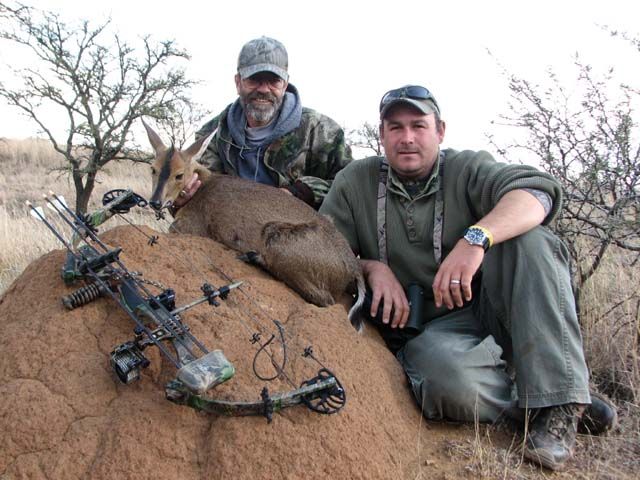 Springbok, a small, elusive, and very alert, hard to come by with a bow, took it with the rifle at about 180 yards, what a beautiful animal. Here it is,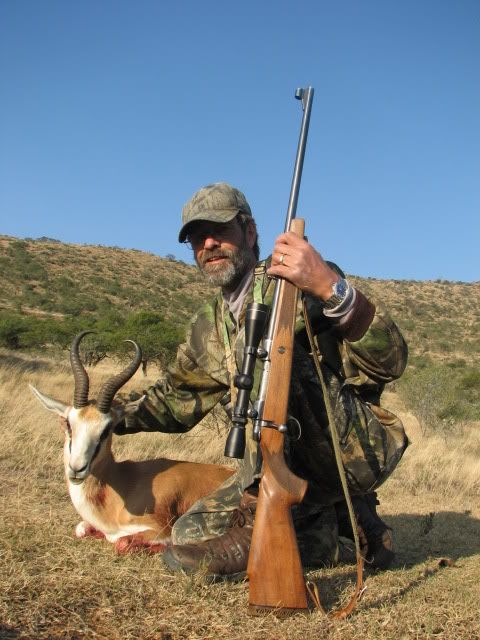 Common Blessbuck, roam the African plains, did a lot of footwork to get this one, literally miles, plus crawling on my belly through 2 foot high grasses and prickly things, thorns sticking in fingers and legs (still pulling them out)
, but I did manage to get an arrow in it. I hit him hard, he jumped up, and slammed down, and that was it for him. Our PH told me it was a Boone and Crocket, sure made me smile, here he is.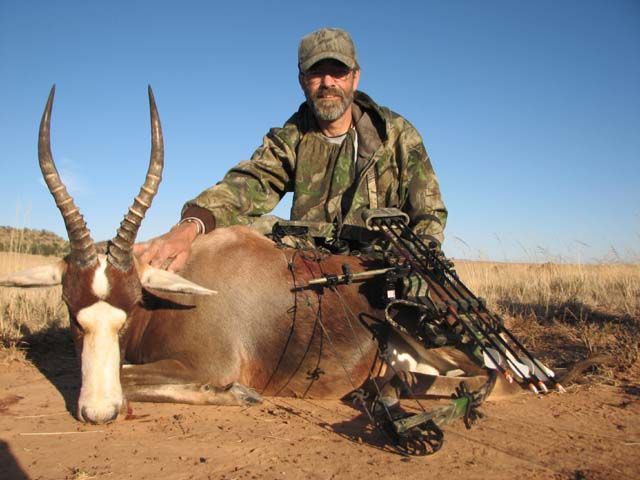 White Blessbuck, also an African plains animal, very, very tough to get close to, chased him over hill and dale, that steep terrain over there just plain wore me out eh! When we finally found him, the PH pointed him out to me, said, "it's the second from the right", I said "man that is a long shot", he very calming replied "Woody you can do it" and I did, 250 yard neck shot, poof, down he went, what a trophy. He told me that it is also a Boone and Crocket. Here he is,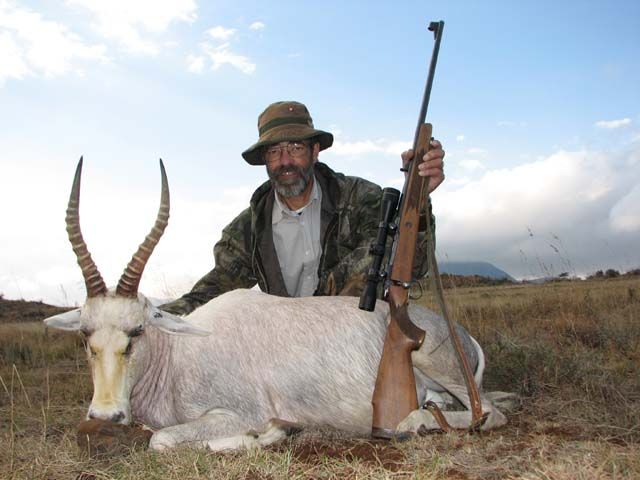 Gemsbok, now I know that animals here are tough, but I was also told that animals in Africa are much tougher and hard to bring down. Now this guy we literally chased for miles, for more than one day. Finding him with the tracker vehicle, then tracked him down on foot. I shot him at 250 yards plus, right through the heart and lungs and the bugger would not go down, had to wait for him to expire, which took quite awhile to my amazement. The exit wound actually exposed his heart. What a trophy he is, his horns measured 39 inches and 36 1/2 inches (one was broke off). What a beautiful animal none the less.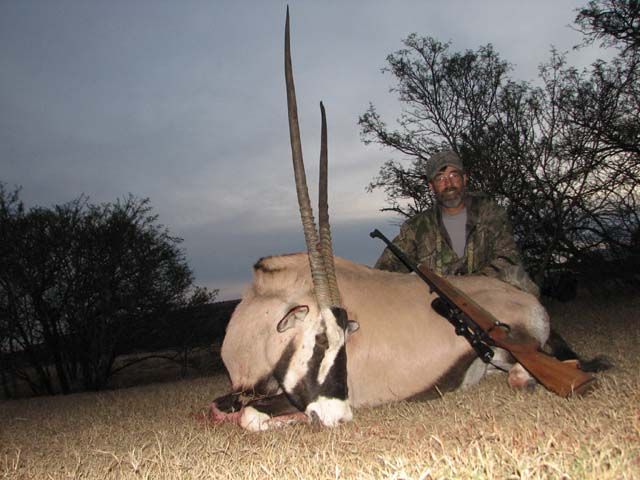 Warthog, ugly is as ugly does as Forest Gump would say, yep they are ugly, very elusive and then again, we are hunting them in a terrain where a bow was not an option. Out came the 30 06, 180 grain bullets, took two shots to put this guy down, but down he went. Well if had not been for the trackers and our PH; I would have never found this critter. I was not scared hunting them, until I put him down and took a close look at those huge tusks, I said "Oh dang, I am glad he ain't moving, those things can do some real damage!" Ugly maybe but what a trophy!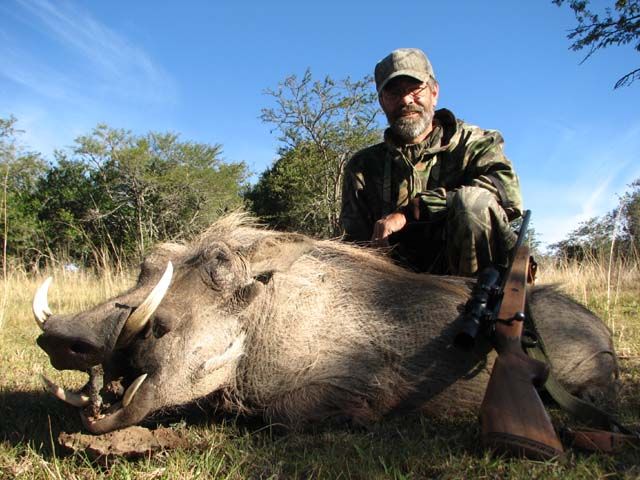 In closing all I can say is hunting in Africa was an experience of a lifetime, the new friendships I have made are priceless, I would and will do it again except next time I will take Patsy.
I would like to thank all my hunting partners who are wonderful people for their camaraderie and making my time spent at Hunters Hill so special. A special thanks to Mike my hunting partner who was fun to hunt with as well as hang out with. Thank you all!
Opps in my excitment to post I missed this guy,
All the animals we hunted were spot and stalk, the trackers/spotters (ours was named Henry) and man was he good. My hunting partner Mike from Nebraska was just as impressed as I was. Mike and I were both going after Blue Wildebeest, I took mine with the bow, a 60-yard shot, and it was good! Trying to get though the prickly woods (Acacia trees) is not for the timid, the thorn spikes can be up to 4 inches long and sneaking up on these animals is not a 15 minute deal, can take up to an hour or longer. It was worth it! Here is my Blue Wildebeest,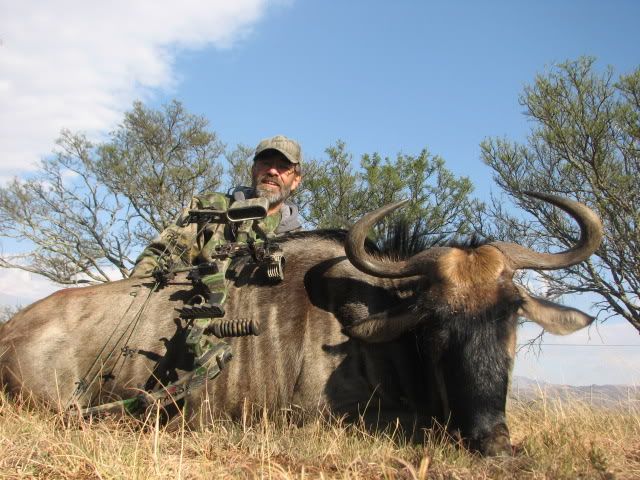 Edited by Woody, 24 June 2008 - 06:52 PM.