Decided to spend two days this week hunting in SW Minnesota this week. I have Mon thru Wed off and usually wait till Tuesday to let the birds settle from the weekenders. Packed up the tent and invited a friend along with me this time around. We took off about 6:30am so we'd be at the first spot at around 8:50am. Weather was cool which I like and it's great for the dog and the hunter. We were hunting public lands and I was looking for spots that had either had corn just picked or was in the Process of being picked. the first spot had a combine running corn so we gave him plenty of room and hunted the fringe areas. A few birds got up out of range as they are getting spooky already but one of them didn't go too far and landed off in a tall grass section that we were going to walk on the way back to the truck. It wasn't 5 minutes later and Wiley got birdy. Up come the rooster from my left and I snapped off a shot. Miss. Shot again and spun him but he didn't fold. That bird flew for about 200 yards and then dropped like a rock. I wasn't holding up faith that we'd find him but marked the direction and plowed thru the tall grass as we headed that way. Got to where we figured he was and Wiley came walking up with the bird in his mouth. Here's a pic.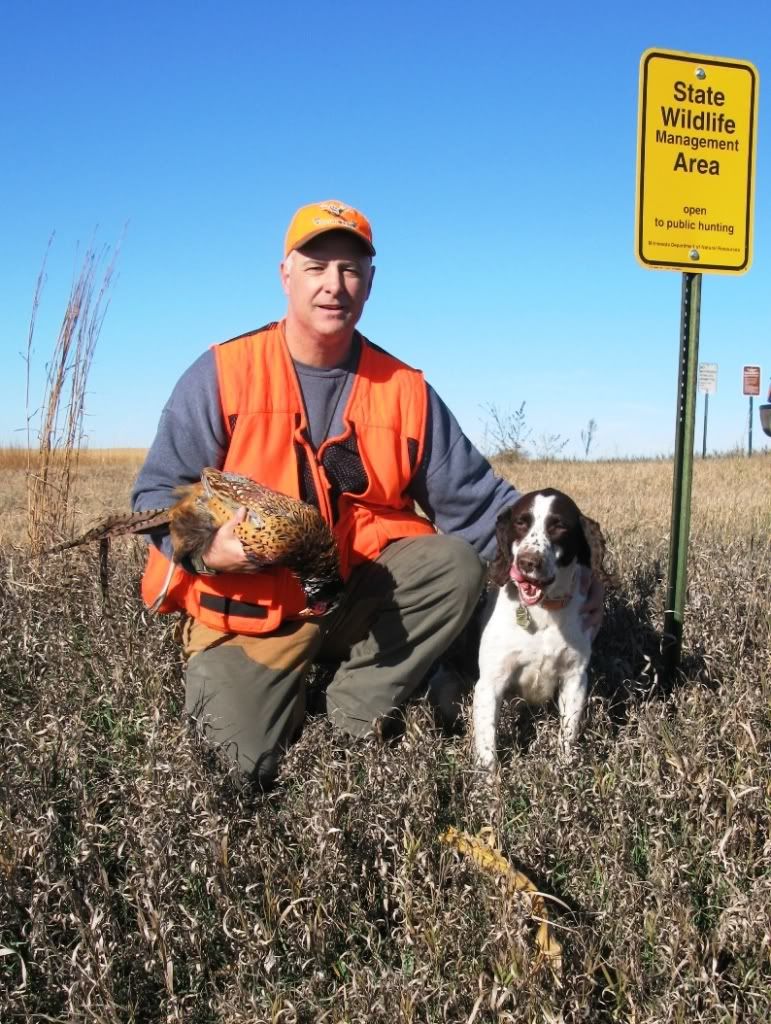 We drove to the 2nd WMA which is one of my favorites as I had hunted it back when it was private land and it always holds alot of birds. Thick bands of cattails and native grass with sections of crp as well. We walked a tall grass section next to a cattail swamp along the right edge of the WMA and Wiley flushed a few hens first. Then we hit a section where there were a few trees tucked into the cattails and the birds always seem to be there. Wiley flushed about 4 or 5 at once and I missed the first bird. Then another flushed and I made the shot. We called it a day and headed to get our camp setup at a state park.
That next morning, I snuck up on these two whitetails. They sure blend in well with the oaks.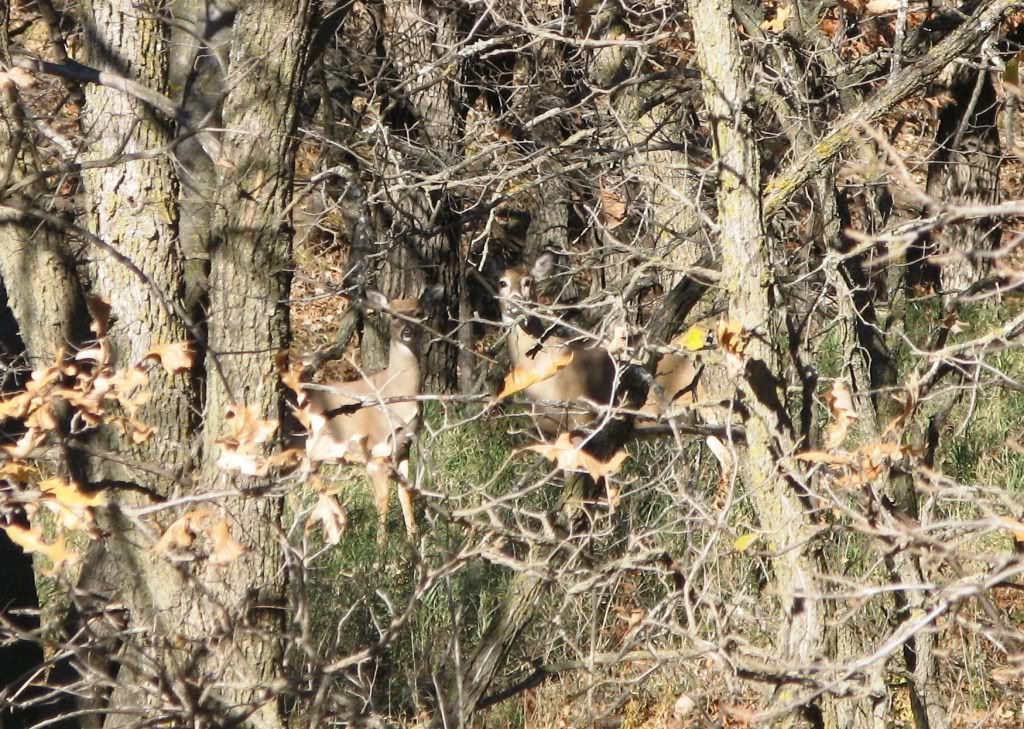 The 2nd day was a beautiful day. Little on the warm side so I was making sure to hydrate Wiley as much as possible. Birds were spooky but the good thing was the farmers were cutting alot of corn. Saw alot of birds but getting up way out of range on the first WMA we walked. Chris went back to truck and Wiley and I continued on.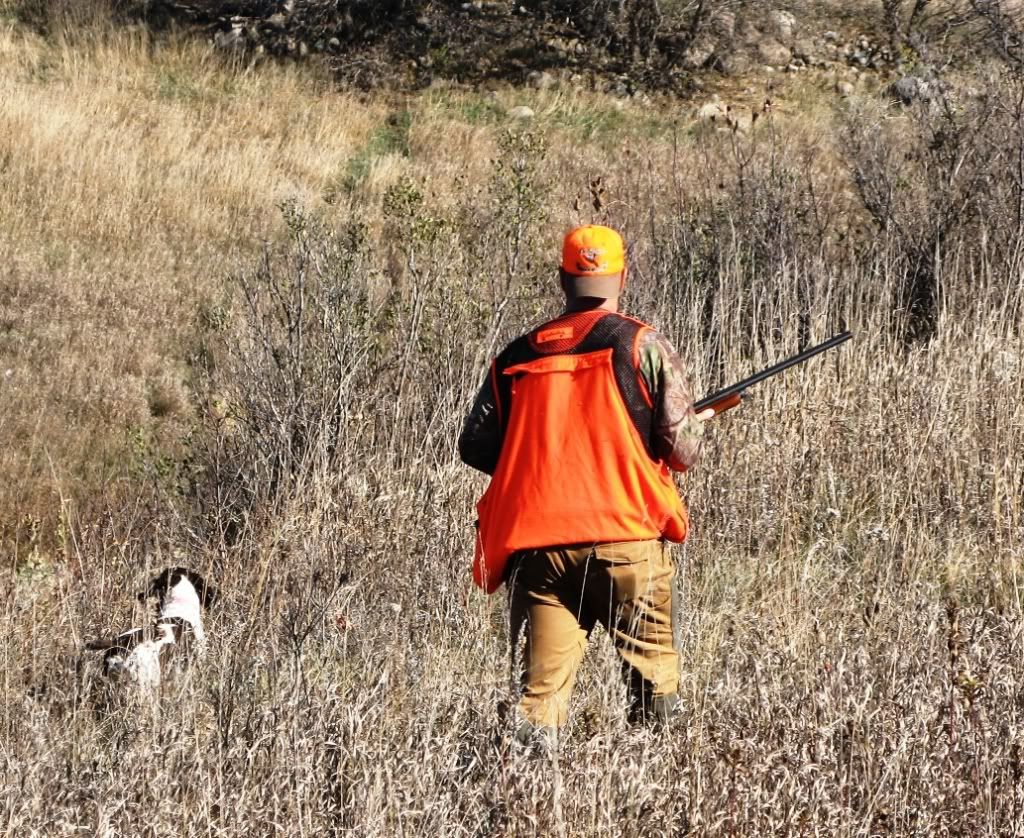 After many miles, we were almost to the truck when he flushed two hens. I was thinking "Where's that rooster" when he flushed him. Knocked him down in some cut corn and Wiley brought him to me. On the way back home, I figured I'd try one WMA that had some extremely heavy cover. Wiley was getting tired and the weather was warm so we took it slow and easy. I decided to use my dad's A500 which was given to me this fall after he died this summer. Thought it would be neat to take a pheasant with it. We started out walking the edge of some corn they'd planted. Some huns flushed way ahead in the corn just after we left the truck. Then 2 roosters flushed out on the edge of the corn out of range. We plowed along thru cattails and native grass sections for awhile flushing alot of birds but they were so spooky and provided no shots. Wiley managed to flush one rooster close up and the A500 barked. He retrieved the rooster to me and we headed for the truck. Any day in the field with the dog is a good day!!