Can't seem to get enough of the pheasant hunting this season. Bird counts are supposed to be down about 25% from last year in MN but that was an awesome year so it's still been really good. After having to hunt other states in the past it's nice to be able to go out closer to home. Chris, Wiley, and I headed out on Tuesday morning for a 2 day hunt. The sunrise as we were driving west was awesome.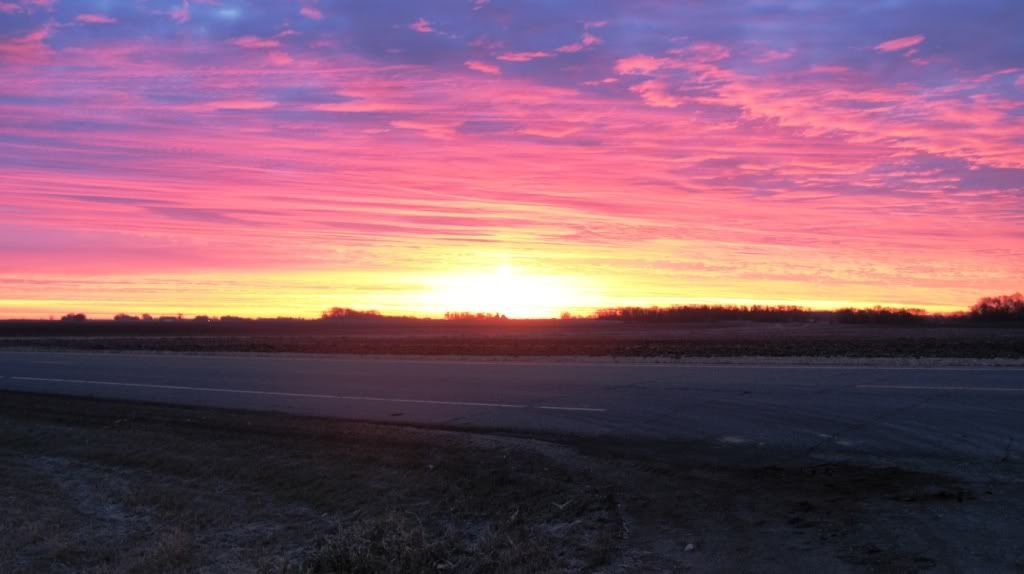 It was really windy that first morning and we hit the first spot but no birds flushed. Drove over to a favorite area that always hold a ton of birds. Wiley got up several hens and then a rooster that rocketed towards the road. No shot there. We continued on along the edge of a section of cattails and let Wiley work into the wind. He flushed a few more hens and then several roosters got up way out in front of us. Spooky birds this time of year. We came up to a corner where we cross an old fence into another section of public land. Wiley got birdy and flushed a rooster along with about 10 other birds at once. I knocked the rooster down and Wiley was already on it. After a quick retrieve we were on our way. Another 100 yards down and a rooster flushes right towards a farm. No shot. Several more get up behind me and with the wind they are gone before I can blink. We reach the end of the public area and head back. Wiley is working the edge of another cattail stand and stops, looks, and dives in. Up comes a hen. We continue on and about another 30 yards he turns and dives into the cattails. I'm at the ready. The rooster flushes cackling as he explodes with the wind. Boom, miss, boom, down he goes. Wiley plows across the water and dives into the cattails. I can hear him thrashing around as he struggles to pull the rooster from the cover. Out he comes with a spring in his steps as he prances along with the rooster in his mouth. He hands me the bird and I pull him in telling him how he's such a good rooster boy! He perks up and I give him a few more attaboys as he eats it up. We head to the hotel to relax and get a good meal at the local diner. Tommorrow is another day!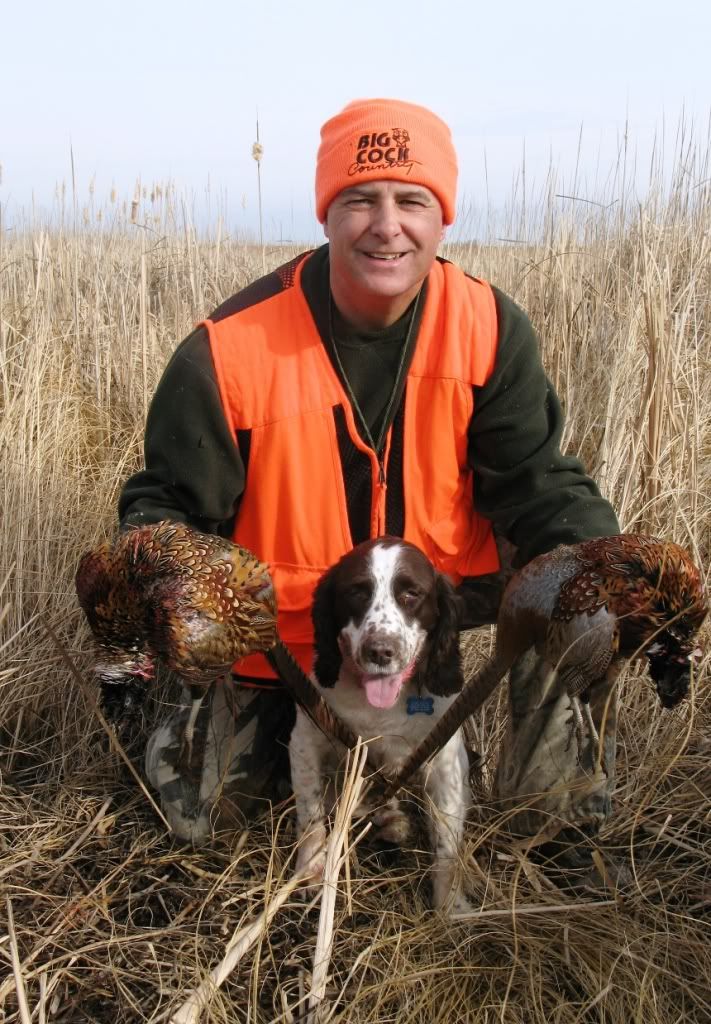 After a good night's rest, we are ready again. A breakfast at the local diner is just what the doctor ordered. We head south back to a waterfowl production area that I've hunted in the past. The wind is fierce so Chris opts to stay in the truck and read. I don't blame her. Wiley and I head out along a ditch filled with water and thick cover. As we reach the end, he flushes two hens and then another 6 or so pheasants get up out of range in a harvested field. Spooky birds. We continue on along the edge of a field working a band of cover. Wiley gets birdy again and flushes a bird going straight away. Couldn't tell if it was a hen or rooster. Then a rooster flushes just ahead. I took a long shot and missed. We worked down to a swamp area that always holds birds. I had Wiley heal alongside of me as he is wound up tight after those flushes. I release him at swamp's edge and he starts working it. It isn't long before he's dodging and weaving like a prize fighter and up comes a rooster. I pull up and...Nothing. I carry a 20 gauge pump and hadn't ejected the shell from the previous miss. Sorry Wiley. We continued onto another part of the WPA where I'd seen one rooster flush and land. We worked a ditch bank along the way and then got to the area of cattails where the rooster had landed earlier. Wiley started working the edge of the cattails and not long after he flushes a few hens and then the rooster got up from my right heading left. I took my time and knocked him down. Wiley retrieved him. We continued on thru a section they had control burned and walked the edge where there was cover. Wiley flushed a few hens and behind them two deer ran across in front of us flushing two more pheasants as they ran. That was cool. We headed back to the truck with one nice rooster in the vest.
We took a break and headed to another public area that was huge and had an unbelievable amount of tall, thick cover. This was bird central here. We left the truck and walked the edge of corn that they'd harvested recently. Chris and I were talking as Wiley worked ahead of us. I took my eye off him for a sec and he flushes a long tailed rooster that I never got a shot at. That is what I get for not paying attention to my dog!! We made our way back to a ditch along the edge of the area that always holds a ton of birds. I figured it was wet so Chris stayed behind on a hillside. Wiley and I slipped along the edge of the ditch and he worked both sides of it. Birds were getting out way ahead one after another and he flushed some hens closer. It's easy to get discouraged when 50 birds have flushed with no shot but I reminded myself to be patient and one rooster would hold for a shot. We reached the end and I'd missed one rooster that he flushed. Then we slide along the edge in some short grass and followed it along. The wind was such that the first 3 hens Wiley flushed all came right by me. Where is the rooster I thought to myself as we came to a clump of trees. Wiley got birdy and I got ready. He flushed the rooster and the wall of trees funneled him right by me. I missed the first shot (Too quick) and then settled on him and down he went. Wiley was on him when he hit the ground and brought him back as I kneeled in the grass. Wow, what a tail feather on that bird. We were done for the day. As we headed back to the hill where Chris was waiting, Wiley flushed about 10 or more birds and some of the roosters just hung in the wind. Should've had the camera out for that. That 2nd rooster had a 24" tail feather and was the largest I've taken. Sharp spurs as well. I'm tempted to go out again next week as i'm just having a blast with Wiley!
My hunting partner Chris