The weather is warm. 37šs so I had to shoot. It was not raining, but was very overcast, you know... those gray skies that look like they could open any minute. It was hard walking through the snow for me. With a healing back and bad knee, I got out to 35 yards and decided that was as far as I was going, before I hurt something.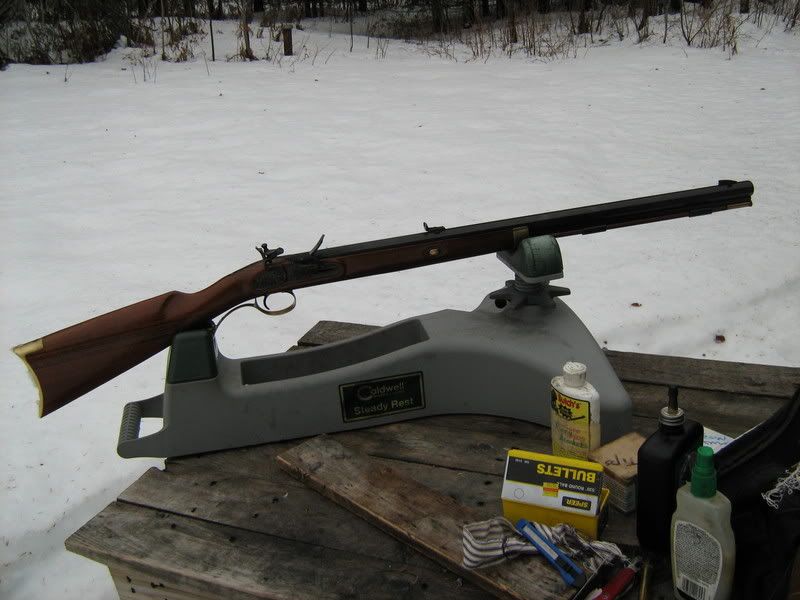 I had treated this rifle with Montana X-treme bore products. I had scrubbed the bore with their solvent and treated it with a bore conditioner. My fear of course today was, shooting black powder with petroleum based products in the rifle could produce a black tar effect in the bore. So I wiped with a dry patch, then chickened out and took an alcohol patch to the barrel before I started. I then dry patched it. This was the first time since I treated the rifle that I had a chance to shoot it, so I had no idea what I was in store for.
I was shooting home casted .530 roundball. Using homemade moose milk, and cutting patches from bulk pillow tick material. I was loading 110 grains of Graf's & Sons 2f powder. big6x6 got me thinking that he was having better accuracy pushing hard, so I would push mine a little harder.
The first shot kind of surprised me on the clean barrel. Three inches high. The close proximity to the target since this is sighted in at 50 yards could have caused it. I was holding a six o'clock hold on the small white center. I did not think I flinched. So I was wondering if the barrel being spotless clean did this or what. I then shot the next batch of ball at the center dot using the same sight picture. I never swabbed the barrel and loading was very easy. That was five or six shots. I kind of lost count.
I then swabbed the bore clean with spit patches and then some dry patches. I wiped off the frizzen and flint with an alcohol patch. I had bought some sabots on sale from Midsouth. And I wanted to try them as well. They were 250 grain mag XTPs in a orange sabot. They loaded so easy it kind of worried me if I had the right sabots. If these were conicals, I would call them slip fit. I only loaded 100 grains of powder and shot three of them. Not too bad for close range shooting.
I again swabbed the bore clean and loaded 405 grain aero tip powerbelts I had bought on sale at the same time of the sabots. I down loaded the powder on them as I wanted them close to hunting conditions, and I knew they liked that powder charge. Those three did real well also.
I then spent some time shooting a steel can that was out on the snow that I must have forgot to pick up and the melting snow now exposed. After rolling that around with roundball for a while I decided to pack it all in.
In the house I gave the rifle a water bath. Two water patches and it came out clean. I was impressed. I then put a brass brush on the rod, dipped it in cowboy solvent, and gave the barrel twenty strokes. I then used a solvent patch and patched the barrel. What I got was exact black indications of the rifling marks in the barrel. Two solvent patches two dry patches, and then a patch with bore conditioner... I was done. Checked the bore and it shines perfect again.