I was told about some good deals on roundball, so I purchased a lot of them. They are nice looking ball, so I wanted to see how well they shot. To do this I decided to use my Thompson Center PA hunter with the 1-66 twist barrel.
For kicks I wanted to get the target back to 50 yards because of someone on a different forum doing off hand shooting. But with the snow being unstable, and having a bad knee right now, I got to 40 yards and decided not to risk anymore sinking in the snow.
After shooting the first two shots free hand, I decided I did not want to shoot free hand. I could not believe how bad I was shooting free hand.
can you guess which ones were off hand...
I then sat at the bench and shot a group. Not too bad for eight rounds. I had pre- measured a number of loads. This one was 85 grains of Graf's & Sons 3f and the new cast roundball. They were selling these roundball for $4.95 a hundred. And they are cast from pure lead. Very nice looking, and well made.
I then wanted to try 85 grains of Graf's 2f and had loaded some of them tubes as well. Again, 40 yards. two kind of slipped out of my group there.
So I upped the powder charge to 90 grains of the Graf's 2f and was shooting for that little green square. The one shot (#2) that went out of that group was my fault. I knew it the second the rifle fired that I had not concentrated on the sight and pulled the shot.
I was swabbing between shots with a spit patch. And then two dry patches. It was nice and warm today at 40º so it was nice not having to wear a winter jacket today. But it was kind of damp out. Very over cast.
These round ball I purchased seem great. I am sure glad I was told about them. I bought them on line at Gander Mountain. I might point out, I checked the sight today and discovered they are now all
SOLD OUT!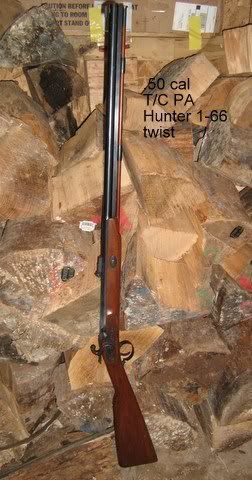 So this rifle is a very good shooter. I have a lot more shooting to do. Also when I cleaned this rifle, for some reason it was filthy. It took me a lot longer to clean this rifle today then normal.