From Van Handle Archery Products here is The Most Versatile Blind in the Woods, the
BUNGEEBLIND
. This blind is really gonna fill your needs for a hunting blind and it weighs in at around 1 pound. It can be used for whatever you hunt and wherever you hunt it. It requires no poles or stakes and sets up in seconds without needing a third hand. The
BUNGEEBLIND
is water, mildew and mold resistant. It's completely tangle proof, burr proof, and tear resistant.
I removed it from the handy carrying bag and had it ready to go in my backyard with no instructions required. The blind can be set-up around anything, through anything, over anything, under anything, and can be attached to anything in just seconds. Below are some pics that I took of the
BUNGEEBLIND
in my yard. The bungee cords are made out of what looks to be a top quality material that will probably hold its shape and strength for a very long time. The hooks are rubber coated steel and are well made. I will follow up later with some pics of it in the field and in June at the DSH Get Together we will do a video review of the blind and it's ease in setting up.
This pic is of the BUNGEEBLIND set-up from a basketball pole to a support beam on my patio.
The distance between the two is 12'.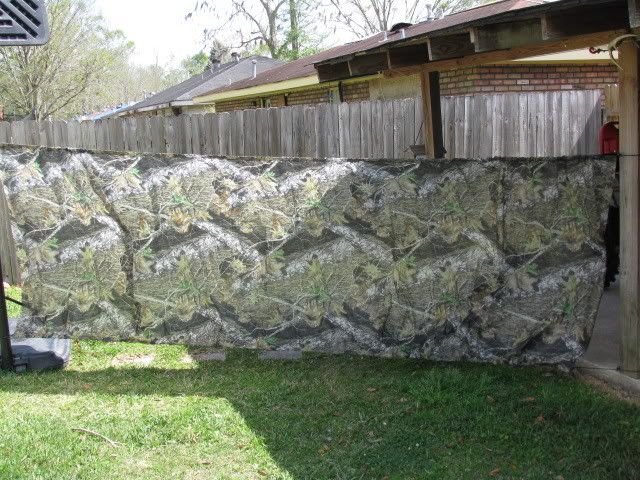 This pic is the same set-up with the handy carrying pouch supported with 2 of the 4 clips that are included. These clips will help to hold the blind in different areas so as to create a more 3 dimensional effect or to insure the blind stays close to the ground.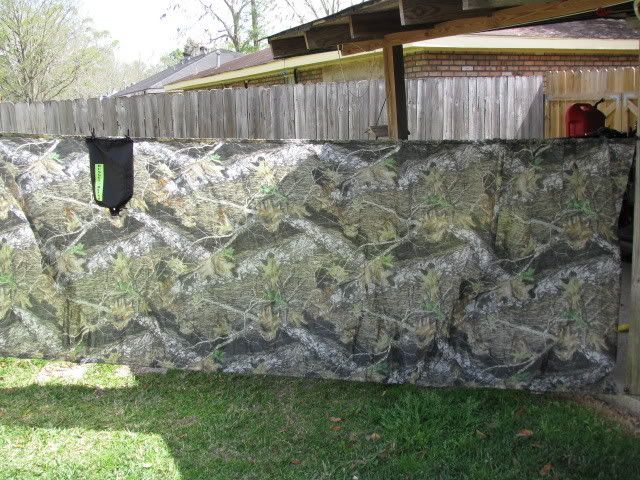 This pic is of the BUNGEEBLIND placed back in the handy carrying pouch. It actually went back in the pouch as easily as it came out.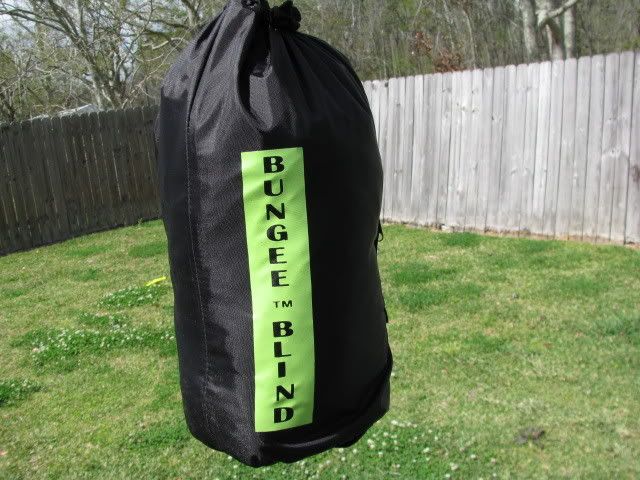 The BUNGEEBLIND is available in 2 models:

Standard, which is 15 feet long and 5 feet high and sells for $49.95

Magnum, which is 21 feet long and 5 feet high and sells for
$64.95
The BUNGEEBLIND can be seen in many different field set-ups by going to www.bungeeblind.com Make the BUNGEEBLIND your blind of choice for 2009.
.
I haven't had reason to need it, but by talking to John on the phone, I would have to say that he will back his product and help you in any way that you may need it. If you click on the button to buy the
BUNGEEBLIND
you will find a phone number as well as an e-mail address at the website along with another product, the DEATH GRIP, the deadliest grip in the woods. With the DEATH GRIP, Bow Torque is History.
I would like to thank John Van Handle for the opportunity to review this product for the members and guests here at Hunting Resource Forums
Edited by WayneBizzle, 09 March 2009 - 08:42 PM.