Here's mine and Jason's toys. I have a life long passion for single actions. Hang one in a good holster on your hip and it just feels right!
I think these three pistols about cover any need we might have for a hunting side arm.
Heritage Arms Rough Rider Convertible .22 - .22 mag, 6 1/2" barrel ( I love the Cocobolo grips. The concho on the Mexican Double Loop holster is made from a vintage half dollar. This is my carry along any time I head into the woods to scout or to just take long walks. The gunbelt and holster is also made by Heritage Arms. ) It's a very accurate and enjoyable pistol to shoot.
German Made HWM Bounty Hunter .44 Mag, 5" barrel ( Jason just got this in a trade. One we acutualy came out on top of. It's very well made and feels mighty good in the hand. Jason and I realy like the gunbelt and holster that came with it, a $175 bonus with the trade. )
Richland Arms 1860 Colt Old Army Calvary Model .44, 7 1/2" barrel ( I bought this pistol new a bit over 30 years ago. It has an extremely smooth action, light triger pull and is quite accurate. This pistol has a feel I can't exsplain but it FEELS RIGHT, very well balanced! I've never pointed it at anything that I didn't hit! A good friend use to tease me about this gun....until I drew and fired and hit a fence post at 35 yards. He got a permanent case of lockjaw after that! I realy love this old gun. It's like an old dear friend and has become an heirloom to be handed down to Jason. It's engraved, including all the brass, and I want to have my name engraved in the back strap where the engraving forms a rectangle. The finish isn't stainless, it's called British Grey. I realy should get a C.S.A. military holster for it and the shoulder stock that clamps to the grip. The Slim Jim holster, that it's in, is great for fast draws though.
)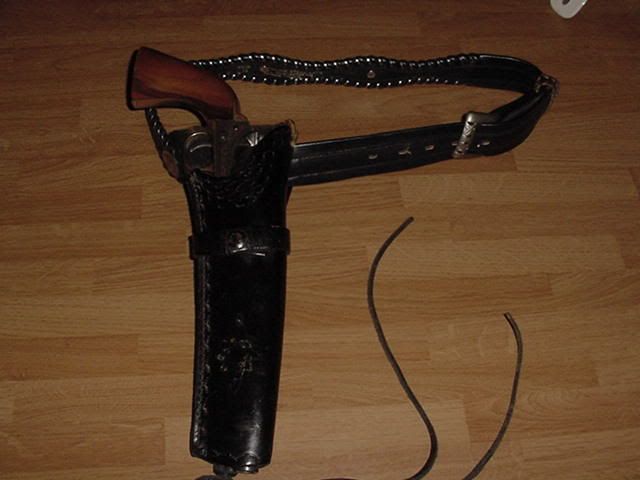 Edited by Spirithawk, 12 April 2009 - 11:56 AM.