I put in a long post a couple of weeks ago-some reason it didn't work!
I'll keep it short ...just in case it doesn't work again!
My brother , Frank decided to get on my deer lease in Sonora, I've been trying to get him on it for 3 yrs. I'm pumped to be able to share the campfire with him again!!
We went out a couple of months ago-to pick a spot/section for him. All he would talk about on the "way in" was that he wanted to shoot an axis buck. Well, we had just arrived at camp, while Frank was unloading his 4 wheeler off the trailer-I'm whispering for him to get his rifle. Boom!!-he killed a young axis buck not 10 minutes into camp. We put the buck in the walk-in cooler and we were off to find him an area. On the way to a certain spot-I shoot a axis doe. I "corned" a section off a hill where I know they travel-and on the way back to camp, there were axis there! I "smoked" a 29 incher @ 150 yrds with my 50 cal Encore. While cleaning my axis on the skinning racks, Frank spots a big herd moving through right before dark. This was a challenging hunt to get to them without being detected and we were running out of light! Frank killed a 20" buck. Boy-he was excited!
We killed 4 axis that day-promising each other that we would NOT bring our rifles with us the next day while we worked on getting his area set up.
Frank"s first buck.....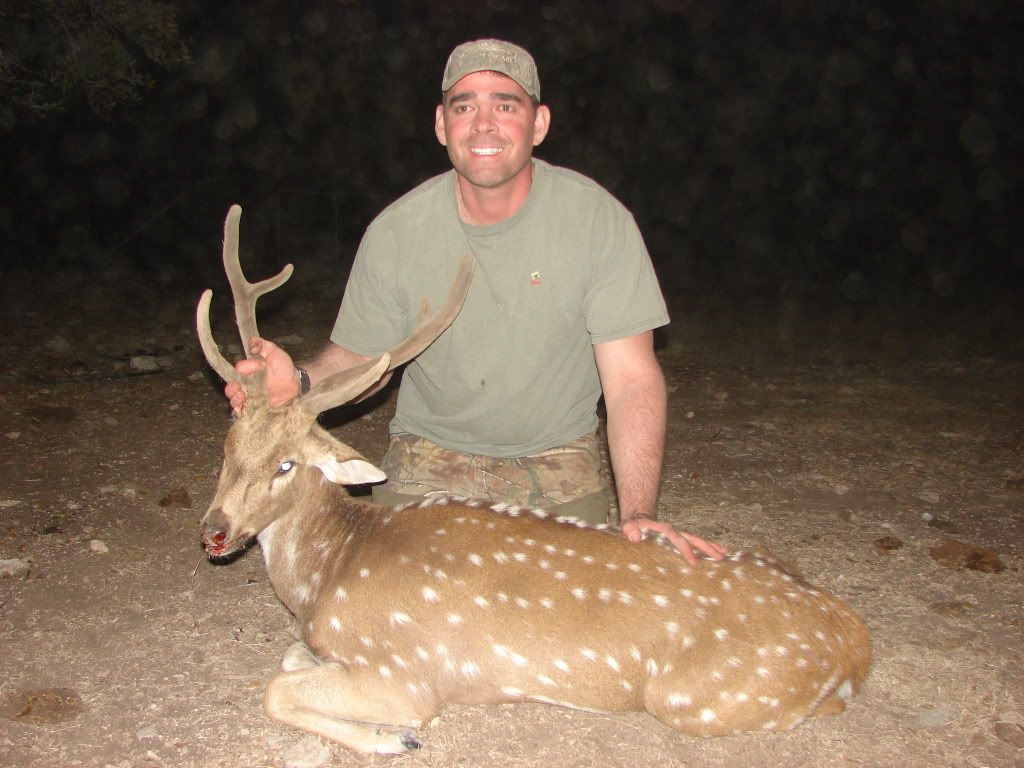 ">
We went back 3 weeks later to try and finish setting up his feeder pens. I arrived at the gate @ 7:30 p.m. There was a herd of about 30 head of axis in front of the gate grazing!-I had run them off
to open the gate. As I was unlocking the gate I noticed a 30" up on a bluff grazing about 125 yrds away
! I walked back to the truck-pulled out the Encore from the back seat, shut the motor off...Boom!I got my axis for the weekend!
He was dried out and starting to shed his velvet....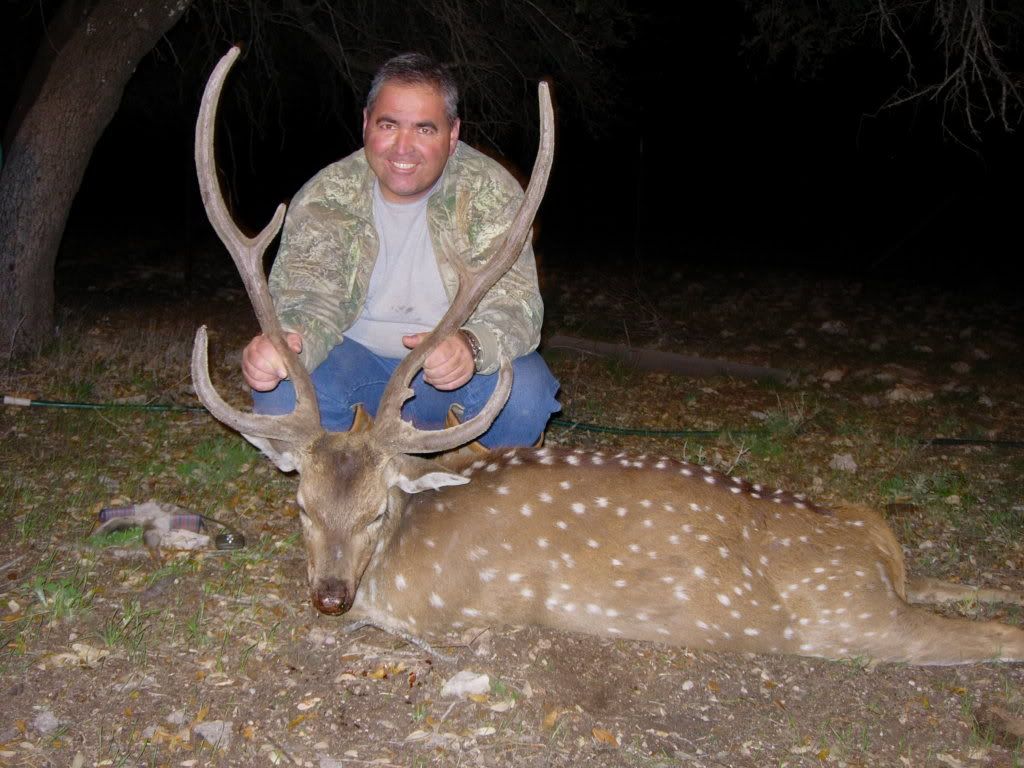 Frank arrived shortly after-in time to take my picture
I had a good camp fire going before he arrived-all he would talk about was going out for turkey(it was our opener) .I laughed-reminding him of what happen last time we were here-we didn't get much done! I told him to sleep in a bit since it was going to be cold out(it was 25 degrees). We got up about 9 and while having coffee, Frank pops his head out of the camper and sounds off with his mouth call. Sure enough -3 gobblers answer him! Off goes Frank , heading to a creek bottom about 100 yrds in front of the camper. When he gets there, 2 gobblers spot him and run off. He , then heads to the left for about 200 yrds and sounds off again with his call-the 3rd gobbler responds! Frank "sets" a decoy and runs for cover. I'm watching/listening while sipping on my coffee in front of the camper. I hear Frank yelping, then silence, then BOOM! Here comes Frank with a 20 plus pound bird with an 8 " beard and 1 1/4 " spurs. Not bad for a "winger" hunt! Needless to say , we bust our butts getting feeders set up and replacing an A/C unit that weekend-all the while we were grinning from ear to ear with satisfaction!