Me and Frank boarded early Sunday morning for Denver..we were heading for Wyoming , pronghorn opener on Monday morning. We waited a lonnngg time for this day to come! We arrived 7:30 am, hungout with family all day, off to dinner to meet up with Marty (hunting resource's one and only-Bonecollecter)
Marty set us up on to hunt on a friend's ranch. After dinner, we headed back to Marty's where he shows us pictures of antelope he'd seen while scouting this ranch-needless to say , we didn't sleep that first night!! It was a crisp 30 degrees when we entered the front gates of the ranch. "Speed goats" were running everywhere!!! The rut was on! We probably seen 800 antelope our first day! We weren't 20 minutes into the ranch,(we were slowing cruising the main road-glassing the rutting goats as they ran all around us) when I spotted a "shooter'-I kindly offered the opportunity to Frank (this was a trip I set up with Marty initially a few years ago, so Frank could fullfill a longtime dream of his). Frank returned the courtesy of allowing me the opportunity since I spotted him-as me and Frank went back and forth-the goat was getting further away!
It was on...I went after him! this goat was home free as he rounded a hill a few hundred yards away. I loaded up and headed his way. The ground was crunchy with frost, I had Marty and Frank in tow. The goat coud not see us cause he was on the other side of the hill. All of sudden , the antelope came running around the left side of the hill-charging his 'would be intruder" that is trying to take his does! Immediately I drop to the ground in a prone position! My bipod was in position, I looked over the goat for a second in my scope, making sure to identify him as the same dominant buck that was gathering his harem of does moments before.He was facing me at 285 yards, staring me down! I quickly put the crosshairs at the base of his neck and squeezed! Down he went. As we approached, I was feeling alot of anxiety-hoping it was the same antelope that ran from us earlier. He sure got bigger as we approached! We measured him that night(Marty is an official scorer for SCI).With one tip busted off and hooks that were well worn from the rut fighting, he still made Boone and Crockett record books with a solid 85" of horn!!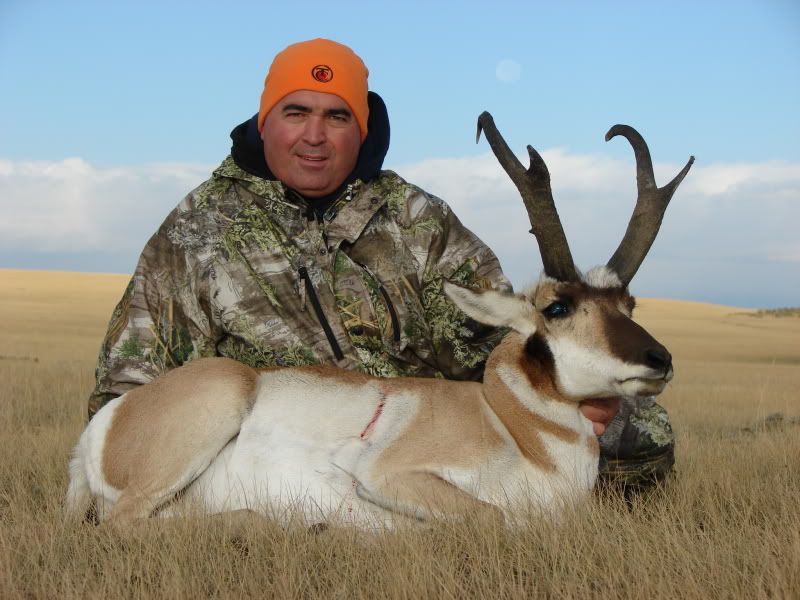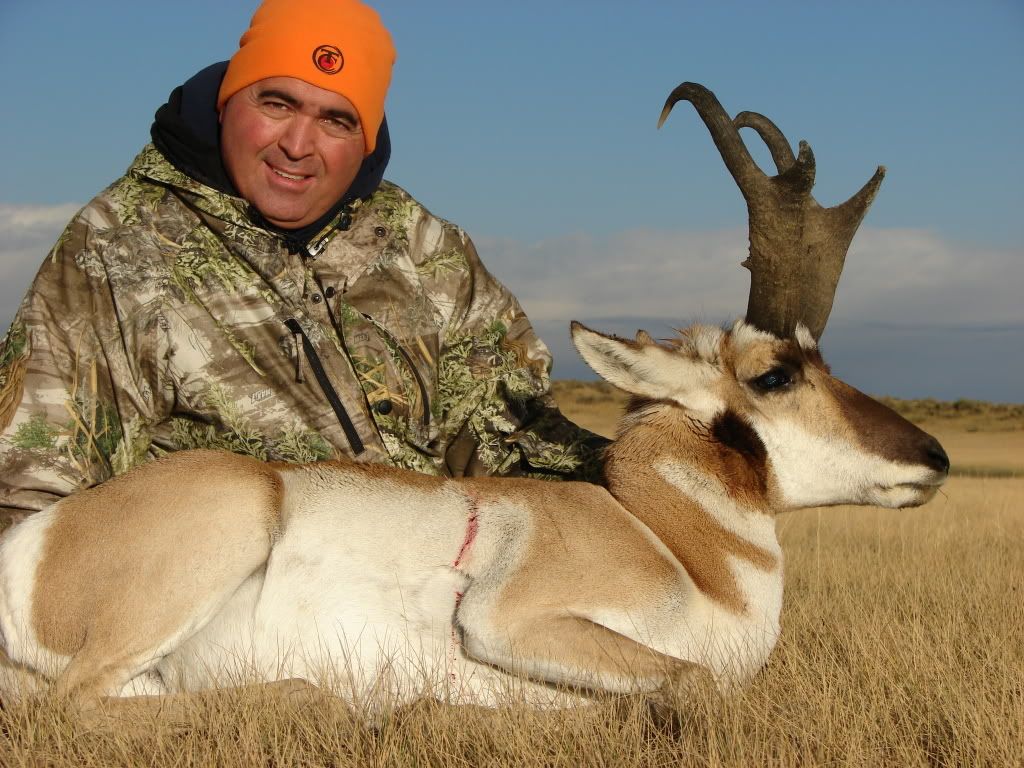 Less than an hour on the opening day , my hunt was over! We hunted the rest of the day, glassing for a big antelope for Frank. Our standard had gotten pretty high by now, but Frank finally had an opportunity at a trophy at 2 in the afternoon! With a well planned stalk , we managed to get within 350 yards. Frank hits him and the goat goes down! After much hollering, me and Marty go to get the 4 wheeler unloaded to pick up Frank's trophy. Only to find out the goat had somehow gotten up and run off! Amazing! We spent the rest of the day looking for him to no avail. Frank was fustrated.
We went out the next morning, a crisp 22 degrees, finding another trophy goat bedded at the base of a steep drop. Off we go, going around the hill to get the wind in our favor.We climb to the top, locating the goat to our left. Stepping away from the edge , we shuffle to our left for about 75 yards and peer over the side...there he is, 400 yards in front of us. Frank steadies up the bipod, grazing his back on the first shot! Now the goat is running , Frank pulls another on him, hitting just inches behind him! Tough deal! Trying to reassure Frank that he done exceptionally well considering his chosen caliber of rifle, crosswind and distance, I could see he wasn't taking it well... As we are walking towards the truck on the other side-some antelope were running up hill towards us(probably from hearing our shots). Immediately we drop to the ground, I could hear Frank simutaneously working the bolt as we go flat on our stomachs! He is looking for blood now!!
A doe passes, then a buck, then a bigger buck...boom! Frank drills him at 210 yards.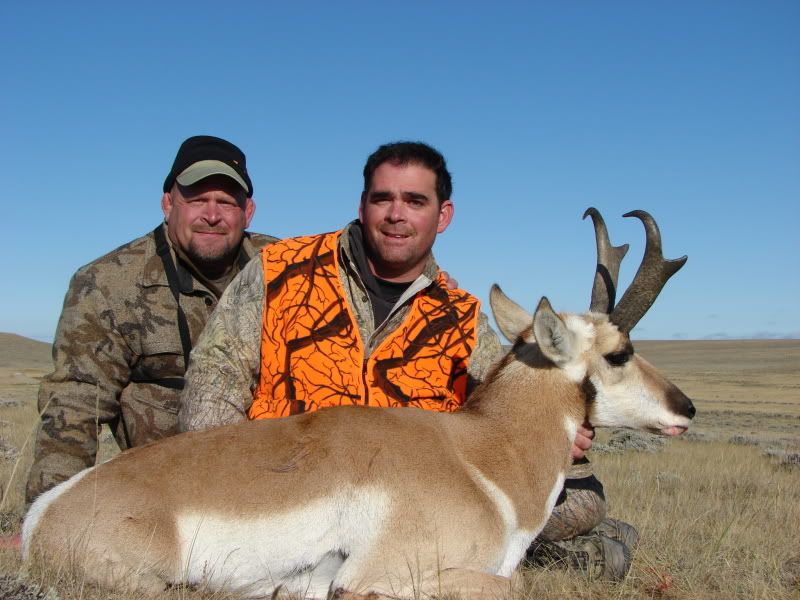 Marty and Frank
The next day was spent checking out the local hangouts and wildlife, along with some of Marty's old hunting grounds.
">
little too late!!
elk mountain...always snowing, always covered in big bull elk!hint , hint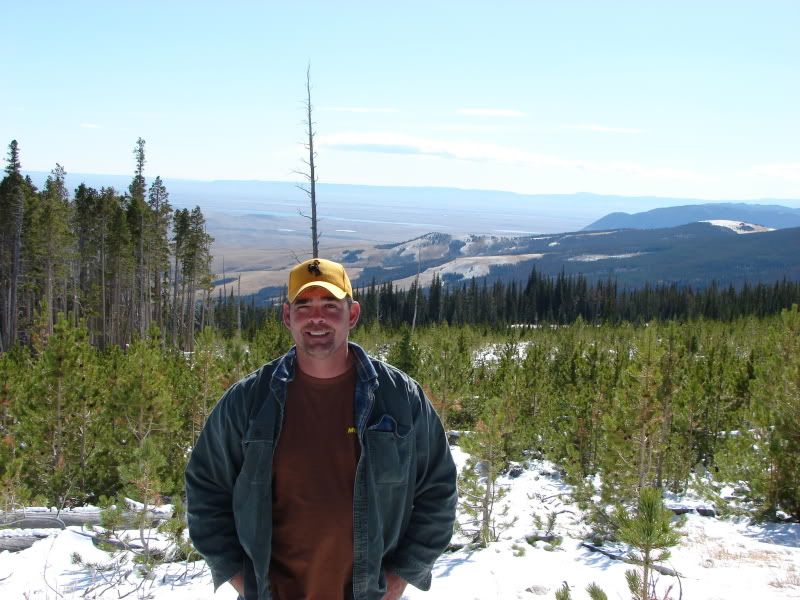 ">
who's that scruffy mountain man!?
Marty couldn't have been a better host-sharing your home and catering to us like long lost family. Thank-you "fatty man"-we had an incredible time! Memories to be remembered for a long time! We are looking forward to you coming down to Texas for our opener!....oh, and we'll take your offer for next year. Frank has some unfinished bizz-nezz to take of!
Edited by sticknstring, 10 October 2009 - 06:15 PM.