Today it was 40 degrees, over cast and a very strong north wind. Actually sitting outside in my flannel shirt and no jacket, I was actually cold. Also when I say windy, well I picked the sabots up off the ground twice before I learned to snap the lid on the box between loading. Anything not heavy or tied down was not staying on the shooting table today. Patches were something only to be stored in pockets.

I wanted to shoot today because I often hunt in the wind. During muzzle loader season, with snow on the ground and a strong wind, deer will often stay bedded down. If you work the wind with a little stalking rifle, you can often catch them in their bed at some close ranges. I figured my flintlock with a 21 inch GMB would be perfect for that.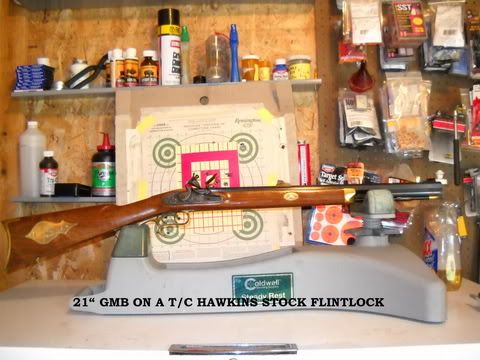 I wanted to shoot heavy loads out of it and discovered I was wasting my time. I had the target set at 35 yards which is a normal shooting distance for me. I first tried A-C with 100 grains of Goex 3f and a 250 grain Hornady XTP in a black Harvester Crushed Rib sabot. As you can see, they hit all over the place. I was shooting off my shooting sticks also.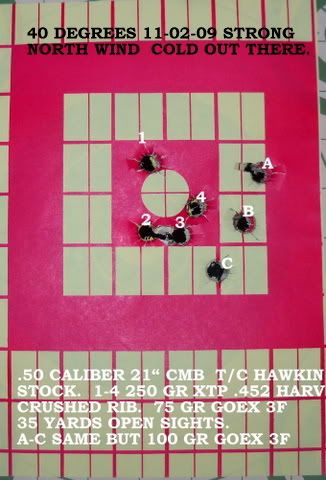 I then swabbed the rifle using alcohol only until the patches were clean. I then also dry patched the barrel. After all, I wanted to be fair to the next load. So I then lowered the charge to 75 grains (as my notes indicated) Almost at once it was like shooting a different rifle.

Ignition was fast until my agate finally stopped sparking good. I had over 40 and probably over 50 shots off it had I counted all the shots. I was impressed with a T/C agate for a T/C rifle. I changed over to a Thomas Fuller Black English Flint and then shot some other bullets before finally I decided I had enough of that wind and called it a day.

This little rifle is easy to carry, fast to shoulder, and with a good flint or agate it just goes off each and every time. With a 75 grain load of 3f Goex and that 250 grain XTP, I think all I have to do is catch one in bed.