Well lads, I struck a deal with God.
It started Friday afternoon when I packed the bow in the truck and took off towards South Dakota's Black Hills. I left Denver around 4:30 pm. By 8:30 pm, I was just south of Chugwater, Wy. It took me four hours to drive what I normally drive in two. Northern Colorado and southern Wyoming where experiencing white out blizzard conditions. Cheyenne was buried under 17 inches of blowing snow. I spent four intense hour maneuvering around and avoiding crashing into highway hazards. Vehicles were wedged under semis, on top of guard rails, spun out off the road, and on their tops. The wind, poor visibility, and icy conditions made for some white knuckle driving! At Cheyenne I started to pray. I said, "God, just get me there safely. Forgive me for my stupidity! Please overlook my sin for so wanting to be in a ladder stand enjoying life with my mistress (Mother Nature)." I continued, "Lord, I swear I will shoot the first eight I see without hesitation!" I arrived alive in Spearfish, South Dakota just after midnight-at Chugwater the highway and visibility became much better. Prayer answered.
I was up and in my stand by 6:30 am Saturday morning. The roads were still icy and Spearfish had snow of its own-about four inches. Deer movement was incredible! An easy 40 deer cruised past my public land stand! They were mostly does, fawns, and small bucks. I was standing and ready to drop the hammer on a fat doe when I caught movement to my left. I let down my draw. Two deer were working their way to me. Both deer had head gear. I was getting a glimpse here and there as they walked through the oak brush. Both appeared to be eights-one slightly bigger than the other. It was difficult to track which deer was which as they jockeyed positions. One stopped twenty yards out. I had a vital shot through a small window in the brush-couldn't see the deer's head. I figured I had a 50/50 chance of killing the bigger of the two. I killed the smaller. My arrow blew right through him perfectly. Promise kept. He piled up within 100 yards. The snow made tracking child's play. Another good representation "Black Hills" buck in the bag!
One of the cool things about hunting the Black Hills, and although the whities do not get as big as the plains deer of S. Dakota (they do not have the agriculture fields to support them), is you're in a wildlife transition zone. At any time you could have either a white-tailed deer or a mule deer in front of you. I love hunting places like this!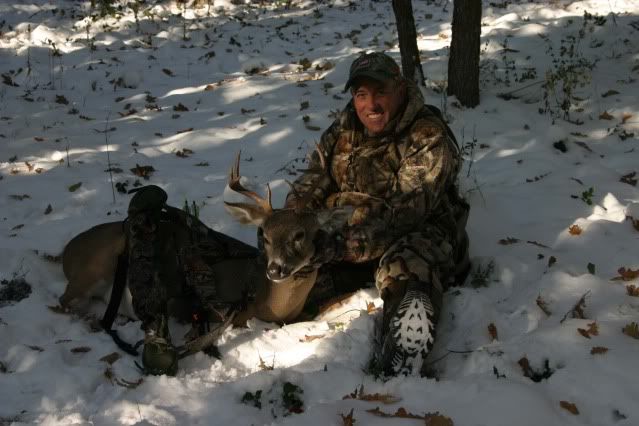 The hole cause by a 100 grain Eastman Outfitter's Silver Strike
Thirty minutes after shooting the buck, I arrowed a doe. Bonus!