My first official hunt of 2010 took place this past Saturday in Potter, Nebraska. I met good friend Kelly Parks Saturday morning in Cheyenne, Wyoming. He and I dashed 80 miles eastward on US 80 to hunt feral yak on the ranch of Dale Dedic (Mr. Dedic has established a small herd of 16

animals

). Although this hunt did not take place on the high Tibetan Plateau, it did give me a slight insight of a hunt there.
At the present, the total yak population is estimated to

number

around 14.2 million, of which 13.3 million are in Chinese territories, about 0.6 million in Mongolia and the rest in other countries, notably those bordering the Himalayas and countries of the Commonwealth of Independent States (formerly the Soviet Union). Most have been tamed or domesticated. The vast majority are hybrids with cattle. There are approximately 15,000 truly wild yaks in existence. They are highly protected by the Chinese Government.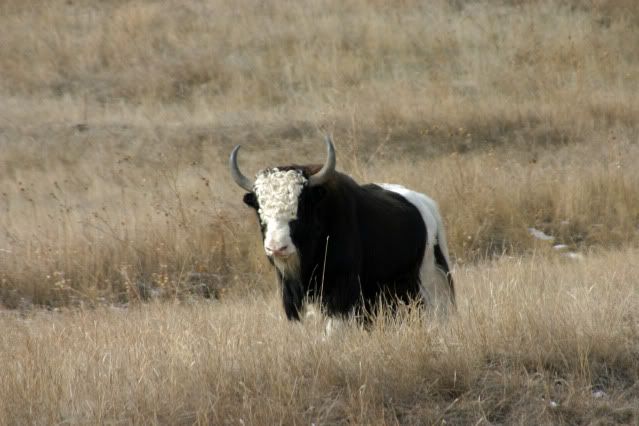 "Wild yak prefer to live in herds of tens or even hundreds of animals. The wild yak has a very acute sense of smell, is highly alert and timid; it tries to escape immediately on sensing or seeing people or other animals. Wild yak stampede readily, but if angered or cornered they are fierce and will attack an intruder. Wild yak dislike heat but are highly tolerant of cold and starvation. Wild yak bulls often wander off individually during the non-breeding season to hill areas away from the high mountains. Such males are known to attack people on remote roads."
Having read this and after listening to advice given to us from Marty (bonecollector34) ansd Dale, Kelly and I proceeded with caution. He was hunting with his Bowtech while I had my Custom Kanga Longbow in hand. "Tigger", as I call her, got to sing.
We found several of the yak grouped up in a corner of the ranch. They were in the open and unapproachable.

One bull

was not among them; we set off to find him (we found him but not until later in the day).
The decision was made; I was going to be the first to attempt a stalk on the yak. We went back to where we found the original group. I studied them with my binoculars and then asked Dale if I could use the ditch on the adjoining property for my approach. He said, "Sure"-he and the neighbor were apparently buds.
I was dropped off. I made my way down the trench while Kelly and Dale watched from a distance. I'd peek up every now and then to check my bearings. I used a large clump of weeds along a three

wire

barbed fence to get within 15 yards of my bull. I drew Tigger and eyed my spot. My focus was intense. I loosed the arrow and watched as it glanced off the top wire five feet in front of me. The wire caused me to totally miss high-go figure. The yak bull ran ten yards and turned. He was straining to find the source of the noise. I slipped back down into the ditch and move up for another shot. I had the bull at 17 yards when I loosed my second arrow. Unbelievably, my arrow grazed the fence wire a second time, but it hit home. I noticed the arrow's depth as he ran away (taking the herd with him). It looked good- deep into his chest. I felt the bull was done.
I used a 220 grain Outback Supreme FE on the front of a Carbon Fury 350. I like this combination but I think I might add a 100 grain brass insert. I'd like to see what this does to help penetration.
Yak should never be underestimated-they are as tough as heck to bring down with a bow-definitely not bunny or deer like! I learned a lot from this experience. I will use the information gathered to move forward. I'm looking ahead to South Africa in July. On that trip I plan to use my 84# PSE X-Force, a Black Mamba arrow, and the 220 grain Outback to down a cape buffalo. I am hoping for a one shot, one kill, adventure. I will gladly accept any advice you gents have to offer.
Here's a neat video of Kelly stalking his yak. He does a fine job of closing the gap. The wind was in his face and the yak was suspicious.
http://s277.photobucket.com/albums/k...t=M2U00660.flv