Last weekend, Me and my brother Frank decided to head back to our deer lease in Sonora, Tx. We hadn't been back since the end of deer season and we needed to do some choirs around camp. Turkey season opened the previous weekend-so this was a great excuse to head down!
It was a little early for turkey but they were gobbl'in.
Frank got there before me, arriving an hour or so before sundown on Saturday, he takes off for the woods. About a mile from camp, near a deer blind of mine, he spots a herd of axis. He continues to drive on so as not to spook them. Once he gets far enough down the road, he bails ship! The stalk is on. He ended up making a 200 yrd shot on an axis doe. I arrived in camp just as he was spraying down the skinning platform and putting his prize in the walkin cooler.
Sunday was spent cutting grass around camp, ripping out a leaking sink, setting up a new stand area,along with other chores. Me and Frank parted ways again that evening in quest of axis! I didn't see anything...hmmm
. Back at camp, while firing up the steaks, I was getting worried -Frank was taking awhile to get back....sure enough, he killed a nice axis buck! He relates the story back to me of how he was feeling content, while walking across a semi improved pasture watching the sun go down-only to catch a reflection from antlers 200-300 yrds in the horizon. Quickly , he drops down prone in the green grass while this 29 1/2" hard horn axis walks by within 80 yrds of him. More burger meat!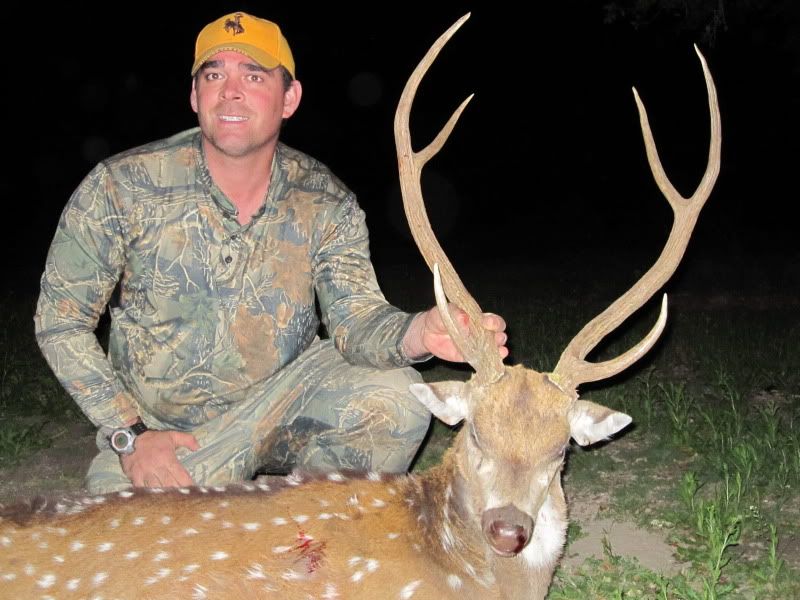 Monday morning finds us gearing up for a tag team up for turkeys. We decide to try on a plateau on a far corner of the ranch. Quietly , we start walking away from the truck -eager to sound off the morning with a series of yelps...only to see a silhouette of a deer 75 yrds behind a thicket. Frank leans over and wispers-"I think its a white tail". I am straining to see any head gear through the trees-"I see horns" as I am backpedaling to get Frank's "pea shooter" from the truck. Frank stays put to keep the deers attention on him. When I arrive, he is still there.....
More burger meat! He sported 32" horns! He had velvet still intact on the eyeguards and the cottles! Couldn't have ended the weekend better....as for turkeys, we'll just have to go back in aweek or two.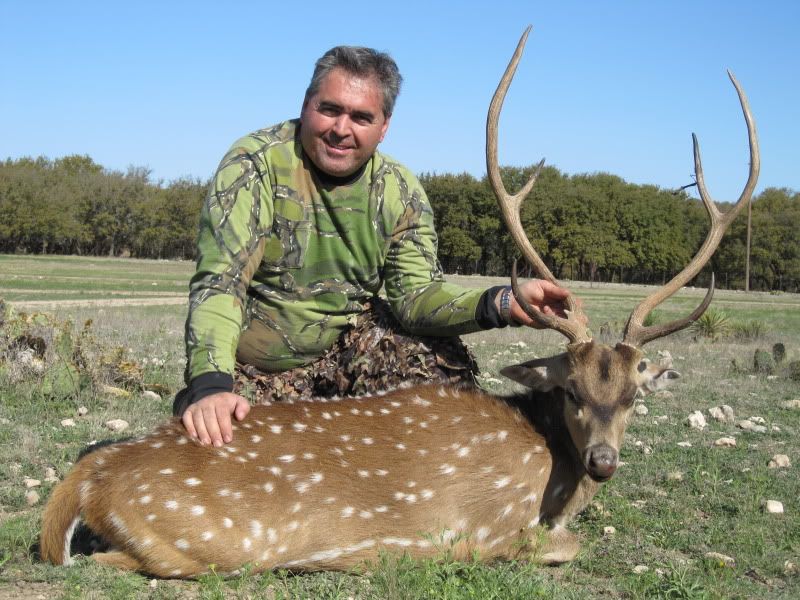 [/img]