Hunting season is upon us. All the range time we put in, the load development, and preparation is almost over. Time to own up to what we face in the hunting field. So I have a question for all of you modern inline shooters. Lets for fun just say that you have a modern inline with your favorite load. The rifle
IS NOT SCOPED
. You have tags to fill and limited time to fill them. First off;
what rifle you will be using?
what is the powder you use and why?
what projectile will you be using?
what is your comfort level? By this I mean with your open sights, how far are you willing to shoot at a deer?
IF YOUR RIFLE WAS SCOPED.
What is your comfort level. And how far are you willing to shoot?
What is the max distance you have practiced out to?
The following pictures are to get you excite and to show off my resident deer herd that likes to come into my lawn in the afternoon. Not to worry people, they are off limits and if they want to camp out all season in my back yard, they are safe and sound. Now some interesting questions... what is this deer telling you by the way she's standing?
She caught me standing in front of the patio door taking her picture. Strange as this sounds, she did not run off.
She heard a car drive down my road. Even though she has a house to block her view, they are always on guard.
I changed windows... but she was keeping track of me. She did get excited after I put the camera down and sighted a scoped rifle on her.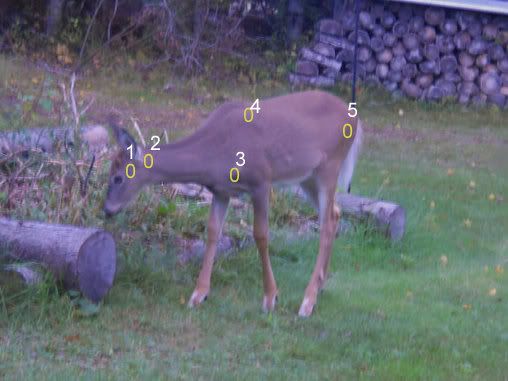 Now granted most of us would not shoot a nubbin buck, this doe's fawn. But if you had to and the distance was 50 yards... with your open sights where would you aim and why? With the scoped rifle, where would you aim and why?
Have fun this hunting season. Be safe. And I hope you enjoyed this post. There are some advantages to living in the middle of the National Forest.