We all have favorite traditional rifles. One of my favorite is my Lyman Trade Rifle in .50 caliber. Even though it is a flintlock, the rifle is surprisingly accurate, and goes off each and every time. Something I began to notice is I shoot a lot of bench resting... BUT what happens when we no longer have our bench?
So I decided to find out.
the first shot I aimed at the bottom of the card. This was to check the sights. I then fired three shots at 25 yards from a bench rest position. This is done at 25 yards. The group off the bench (even through a flintlock) is pretty good.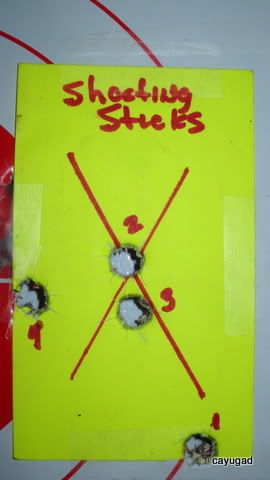 since a lot of times, I hunt off shooting sticks, I broke them out. Again, shot one at the bottom to check my sights and stance. The fired a three shot group. Why #4 did what it did, I have no idea. But it is off sticks and anything can happen.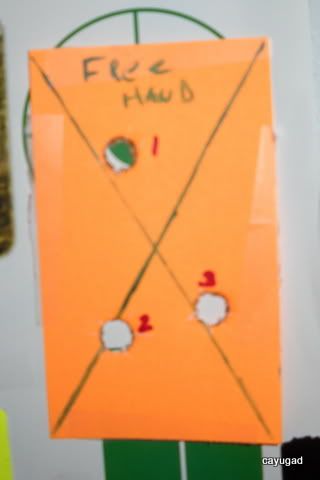 Free hand was a whole different experience. I was happy about the group. You see on the a card the other day, I missed the 3x5 index card. It is meant to show that free hand is a whole different ball game for a lot of shooters. I used to be good at free hand, but I have not practiced it as much as I should.
If you ever get to a range, set a index card out at 25 yards and take three shots at it. See how you do. Do you do a lot of free hand shooting?