First and foremost, a big hearty "THANK YOU" goes out to the Sullivan Family and Timber Valley Fresh Scents of Petersburg, Illinois. Your generosity and willingness to accommodate me in/on your beautiful home and bountiful land speaks volumes. You have routinely made me feel like I'm part of your gracious clan. Bill, Cavan, SteeI, Casey, et al, I look forward to our next adventure(s) together!
Additional thanks go to Matt Bozarth and Jeff Veneble. Matt, you drove the extra mile. It was great seeing you again. Jeff, you planted the"big buck" seed. I truly wish you could have been there, buddy. We'll try again another year, eh?
My latest jaunt began with a late Friday flight from Denver International Airport to the Land of Lincoln-Springfield, more specifically. Upon landing, I was greeted by Bill Sullivan with the usual, "it's good to see you again, Will". Bill is the father of Cavan Sullivan (Co-owner of Timber Valley Fresh Scents). Apparently, Cavan couldn't meet me because he was busy delivering estrus deer scent to his patrons. This young man's dedication to his growing enterprise is intense! Who personally delivers deer pee, door to door, at eleven post meridiem? Cavan does. His customers love him for all the extra effort- especially during that special time in the hunting season when bucks are chasing does.
On Saturday, Cavan and I rolled out of bed around 4:00am. It was too early for the Sullivan Farm roosters to sound their daily reveille. We had a quick bite to eat and then drove to a section of forested bottomland along the Sangamon River. The idea of hunting free range White-tailed deer in Menard County, Illinois had my blood pumping! I couldn't wait to get into a tree!
Ten minutes before first light I heard leaves crunching directly under my stand. The sound, without doubt, was the by-product of a deer passing through. I didn't have enough light to clearly identify the deer's sex or size. I remained motionless while the deer sauntered away into what remained of the night.
I spied a 10 pointer chasing a doe across a disked corn field-they were 100 yards off to my left. A small button buck followed and then circled back past me.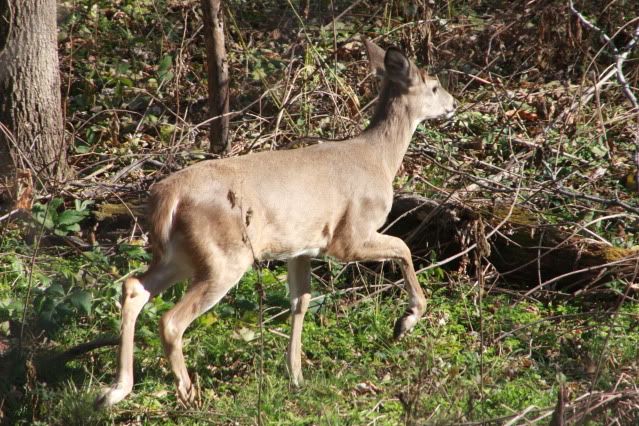 By noon, thirteen deer had moved through-the vast majority was smallest bucks. I made the decision to relocate my stand closer to the River. It seemed the deer were using the river's edge as a travel corridor. By day's end, another six bucks went by. One was a potential ten point shooter right on the cusp of my effective range. He got a pass…the difference of a few yards.
Sunday morning started much like the day before. However, instead of one deer under my stand I had four-a small 3 by 3 basket buck, a doe, and two fawns. I would have shot the doe had I enough light to see my pins. I was also armed with a new piece in my arsenal. It was a magical liquid called, "4-play" (www.timbervalleyfreshscent.com). It was essentially "doe-in-heat" urine mixed into a "volumizer" and dispensed from a Ziploc sandwich bag. I poured the mixture onto the ground twenty yards in front of my stand. I then hung the empty plastic holdall on a tree branch. By 10:00am, I had six bucks of various sizes standing right on top of the deception. Here's a photo of a buck with his nose smelling the empty.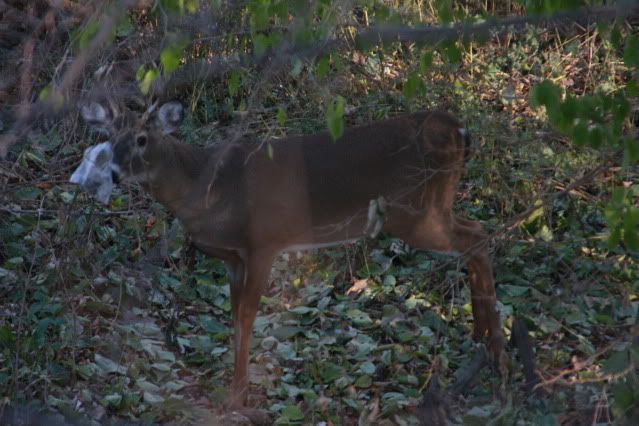 I was so tempted to arrow a goofy looking eight pointer at the scent site. He had a beautiful five point rack on his left side. His right side only sported a brow tine, a G2 tine, and his main beam. He was a heavy/massy little bugger though. I'm glad I listen to Cavan's coaching. He kept telling me to wait for a good one!
The goofy eight was followed by this buck. You can see the empty sandwich bag hanging from a branch when I begin to zoom:
http://s277.photobuc...nt=M2U00752.mp4
I sat there enjoying all the action, but, at this point in the hunt, I was concerned with the lack of doe sightings. I had 30 deer filter past me in two day-24 bucks, two does and four fawns.
Monday's daybreak found me in the same stand. I was stymied by my very first deer of the morning! I heard him coming from the disked corn field well before first light. He covered 300 yards raking every tree and bush in the process-obviously a buck. Again, I could make the shadowy figure out to be a deer, but I was clueless to the exact size. As he drifted closer, he caught wind of the 4-Play. The smell of love brought him in on a string. I turned my attention to Heaven and ask God, "Please keep him here until I can see". I guess the deer was in a bigger hurry than I. I thought, "Perhaps his prayer of finding a date was offered up sooner than mine. " Anyway, two smaller bucks followed about an hour later. I eventually broke my all day sit marathon for a good lunch in town with Cavan and Bill. Pizza Hut buffet never tasted so good!
At lunch, Cavan and I discussed a new tactic. The lack of doe sightings was tossed around. As a consequence, a plan was devised to move me south and closer to thicker cover. We figured the big boys couldn't be far from the does. It was just a matter of finding the girls-we hoped they were holed up in the thick stuff.
I climbed into a stand around 2:00pm. By 3:30, my doe sightings for the past three days doubled. At four my heart was given a serious jolt. I had a doe running directly towards me; she was been pursued by a monster! The doe ducked into a bush 30 yards away and locked up for several minutes. I immediately started ranging. I searched for a shot opportunity. The doe broke from the bush and ran back in the same direction from which she had come. My heart sank! Then, she switched course and came back-the buck in hot pursuit! My adrenalin level was spiking. The buck stopped at 40 yards and presented me a slight "quarting to" shot. My arrow pierced the deer's lower chest after barely striking his left front shoulder bone. The projectile's path was altered right and rearward. Because of the added downward angle, my broadhead made a huge slash across the deer's stomach. He moved ten yards east of the doe. In my buck crazed (panicked) moment, I searched the stand for my quiver…"like duh, it's right there on the side of your bow, stupid!" I quickly nocked a second arrow. I guessed the range to be 35 yards. Upon release, the arrow deflected off a limb and sliced across the buck's back. He broke cover and gave me a third perfectly broadside shot from 40. They say, "Three's the charm". I agree. My third arrow anchored the buck (although the first may have done the job. Better safe than sorry, right Jeff?). I called Cavan to let him know I had a buck down. Thirty minutes later, I called Cavan again. I said, "I've arrowed a doe too". If you notice in the not so focused trophy photo below, I was down to one arrow in my quiver…LOl. What a good problem to have! He's a 150 inch eleven pointer. I'm tickled silly!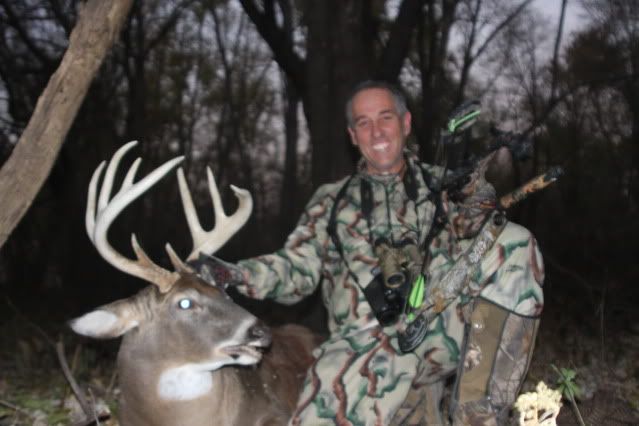 I am a die harder believer in deer estrous scent now! Cavan allowed me to learn the effectiveness of such a lure. I saw it in action, it works! You can bet I'll be employing deer scents on future hunts…
By the way, Cavan mentioned a 10% discount for anyone who simply adds the word "Huck" in the box provided for "coupon code".