Over the Thanksgiving holiday, I had the pleasure of traveling north from Colorado to Alberta, Canada. I arrived at Edmonton International Airport and was promptly greeted by one of North America's greatest White-tailed hunt masters, Rocky Steers. It was one of life's little premiums to be the recipient of this man's tutorage and hospitality.
I was introduced to Rocky over a year and a half ago when the two of us became teammates in a "just for fun" deer hunting contest. Then in September of 2009 while I was on my way to the Arctic, I had the honor of meeting Rocky in person. We spent an afternoon together and enjoyed an incredible lunch. The "Rock" (also known as Youngfart) and I hit it off immediately; we're both passionate about bow hunting, were former athletes, and are approximately the same age (thus, we tend to think alike). Although our visit was short-lived (I had another friend to visit and a plane to catch in Yellowknife), plans were discussed for a potential re-meet and hunt in 2010. Those plans came to fruition.
On Thanksgiving morning, the Rock and I were ready to hunt by 5:00am (legal shooting light that far north doesn't come until eight). I was armed with my 2002 PSE Stingray (my old bread and butter bow) and held three Alberta wildlife tags-White-tailed deer, wolf, and moose. Since time was a limiting factor, "any good representations of the species" became my target. I was eager to be on stand!
I'm not really sure where Rocky took me that first morning. Wherever it was, I found myself surrounded by an armor piercing COLD! The temperature hovered around -15 Celsius; a powdery snow blanketed the landscape. Add a tad of wind exposure 15 feet above the ground (12mph), 80 percent humidity, and you had all the ingredients for a bone chilling full day sit (nine hours worth).
Now get this, I layered my body in two pairs of long johns, wore a pair of pants and insulated bibs, donned two pairs of wool socks packed inside my -40 degree Arctic boots, clad myself in three coats, and covered my head with two full face stocking caps. I even had heat packets tucked into my gloves and hand muff (I know, I'm a wuss). This was the daily norm. Rocky, being a tough guy only sported a thin Scentlok suit and coveralls. I had the cold slicing through me like a knife. The Rock seemed to be impervious.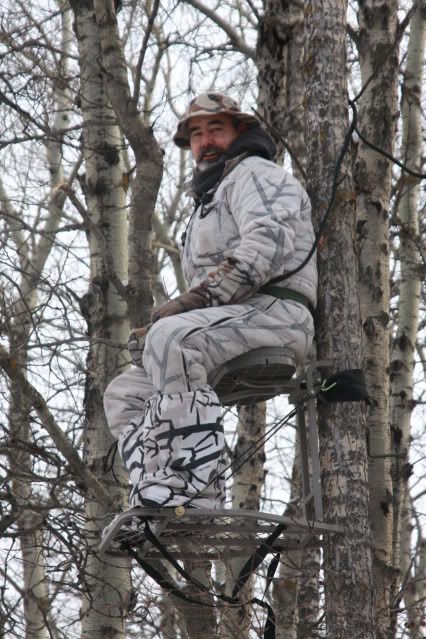 That first day brought three deer into my life; the first was a small 3x2 buck. His presence did a lot to warm my core. I enjoyed watching him while he sniffed a wick I had loaded with "4-Play"- a deer estrus scent from Timber Valley Fresh Deer Scents. I gave this deer a pass. The second deer, on the other hand, outwitted me. He maintained a course 25 yards away through thick cover. I tried in vain to find a gap anywhere big enough to thread an arrow. The stud "shooter" eventually dashed away. The third buck walked directly under my stand. I was able to capture him on video. Here's a link:
http://s277.photobuc...nt=M2U00772.mp4
On day two, Rocky and I set up on a chicken farm near Beaumont, Alberta. I had a freezing uneventful morning. Rocky fared much better. He slammed a dandy 128 inch buck persuaded to turn back by the smell of love-the Timber Valley Fresh Scent enticed yet another mature stag. Here's a great photo of Rocky's cherry red arrow under a scent wick. His plastic vanes are actually white…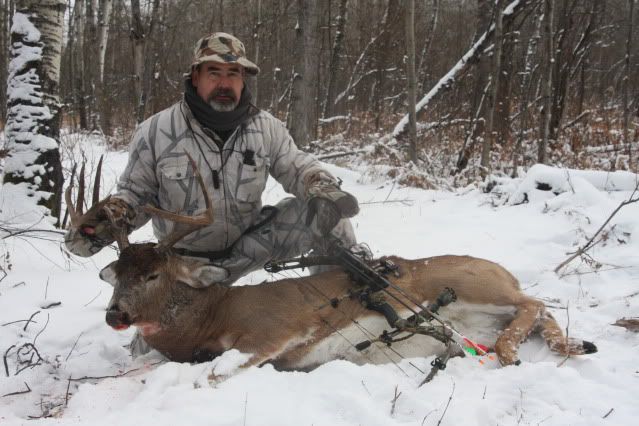 Rocky and I spent the middle of the day securing his deer. I jumped back on stand by 2:00pm and hunted until dark. I missed an opportunity on a shooter who managed to sneak in undetected. He was a fast mover (it's amazing how a blanket of light snow can muffle a 300 pound deer's approach). He stopped long enough for me to range him at 35 yards. I saw a second buck right after I climbed down and began my hike back to the truck.
On a side note, by day two I had the cold and frost protection thing just about figured out. For the most part, I was actually comfortable sitting all day and what a great day it was!
On day three, Rocky and I hunted the seemingly vast holdings of a dairy farmer and his wife. I was treated to a refined work in progress. In my life time, I've never seen so many stands in one general area (I believe 65 total)! Rocky was on the verge of knowing every travel corridor, bedding area, and staging location associated with this property. Moreover, he knows how these features are used during any given time of the year! He has developed quite a history and repertoire of tactics here. It was fun listening to him relive the stories of bucks from days gone by. I even got to see his very first homemade ladder stand-a functioning piece of art.
I was assigned guard duty on a well used travel corridor. Although my bow spent the day hanging idle, I did enjoy the shows put on by seven deer. The main event occurred when a small 4x4 left his two does (I think he was flirting with one of them) and walked within ten yards. Again, the Timber Valley Fresh Scent worked its magic. I shot the buck with my camera.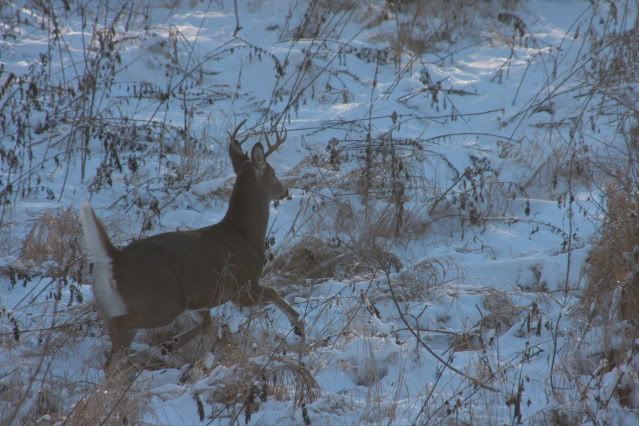 Day four (my last day) broke open extremely overcast and foggy. I struggled in my stand to see as night gave way to day. Just after dawn, I glanced over my left shoulder and noticed a shooter buck stretching his neck to smell the air. A 4-Play laced scent wick was hanging on a branch 25 yards upwind of his location. I reached for my bow and prepared myself for a 20 yard shot. Oops…"NASA, we have a problem". The calipers on my release were frozen in a closed position. "Come on think Will think", I thought. The only solution I could come up with was, "pop the bloody thing in your mouth!" I did, and within a few seconds I had the calipers working again. It was go time! I clipped on and drew. I had just enough light to establish my 20 yard pin on the buck's chest. My arrow found its mark. I was confident the deer's recovery was just a matter of time… I stayed in my stand until 10:15 with the hopes and aspirations of seeing either a wolf or a moose. I eventually saw a coyote and a few horses. Let me tell you, the sight of large black creatures, at a distance, coming through tightly woven poplar trees can get a man's heart racing! I thought I had approaching moose!
I was also graced by this youngster
When I climbed down and at trail's end, I found this dude:
I used my video camera to film probably the best blood trail I have ever had! I found it hard to believe a double lunged buck made it as far as this one did.
http://s277.photobuc...nt=M2U00779.mp4
I want to thank Rocky Steers for exposing me to some of the finest hunting on the planet. I look forward to the day I can return the favor, eh!
Edited by iamyourhuckleberry, 05 December 2010 - 08:09 PM.