I had purchased a number of Simmons Pro Sport 4x32mm scopes from Natchez.com and wanted to scope a tradtional rifle that had a common twist. I wanted this to test my theory that by having a scope on a traditional rifle it would let me play with the in-lines in side by side accuracy.

12/10/10 16º slight wind, snowing lightly, damp and cold.
Thompson Center New Englander .54 caliber percussion cap rifle.
1-48 twist barrel.
1.5-6x40mm Traditions Illuminated cross hair scope.
90 grains of Pyrodex RS RWS 1075 caps
.530 Hornady roundball, pillow tick patch, moosemilk lube.
No swabbing.


The rifle I decided to scope was a Thompson Center .54 caliber New Englander. I first tired to set that Simmons Pro Sport 4x32mm scope but discovered that the hammer on the rifle no matter how I adjusted the scope, hit the bell housing of the scope, so it would not work.

I then remembered a long scope I had which might clear that rear bell issue. It was a Traditions Illuminated cross hair 1.5-6x40mm scope. Traditions had them on sale one day for $49.99 so I decided to see if I could break one. Plus I always wanted to test how well the illuminated cross hairs really work. It had been on a Green Mountain Barrel .50 caliber and had over 200 rounds through it. It was once even on my Remington Genesis. So the scope had went through a lot of abuse. I decided to see if it would stand for a little more.

I mounted the scope and as I suspected it did clear the hammer so there was no issue with bending the thing, or doing anything else.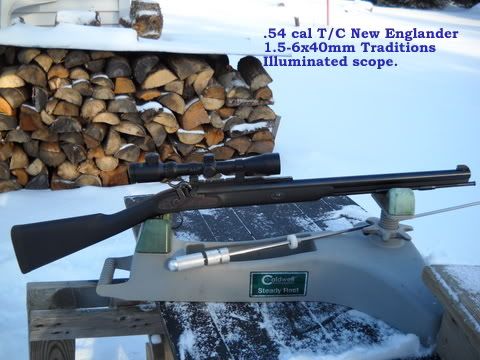 I had bore sighted the rifle in the house so I was sure it would be close to being on. I set the target out at 30 yards just to zero it.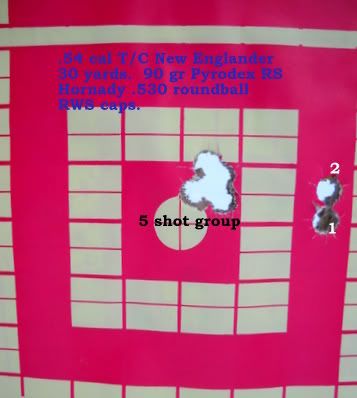 The first two shots were 2-1/2 inches to the right. So I made an adjustment and then shot a five shot group. Needless to say I was pleased with that group.

I then moved the target back to 50 yards and shot three shots. Again, it clover leafed. I was surprised though that the hits were basically in the same spot as they were at 30 yards. I would have suspected they might have came down a little. I was going to photograph them and discovered the camera batteries had gone dead, sitting out in the cold.

I decided to end the shooting session as I was getting cold also. And next time out I want to see how the rifle does at 100 yards. If it is going to be as accurate as I believe it will be, this would make a nice rifle for all around hunting, with that big roundball in it.