I have been having so much fun shooting the Green Mountain Barrels on a Renegade stock, that I changed over to a .45 caliber Stainless Steel Green Mountain Barrel today.
Rifle: T/C Renegade stock w/ .45 cal SS GMB
Scope: Simmons Pro Diamond 4x32mm
Powder: Goex 3f RWS caps
Sabot: Harvester 45/40 crushed rib sabot
Projectile: Speer Gold Dot 180 grain 40 cal & Hornady 200 gr XTP 40 cal
Distance: 52 yards according to range finder
Weather: 16º windy cold and snowing (not real nice out)
As I sat in the house today, feeding the wood stove I wondered what I could do? It was snowing outside, and kind of windy. I wanted to shoot but talked myself out of it twice. Third time was a charm though, I gave in.
I loaded the .45 caliber Green Mountain Barrel with the 180 grain Speer Gold Dot hollow points first. These are a 10mm or .40 caliber bullet if you like. I used the light blue Harvester Crushed Rib sabot with them. They loaded very smooth, as best I can describe it. Not hard to push down, but with some resistance. I used my range rod.
I settled in behind the bench rest and all felt good, other then the wind that was blowing across my face from right to left. Also it was snowing pretty good. But I like snow. This rifle has a better scope then the one I was shooting the other day. This one cost $39.99 instead of $25.99. Always nice to step up. It also has a 50 yard parallax. So the glass was clear and bright.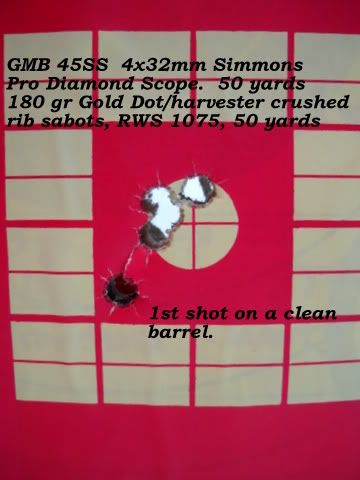 The first shot, while it was disappointing after I saw the other four, did not surprise me. Using my spotting scope, I have been able to save my legs from trudging through the snow with my bad knee. Like I said, the first shot I will take. It was on a clean barrel. The next four really made me smile. I was swabbing between shots with pure 70% isopropyl alcohol. Being outside, I wanted something that would help dry the bore besides the patches I was using.
I then went and swabbed the barrel clean. And actually took my time swabbing it. I even popped two caps through it, and then dry patched it again, just to make sure all was clear and clean.
I wanted to compare the 200 grain Hornady XTPs to the Speer. So I loaded the Hornady 200 grain XTPs with the 85 grains of Goex 3f and shot that three shot group. It surprised me that it hit low and left. Could the cross wind have played a factor? It did not seem to bother the Gold Dots before.
While the group is not all that bad, like I said... the position of it surprised me. So much in fact I decided to shoot the Speer again and see if it was the rifle, the bullet, or the fact I was getting cold. Especially my fingers.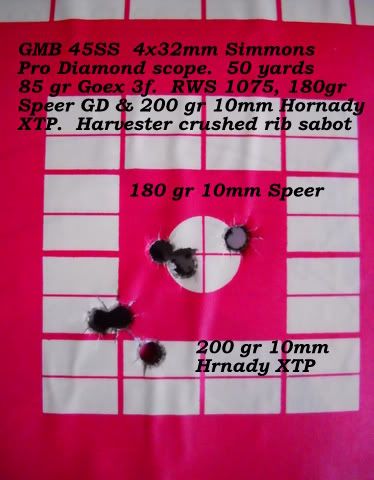 I shot three of the Speer and was very pleased to see that they were hitting in the same place. Again, I swabbed between each and every shot.
My swabbing was made simple this time. I had a damp patch that I used for three swabs before I discarded. Then I had two dry patches that followed. After the three swabs, I moved one of the dry patches to the damp patch and added another dry. It seemed to work just fine, using them over and over like that.
Has anyone shot a deer with the 180 grain Speer Gold Dots 10mm? This is IMO getting pretty light in the projectile department. A round ball for instance is 177 grains. And bigger to boot. And we know how people feel about them. Although I am guessing that because of the construction of the bullet, it should hold together and expand well. That's why I am asking about any hunting experience one might have.
85 grains is not a lot of powder to some I know, but it sure is a pleasant load to shoot.