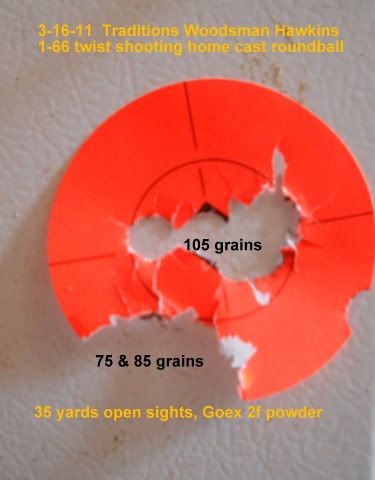 Today was too nice not to shoot, but the snow was nasty. Before I could walk on the crust somewhat, but with the warm spell it was sink city. Every step was down in the snow past you knee. So I went only to the edge of the back yard this time and that is 35 yards.

I decided that since it was that close of a target I would shoot something traditional and open sights. I decided to shoot a Traditions Woodsman Hawkins.

Rifle: Traditions Woodsman Hawkins percussion lock 1-66 twist open adjustable sights.

Powder: Goex 2f

Primers: RWS 1075

Projectile: Lee mold .490 pure lead home cast roundball

Weather: 45º (hooray no jacket needed!!) overcast and calm

I got out to the shooting table and like always forgot a lot of stuff. I forgot the see through powder measure in the house. Being too lazy to go after it I took a brass hunting measure out. It was one of them you pull upward and each notch is supposed to be 10 grains.

Well I wanted to shoot 75 grains for starters and see how this shot. So I shot off three with that powder charge. I was shooting home cast roundball and moose milk pillow tick patches. I was surprised they were hitting so low. So I jumped the charge to 85 grains of powder and shot three more. Again, still low.

I had forgot to take my notes on this rifle with me, and I thought this was a 85 grain rifle. But I decided to go upward in the powder charge. So I pulled to what I thought was 95 grains of powder and shot several roundball. The group was good and so was the POI. So since I had to go in the house for more coffee.. I brought back the see through powder measure. Imagine my surprise when I poured a brass open measure into the see through measure and it read 105 grains of powder. I had noticed the crack of the rifle was good and powerful, but the recoil was nothing special IMO.

This little rifle with the slow twist is an amazing roundball rifle. I later checked my notes and it says 90 grains of powder for this rifle. It now also says.. up to 105 grains of 2f Goex.