I was going through projectiles last night and found some that were sent to me. They were 300 grain Precision Rifle Extremes. They are an all lead bullet with sabot and a jag for loading.

I decided to use the Knight Disc Rifle to test them. I had no idea how much powder to try with them.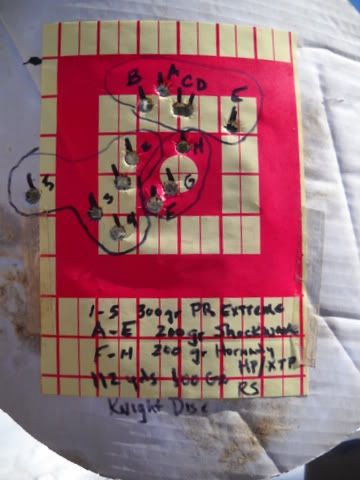 I decided 100 grains would be a good load for all the testing. I walked the target back as far as I could and placed it. The range finder said 112 yards. This is a lot further then I normally shoot, but the rifle is sighted in for 100 yards so this should be a good test for it, and especially me.

The Precision Rifle bullets were not grouping like I thought they would. I shot off five of them and had one that really took off. I was kind of surprised by the flier as I thought every thing was fine until I checked the target with the spotting scope.

I then decided to shoot some Shockwaves. These are the .40 caliber 200 grain version. And again, I was not shocked they were hitting high, since the rifle is sighted in with 250 grain bullets. Then again, I had a little flier. This was kind of upsetting.

I then gave the scope three clicks down, and this time loaded the .10mm 200 grain Hornady HP/XTP in the blue MMP sabots. I was kind of pleased with the three shots.

I decided the target was getting crowed and wanted to change it. So I went and got a different circle. This time it was a smaller one then usual. I also found a furniture polish can that refused to give me the liquid, but was still under pressure. So I hauled that outside also as well.






Even with the slight scope adjustment, the first two were on the top of the bull, so I aimed just a little on the bottom of the bulls eye and all was going good, until #6 came along. I just had to push the issue.

As for the can, I hit that with one of them 200 grain XTP's and it gave up all its liquid real fast. Kind of a mess actually. But the Disc shoots real good with these light bullets.