It was a beautiful morning today. The weatherman said we might have rain or possibly two inches of snow tonight, so I figured I better get some shooting done. Since I have been shooting inlines with scopes as of late, I decided to go old school.

Rifle: Thompson Center Arms Hawkins .50 caliber 28" barrel 1-48 twist
Ignition System: Flintlock using Thomas Fuller Black English Flints
Powder: Graf's and Sons 2f black powder. 4f Goex as prime
Projectile: Home cast .490 roundball, moosemilk patch, pillow tick
Weather: Sunny, winds gusty at times, 40šs
Distance: 71 yards (range finder three readings)
Rest: Bench and off hand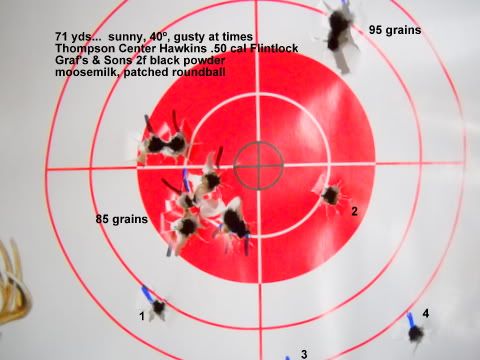 The rifle is sighted in for 35 yards. So I knew I would have to hold a full sight picture. My first shot proved me right. Actually I had almost a full cover on that large red bulls eye. The rifle fired flawless, with instant ignition and very little lock time. I started shooting 85 grains of Graf's & Sons 2f powder, as my notes say this is the load. Well as long as I concentrated on the follow through, it did pretty good.

I upped the powder charge to 95 grains and was surprised it hit so much higher. Then I did something I have been doing as of late. I shot four shots free hand kind of. I did rest one elbow on the shooting table, like I would have in a blind, and fired. Needless to say, I was not impressed with that shooting at all.

Off a good rest, the rifle did real well. Off an elbow, well we need to work on that.