I was going through my wall of stuff looking at what I have in stock for the new rifle that will be coming in. The new rifle is a Lyman Great Plains .50 caliber Flintlock HUNTER with the 1-32 twist. While looking at the supply of conical bullets I came across a brand new unopened pack of 100% cotton .54 caliber patches that were not lubed.

I have often read of other people using patch material other then pillow tick. And also shooting pre cut patches. I got to wondering... could my pillow tick patch make that much of a difference? Or was I just being lazy and not wanting to keep pre cut patches around?

So I checked the wall and selected a Lyman Trade Rifle Flintlock in .50 caliber. It has a 1-48 twist. The card on it says 85 grains of 2f black powder and patched ball. So I decided this would be a good test rifle. Also noted on the card is... 50 yards sighted in.




The weather was over cast, cloudy, no wind really to speak of. The snow had gone soft, so walking in it was a real PITA on my knees. But I got out to 50 yards according to the range finder.

I decided to shoot the cotton patches first, to give them the clean rifle barrel.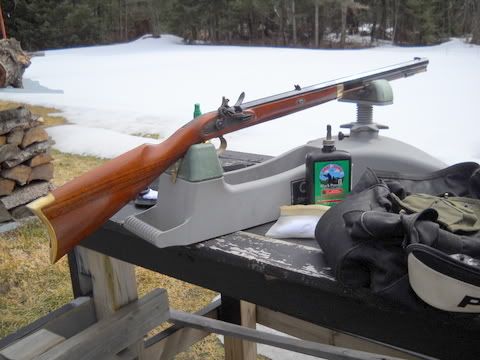 I used a true 6 o'clock hold with the primitive buckhorn sights on the rifle. Shooting 85 grains of Graf's & Sons black powder and my home cast .490 roundballs. Moose milk was spritzed on the patches and then they were allowed to sit to somewhat dry.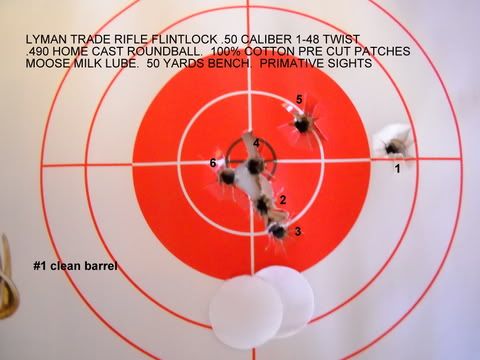 Shot #1 I forgave the patches. It was a clean barrel. I had put a new flint in the jaws. And ignition was instant with that Lyman lock. The other five shots were not all that bad in my opinion.

I then did a spit swab of the bore, and let it dry. I wiped out the frizzen, the pan and the nose of the new flint. When all was dry, I switched over to the pillow tick and moose milk, with the same powder charge and ball.

Since I did not want to shoot at the red circle more, I picked out the small green box on the side of the target (I am sure some of you know this target I use.) and proceeded to shoot at that. Again.. a true 6 o'clock hold was used.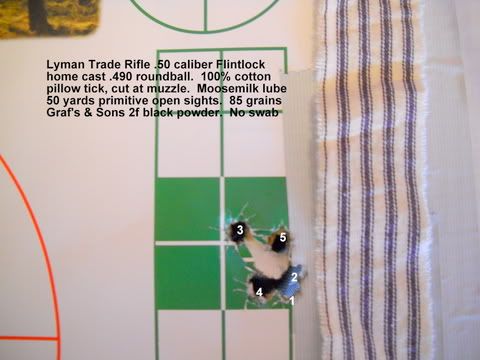 To say I was not pleased with that five shot group would be a lie. It was more then I could have hoped for. Then I started to really wonder... was that pillow tick that much better of a patch? Did I get lucky? What was the difference?

So I swabbed the bore again. Spritzed some more of the cotton pre cut patches and picked out the turkey image on the target.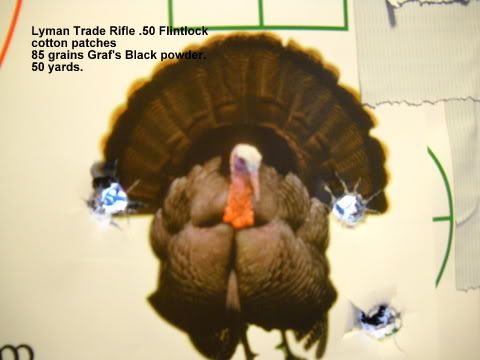 I was not pleased with that at all. Also I was about out of ball. So I figured to stop for the day and then save some for the new rifle. And would have to plan a day of casting again.

When I cleaned the rifle I again was amazed at black powder. All too often I hear people complain that black powder is messy, hard to clean, stinks, etc...

I removed the barrel from the stock. Made up a hot water bath with some Murphy's Oil Soap. And started cleaning the rifle barrel.




This is what it took to clean my rifle barrel. After it was dry I treated it with Montana Xtreme bore conditioner, wiped it all down, and it was done. I like black powder to shoot.