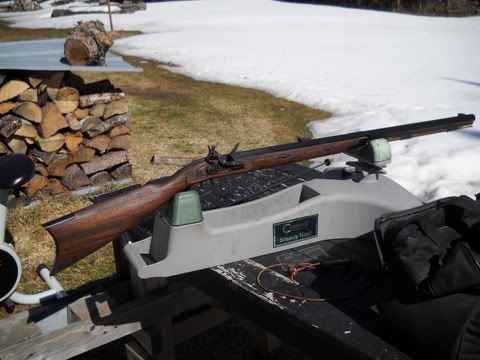 I had just finished cleaning a rifle that I had shot today... a New Englander .54 caliber when the little brown truck driver walked up my drive. (this time of year they do not drive in because some places are real mud holes, so they hoof it)
After signing my life away for the special box he was holding, and giving my boy scout's promise to be good, eat my vegetables and not shoot anything important, the box was turned over to me.
I hot footed it to the gun room in the house and opened the magic box. There inside was my brand new Lyman .50 caliber 1-32 twist Great Plains Hunter rifle.
My first impressions were; WOW the stock is dark!! I never saw a rifle with this dark of a stock. But if the rifle is a shooter, I can live with that. Checking the flint lock hammer, it lined perfect to the frizzen, and the frizzen spring was nice and crisp. There was a brand new Agate in the jaws. So I tried the barrel into the stock. It fit like a glove, nice and tight to the wood and just right.
I noticed the touch hole liner was the kind I dislike, so I went to my wall of gun parts and got a new RMC touch hole allen head type liner. I installed it, and then went to the task of cleaning the barrel.
I do not know what they put in these Lyman barrels to protect them, but what ever it is, they sure do not want it to come out. I gave that a water bath, then a solvent cleaning, an alcohol cleaning and finally an Simple Green cleaning. It was not perfect, but it would work until after I shot this thing.
The snow out back is dangerous snow. I hate it when it gets like this. You step on it and it holds you, you shift to step and down you go, over the 8 inch boot top. Then you have to make sure you do not trip. But I managed to get a target out to 25 yards before I did a dying swan flop in the snow. After picking my self and my pride up out of the snow, I got to solid ground without anyone seeing my graceful flop.
I decided with this twist of 1-32 I would try some maxi ball, cheap shots, roundball, and maybe a No Excuse conical if all was going well.
I picked up the rifle turned it to the side and the back wedge pin fell out. I checked and it looked OK even had to pop it back into place. So this was something to watch.
Got to the shooting bench and decided to start with 70 grains of Graf's & Sons 2f black powder and a 370 grain maxiball. I used Goex 4 in the pan primer. Got it all set and touched it off. The rifle fired instantly. What a fast lock time on this thing.
Looked through some binoculars at the target because I could not see a hole, and I still could not see a hole.
What the heck...
Loaded it up again. Really concentrated on taking charge of the my breathing and trigger control. Fired, I knew I did not flinch, and was all smiles. Looked through the binoculars, and finally saw a hole... about a foot and a half low.
I then looked at the rear adjustable sight... it was all the way down. So to make sure it was the sight and not me.. I fired another round.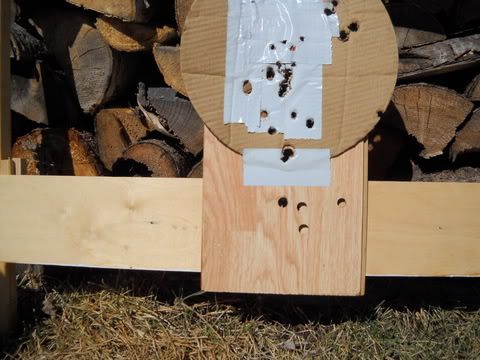 Just so you know... holes do not belong in that part of the target stand. I then fired a sabot before making any adjustment. That sabot hit to the far right.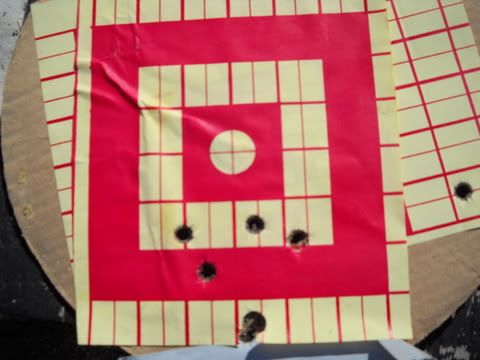 So now I was wondering... I cranked the sight to what I thought was half way up the ramp. That is the large double hole at the bottom of the target and the hole the sabot made. Again, not real pleased, but hey.. its a new rifle and a beautiful day to shoot.
So I cranked the rear sight up as far as it will go. Not wanting to waste my limited supply of maxiball, I shot some sabots. Those are the four hits a little higher. BUT I am not near the bull and there is no where else to go. So I guess I will have to put the second primitive sight they mail with the rifle on and see where that is. At least I can make some file adjustments to that.
Over all the rifle goes off fast. It has a tight bore, but I suspect that is because of the stuff still in the bore. So I called it a day and went in and cleaned the rifle again. Then I did a JB Bore Paste to it. And cleaned it again. So tomorrow we will shoot this again. I just have to decide what to shoot out of it with that twist. I really thought a light sabot like those cheap shots would have worked good in the rifle. It looks like a lot of experimentation to do.
As for my earlier shooting, the T/C .54 caliber New Englander shot perfect. 85 grains of Goex 2f and a patched ball. I was shooting and hitting anything I shot at. I even shot at some old grapefruit that were living in the back of the refrigerator. I threw them as far as I could out into the snow. Five up, and five blown apart. A lot of fun.