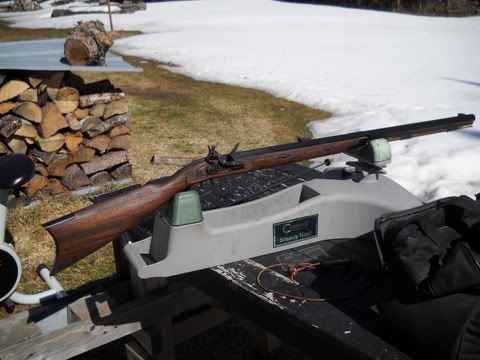 I have been experimenting with a number of different projectiles, trying to find the right load for this rifle, before I do too much sight adjustment.
Rifle: Flintlock - Lyman Great Plains Hunter 1-32 twist 32 inch barrel 50 caliber.
Powder: Goex 2f 95 grains worth primer is Goex 4f
Projectile: Hornady XTP .452 300 grain & Hornady Great Plains Conical bullet 385 grain Sabot are black Nosler (I believe these are MMP hph-24)
Distance : 25 yards
Weather: 55 degrees (beautiful out) sunny, light wind
I got trying the heavy conicals and heavier sabot projectiles and found I was having good luck with them. Every one who owns one of these claim they are a powder pig. So once at the range I got out my brass powder measure (could not find my see through in all that stuff) and opened it to what I thought was 100 grains of powder. I loaded up with the Hornady 300 grain XTP. I used a six o'clock hold on the bottom of the bull and let fly. I swabbed and shot two more before checking the target.
I could live with a group like that and it would make a heck of a hunting load. So now I have to consider some sight adjustment in the future. But I decided before I get all carried away, lets shoot more then three...
That is nine or ten shots.. I lost count. But I would call that a group. So I flipped the target upside down and got out some Hornady Great Plains conicals bullet 385 grain.
I swabbed between the first three shots.. they were the lowest. After the third I fired two more without swabbing and they actually hit higher and was making a good group.
Some things I have noticed about the Lyman Great Plains Hunter...
With the agate they supply I have over 60 shots on the thing and it is still going strong. Ignition is very fast in the rifle with the RMC touch hole liner. Also the balance of the rifle is excellent. I would think that the long barrel would be a handicap but I do not find that at all.
Today when I cleaned it, I noticed small pieces of what I suspect to be lead coming up on the patch. Seeing that it has only had 50 conicals through it, I find that strange. So I gave it a JB Bore treatment today, then Montana Xtreme Cowboy solvent. After that I used Bore conditioner in the barrel Even though the barrel by patches indicated it was clean, I was shocked at the stuff the bore conditioner brought up. So much so, that I cleaned the rifle all over again. Then I checked it and it appeared clean. So I used the bore conditioner again on it. This time all was in order.
I guess the next step is to move back to 50 yards, see where it hits, and start some sight adjustment. This is a real pleasure to shoot rifle.
my gear,,,