Huntaway (on a different forum) mentioned he was shooting at 100 yards off shooting sticks at a paper plate. His groups were impressive. Since he was shooting a Lyman Great Plains Rifle .50 caliber flintlock with peep sights, I wanted to try and duplicate his equipment. I should have re-read his post before heading out. It seemed I failed in most of that. In fact not even close. At least I got the paper plate right. And I did use shooting sticks. But this rifle does not have a peep sight. I personally like a primitive buck horn sight.
Distance : 92 yards.
Weather: perfect.. 60 degrees, little wind and sunny
Rifle: T/C Renegade stock with a .58 caliber GMB 1-70 twist
Ignition: percussion cap (Huntaway used a flintlock.. again was wrong)
Caps: Winchester Magnum #11 caps
Powder: Graf's & Sons Black Powder 2f 110 grains (got that right)
Projectile: .570 Speer 284 grain roundball
Patch: 100% cotton pillow tick with moosemilk lube
Shooting Position: Seated in a resin lawn chair off shooting sticks.
I set the target up.. a standard white paper plate on a cardboard backing so it would be visible from 100 yards. I was sure I was at 100 yards and shot my first shot.
The three hits you see on the cardboard are from the other way through.. they had nothing to do with this shooting today. To say I was not pleased would be a lie. I loaded again and shot a second shot.
Now I was pumped... And just for kicks I went into the house and got my lazer range finder. It read 92 yards. I was shocked.. 92? Then I remembered I had move the bench when cleaning the yard and the target was infront of the huge puddle back there, not behind it. So again, I failed at the distance. But I was determined to have fun anyway.
When I loaded the next time, I detected a good amount of fouling in the bore but shot anyway.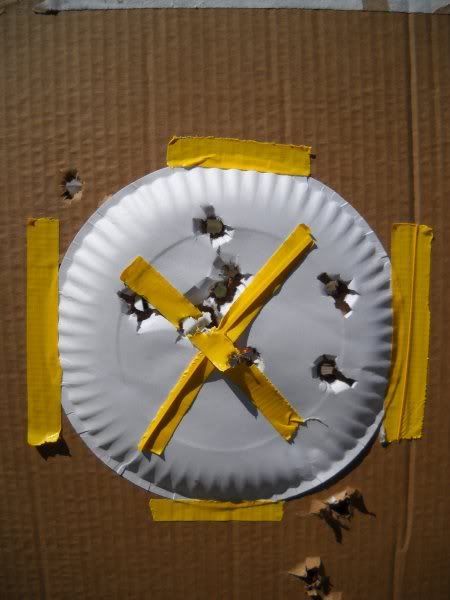 I loaded again and this time pushed the ball into fouling. But fired it anyway. The two hits are the ones to the right of the X which by the way, at 92 yards I could not see anyway. I was holding a 6 o'clock hold dead center in that paper plate.
So then I started swabbing with 70% isopropyl alcohol after every two shots. I was sure that Huntaway shot ten rounds. So I did the same. Again, swabbing after every two shots.
After ten rounds I walked down and checked the target. I was actually very pleased even though I was off by 8 yards. The group was more then satisfactory for me. But I should note.. I do a lot of shooting off sticks and to me, they are almost as solid as a bench stand. I hunt from them in a blind and even use the same chair. Also this rifle is a great shooting rifle.
The one hit outside the paper plate was me shooting off my elbow at the target. Didn't even hit the plate. I was bummed.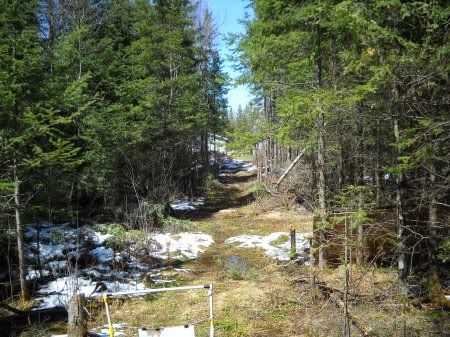 You can see the bench back there by the side of the house... Or maybe you can't.. but its back there.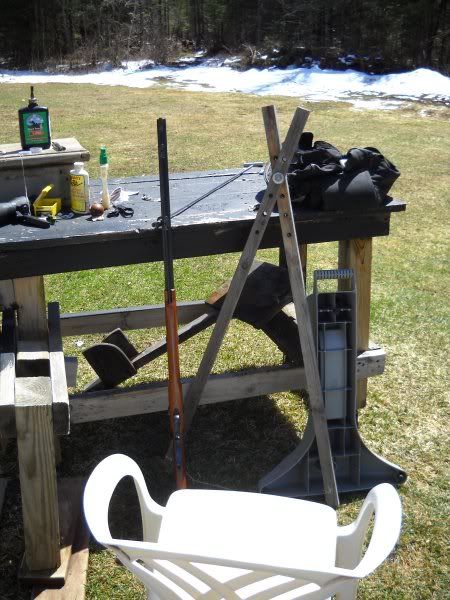 That is my homemade shooting sticks. Made from a 2x4-4ft. And that little white dot way in the back is I think the paper plate. Over all that was a lot of fun shooting today.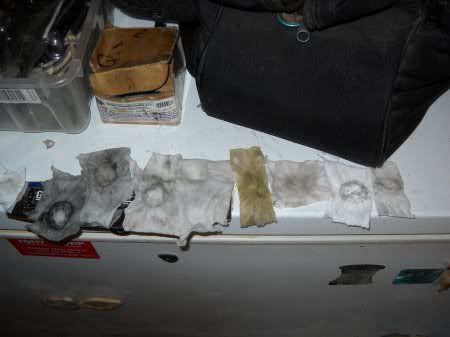 One other thing.. cleaning after shooting black powder. The first four patches were from the water bath. The fourth looking pretty good. So then the 5th is a Birchwood Casey Muzzle Magic #77 cleaner. Look at what it pulled from an apparent clean bore. Something to think about you water bath to a white patch and stop people.
Then I ran an alcohol patch for #6 and the discoloration is more from being wet, but you can see that the alcohol did bring out some more fouling. The next were two dry patches. One the final dry patch it came out clean, so I put Breakfree CLP on that, and swabbed the bore. That came out clean as well.
The point I am trying to make is.. you use a water bath and have a clean patch.. Sometimes it pays to go a little further then that. I like that Birchwood Casey #77. That will normally bring out fouling if there is any in there. And I think the final dry patches might have been picking up fouling from the jag as well.