I had the misfortune of leaning a rifle against a wall to clean and it slipped along the wall and fell to the floor on the scope. Since this rifle has a very inexpensive scope, I decided it would go to the range and check it.

Rifle: T/C Black Diamond XR .50 caliber 1-28 twist 26 inch barrel
Scope: Bushnell Banner Dusk to Dawn 1.5-4.5x32mm
Powder: Pyrodex RS 110 grains & 80 grains
Projectiles: 200 grain .40 cal Shockwaves, 250 grain .452 Barnes MZ
Expander in red provided sabot, 460 gr No Excuses
Distance: 100 yards on two of three readings
Bench rest.
Weather: 70 degrees and sunny.. a little windy though

I took the rifle out because I had not shot it lately and was concerned about the scope going out of alignment. My notes indicated I had sighted it in one inch high at 100 yards. So time would tell.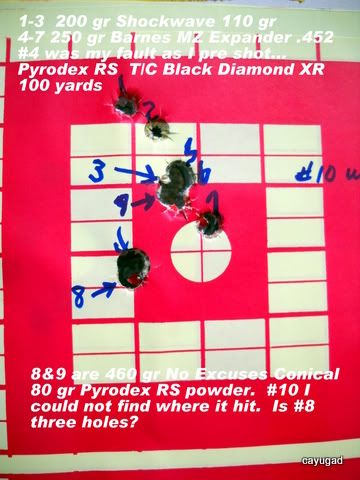 Shots 1-3 were not bad. I had #3 drop low on me for some reason. I was swabbing between shots. I only had three of these Shockwaves left. It was kind of a cleaning house day for me.

Shots 4-7 were the Barnes 250 grain MZ Expanders with the red sabots. #4 was totally my fault. It was one of those, on the bench, getting my breathing set, stock fit set, and made the mistake of laying my finger on the trigger just a second too soon. 5-7 was the last of the four bullets I had of that selection.

8-10 were the 460 grain No Excuses conical bullets. I know I shot three but could not find #10. Also checking my notes, I normally shot Pyrodex P with these. So the RS might have made a difference.

Some interesting side notes... the block of wood I was shooting against was Spruce. Now granted this spruce is dry. But the chunk is quite large and thick..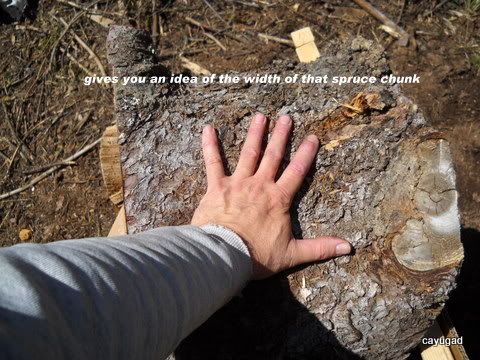 After shooting I happened to look behind the block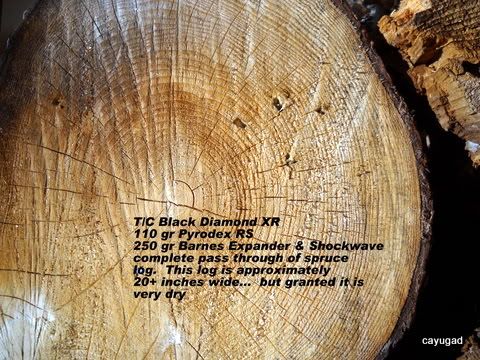 Now granted that is not water jugs, or phone books.. but that is a lot of wood to penetrate. I was kind of amazed it made it through there.

But the scope must be tough. It never went off its marks. And the rifle shot excellent. After that I tried a lot of bullets I had that I had one or two of this and that.. kind of cleaning out the bullet locker. The black diamond xr actually did a good job shooting all of them. Some better then others, but over all a real nice day to shoot.