Weather: 80 degrees, windy. Sunny and hot.
Distance to target: 53 yards
Rifle: Remington Genesis .50 caliber inline rifle
Scope: Nikon Omega 3-9x40mm
Powder: Goex 2f
Projectile: Harvester Scorpion 260 grain Funnel Point.


I had been reading some of your posts about a Scorpion bullet. I might have purchased the wrong ones as I was under the influence that these were pointed. Perhaps they make a pointed model and an hollow point model. Anyway I ordered the hollow point model, but decided to give them a try anyway.




These are 260 grain and called a funnel point. I was excited to see how they would shoot. And one of the best long range rifles I have is my Remington Genesis with a Nikon Omega scope. So I decided to use that rifle. And I set the target at 50 yards, even though the rifle is sighted in for 75 yards. (I just did not want to walk a lot)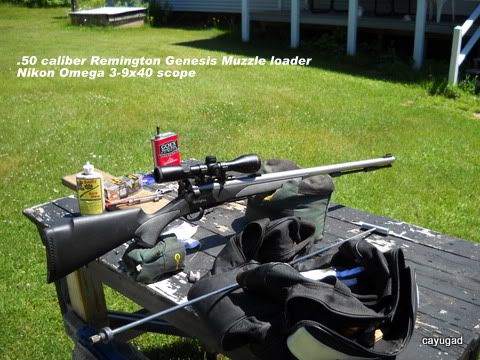 I was using Rusty Duck Black Off to swab with because I was shooting Goex. Rusty Duck is very good at pulling fouling out of a barrel, especially when shooting Black Powder. Also I was letting the barrel cool for up to five minutes between shots.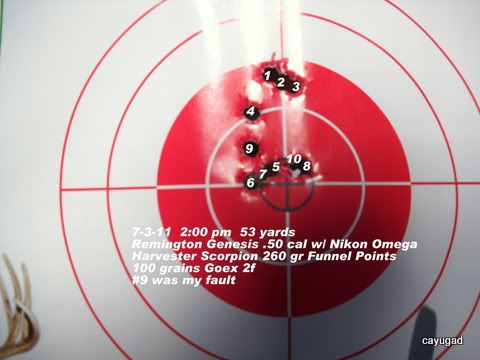 The first three shots were a good group, and hit about where I thought they might hit. Although the heat might have made them hit a little high. So just for kicks I figured to adjust the scope. As you can see I forgot I was at 50 yards and needed to adjust it twice as much. So #4 was not right but the next adjustment put me in the ball park. I noticed the hits were stringing, but just did not want to play with powder charges.

Over all, these Harvester Scorpions with their Crushed Rib sabots loaded like a dream. Not even a short starter was needed. I believe a little more powder, maybe 10-20 grains might cure that stringing. I am a believer that with the construction of this bullet they might do real well on deer. If any of you have hunting experience with this funnel nose bullet, I would like to hear about it.

One last notation... a big thanks to all of you that mentioned the thermocell and the Off clip on cell. I tried them out today. The Thermocell was placed upwind so the chemical pass around me. And the Off clip on was set under the table near my feet. Not a single bug bite today. Believe me... that is great!!
_________________