It finally cooled off around here and that means I can get some work done outside. I done that this morning when it was in the 60's. This afternoon I really wanted to shoot some of the new bullets I had got in. The temps were in the 70's with a slight breeze. Just real nice outside.

The bullet is a .40 caliber Harvester Scorpion 200 grain funnel tip bullet. I wanted to shoot them out of my .45 caliber GMB stainless that sits in a T/C Renegade stock.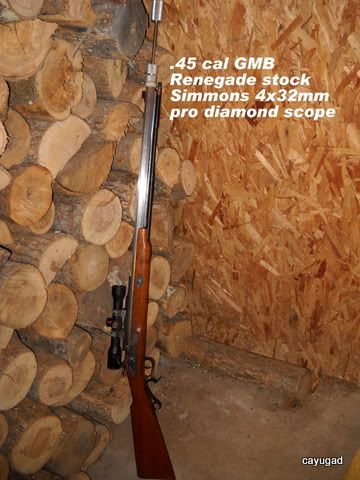 The barrel is a Green Mountain .45 caliber 1-28 twist barrel. It is 28 inches long and percussion. The barrel has a Simmons 4x32mm Pro Diamond scope in some cheap Tradition quick release rings. So far these rings have worked perfect. The scope was $39.99 so its not top of the line by any means.

I had some high hopes for the new funnel nose bullets. the 200 grain XTP shoot real well out of this rifle, and I was hoping the funnel nose would do the same. I found an old target, and noted the old hits. Then put a new Birchwood Casey dot on the center of the box.

Since everyone swears these Scorpion Bullets want a lot of velocity, I use 110 grains of 3f Graf's & Sons black powder. Now I have no idea how fast that much powder would push these funnel nose, but I could guess around 1800 fps, maybe more. If you have a more accurate estimation it would be appreciated.

At the shooting bench I was shooting off a Caldwell bag. I have been practicing with that as it is what I will probably use in this new blind we build on a hay field. The shots there will be out to 150 yards, so I want a flat shooting rifle that hits hard. I figure this will be one of the rifles I will use, after a little scope adjustment and practice.

I shot a ten shot group at the dot. The last shot, #10 was off a dirty bore. I was surprised it jumped out of the group the way it did. The picture kind of tells it all.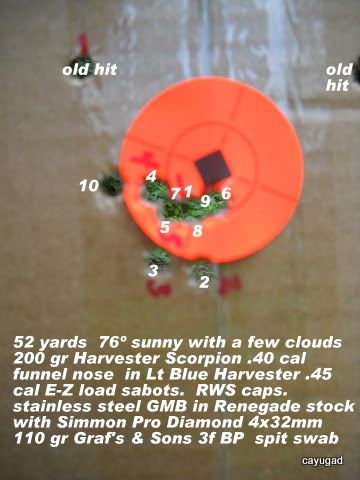 I'd shot #1, then used alcohol to swab the bore. Shot #2 and again used alcohol to swab the bore. Now I realized I was out of alcohol. So I resorted to good old spit. After seeing them group from a spit swab, I might just keep on spitting. Could spit be a better swab in hot weather? Something to consider.

I was using the set trigger and I want to say.. with that trigger set, that rifle is touchy. You really need to be careful with it. But over all the rifle shot well. I need to move back now and set the scope up at 100 yards. Then I will be ready for field shooting.