I've just returned from a recent hunt. Thought I would share with family...





For me, traveling north to catch a south bound caribou herd had its trials and tribulations. The motor home ride from Anchorage to Prudhoe Bay, pure scenic beauty alongside the Alaskan pipeline, exposed me to 1800 miles of greasy dirt and frost heaved highway-40 hours worth. I made this trip with six fully grown men, our archery gear, and the supplies we would require for a week's hunt. To say we were "tightly packed" or "over packed" would be an understatement. I endured rattle after rattle, washboard after washboard. I lived through cabinet doors and drawers being agitated open; the action dumped heavy and valued items everywhere. It was truly one pothole after another! Furthermore, I subjected myself to a "no more than 45 miles per hour" long haul (now I know why they call it the Haul Road) and a case of "shaken baby syndrome", whereas I became the victim. At times, I simply shook my head in disbelief. The things we put ourselves through for a hunt, eh? At this journey's end, I was definitely worse from the wear.
Prior to this trip, I had made five do-it-yourself jaunts to Alaska pursuing a variety of game. This adventure was going to be, however, my first DIY Alaskan barren ground caribou hunt without the assistance of a "fly-in" transportation service. With bird's eye memories from past hunts, I was eager to make comparisons...
We had passed several cow moose and calves browsing on our way north-very cool. But more than anything, I so wanted to see a grizzly bear. What I would give to photograph a large bruin! It never happened. The top of Denali was hidden by low clouds…trees turned to tundra at mile marker 235 on the Dalton Highway, also known as the Haul Road. A few miles later, we crested Atigun Pass. The search for huntable caribou began.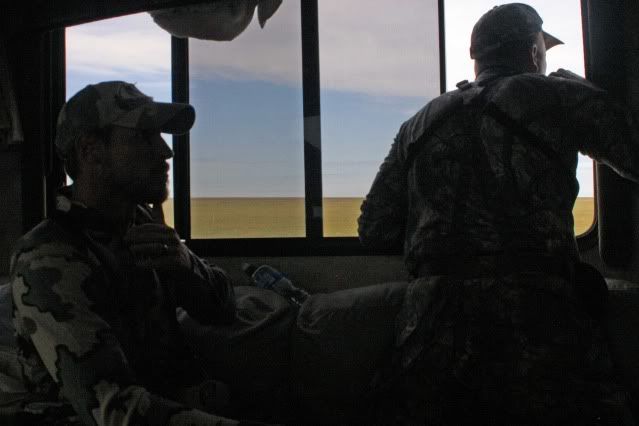 It didn't take long. We encountered these two and glassed a few hundred more on the distant horizon. The occupants of our RV were as giddy as school boys…for obvious reasons.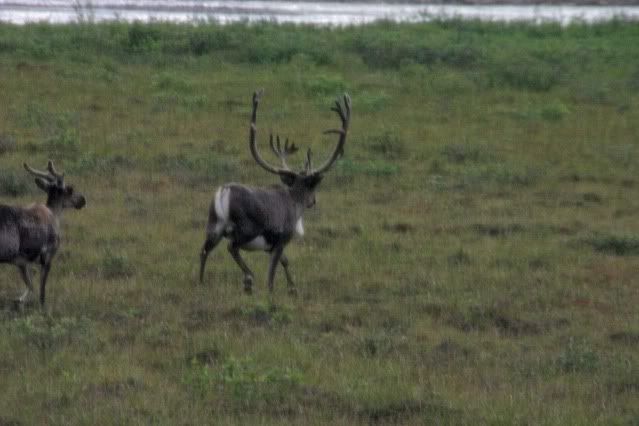 At this point, we were all excited to stop, set up camp, and start our hunt! We were in the Arctic- hunting arctic slope caribou no less! We also realized we were going to be around for five days! We had seen caribou, and each day was going to provide us with 20 hours of huntable daylight. Could it get any better?