First off I have to thank ZakJak 711 for his generosity. It never fails to impress me how kind and compassionate hunters are for the most part, with other hunters. They seem to be the first to be willing to share with others. ZakJak was kind enough to mail me some projectiles to test in my rifles. The projectiles that specially interested me were the powerbelts.

The reason the powerbelts caught my fancy was Lyman claimed their Great Plains Hunter .50 caliber shot very good with Powerbelts. I had only .54 caliber in stock at the time. ZakJak mailed me an assortment of 295 grain copper coated hollow points, 295 grain copper coated aero tip powerbelts, some 330 grain all lead .452 diameter hollow points (unsure of the make), and some 240 grain T/C Cheap Shots. That I tested today.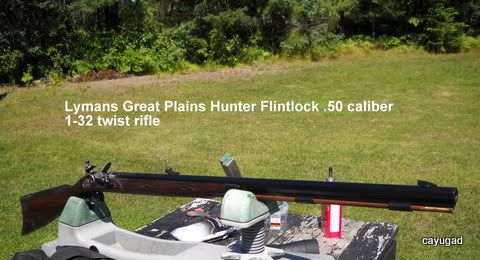 I prepared the .50 caliber Lyman Great Plains Hunter Flintlock by swabbing the bore with isopropyl alcohol and also wiping off the agate, frizzen and pan.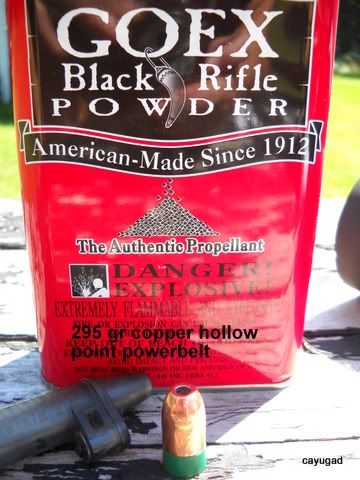 I started the testing loading 70 grains of Goex 3f down the bore and then seating the 295 grain hollow point copper powerbelt. I fired three shots with them and was SHOCKED!!

I was holding a true 6 o'clock on the bull which would account for their hitting so low, but nothing prepared me for their spreading out like a bad shotgun. And remember, in a email to Lyman they told me that this powerbelt was supposed to shoot good. The distance was only 49 yards. And yes it was open sights...




You can see the three hits on the bottom, under the target. I would not even fall that a group with 70 grains. Now granted, Lyman's email back to me said to shoot 80 grains. But the astounding part is what happened at 80 grains.

I mean the group above the spread is actually quite good for open sights at 50 yards. I had no complaints. And because the 6 o'clock was not working out, I used a 3/4 cover of the red bulls eye. But A-E had to be considered a good group. So maybe Lyman was right, and I was on to something. Also all the hype about shooting powerbelts with lower charges.. was this going to be the ticket?

Now I was swabbing between each shot with spit. Good old spit. And I was working the patch nice and slow and really giving the barrel a good cleaning. But to say I was not impressed with that group would be a lie. Also remember, I have not made any adjustments to the sights of this rifle yet. Until I find the load I want to hunt with, I will not start removing front sight to allow me to use a true 6 o'clock hold.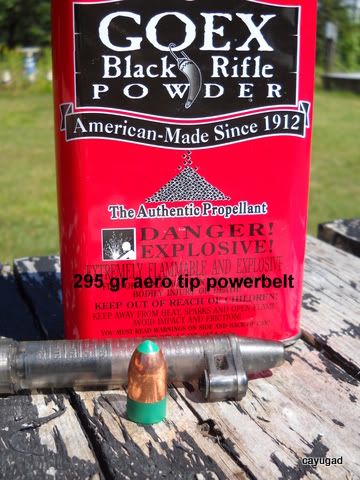 So next I again used 80 grains of Goex 3f and loaded the aero tip copper plated powerbelt. And using the same 3/4 hold on the red bull, the next shots grouped like this...




How could the aero tip copper powerbelts make them rise this much? Your guess is as good as mine. They were basically hitting just under the front sight. Again, I was very pleased with how they were shooting.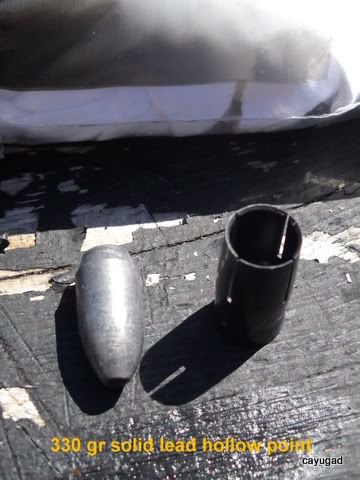 This is the all lead 330 grain bullet that ZakJak sent me the few he had left. I have no idea who made them. That sabot is an MMP I believe. Correct me if I am wrong. And perhaps someone has shot these bullets before. They looked almost like a Hunterman boolet. Or perhaps a Dead Center. What do you think?

I still stuck with the 80 grains of powder and had no idea where these would hit, but not wanting to change sight picture and figuring I could spot the hits I fired off five of them.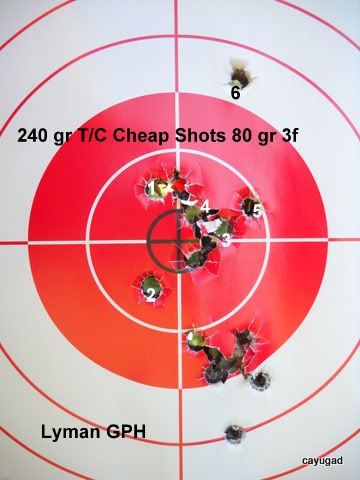 The lower group is where the 330 grain all lead bullets hit. Right were the hollow point copper powerbelts basically hit. And again it seemed to group real well. I had one slip and that was the last one. I did not swab the bore that time and wanted to see what would happen. It hit a little low, but that could have been as much my fault as the lack of swabbing.

I then tried some of the 240 grain all lead T/C Cheap Shots. Now remember I have not changed the sight picture on that bull. And this time they bullets again climbed up the target to where the aero tip copper powerbelts were hitting. #6 was a hang fire for some reason. I must have spit too hard on the patch that time. But over all those cheap shots do a pretty good job down range.

A few notes on the rifle. The Lyman Great Plains Hunter lock is one fast and I do mean fast lock time ignition. Its flat out impressive. The agate they sent with the rifle finally failed today. 83 shots later mind you. That is a lot of shots off an agate. The new T/C agate I replaced it with I noted is not holding up anywhere near as good. At the end of this range session I will have to change it to the other face.

Also the trigger on the GPH is outstanding. Now granted, I use the set trigger and if shooting just the main trigger there is a lot of creep. But once that set trigger is on, that thing is just a beautiful trigger. I read where someone complained about their Lyman Trigger. No complaints here.

I have more projectiles to test in the rifle before I start hacking off the front sight. And I would like to take the opportunity to again thank ZakJak for his contribution. I had a great time today shooting off your bullets. It was a little windy, sunny and 75 degrees. Nice T shirt weather.